University announces next speaker in H. Lee Scott Speaker Series 
  Friday, July 16, 2021 8:30 AM
  People and Society, News
Pittsburg, KS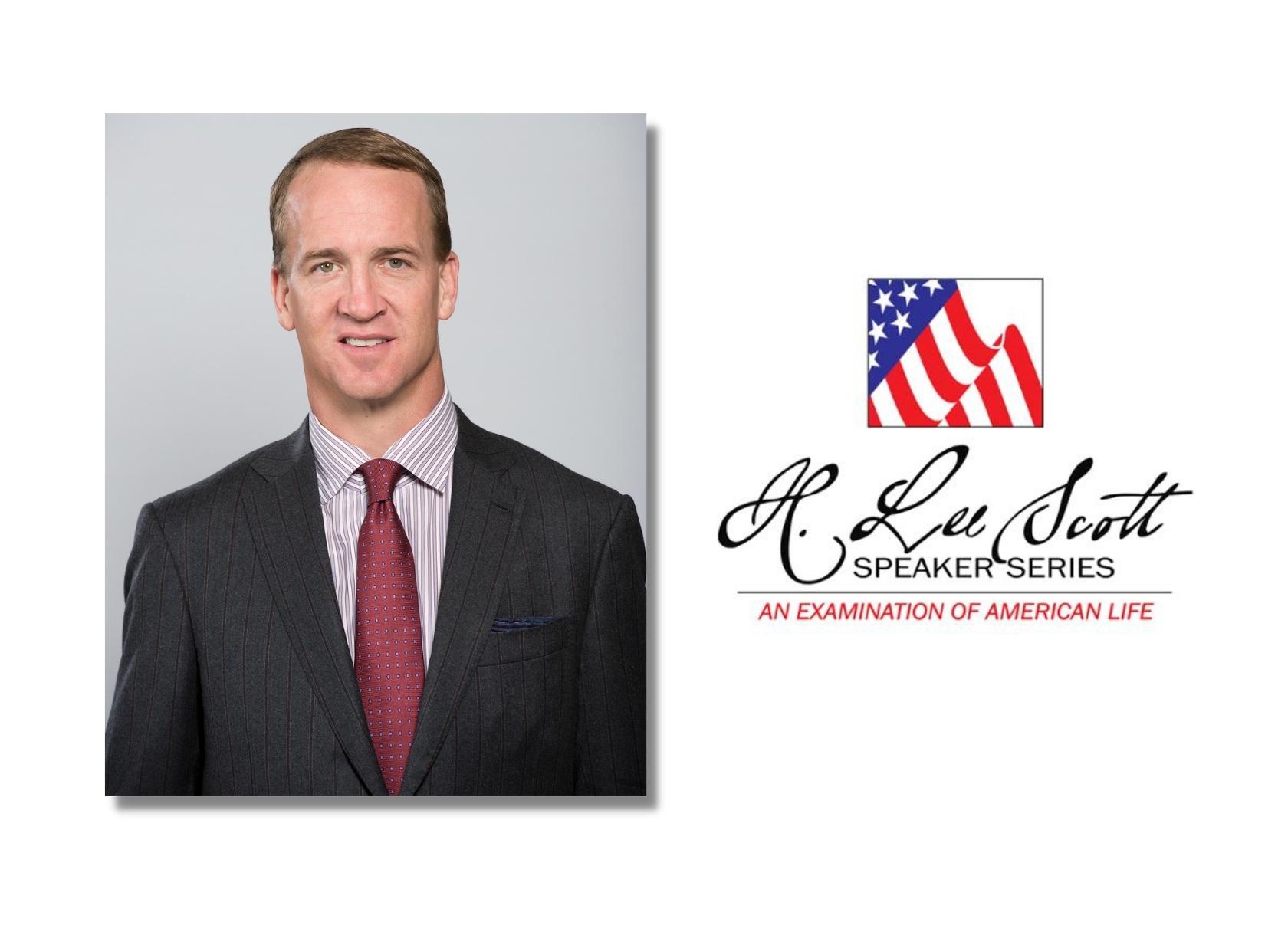 The next speaker in The "H. Lee Scott Speaker Series: An Examination of American Life" at Pittsburg State University will be coming to campus on Aug. 30, and tickets will go on sale July 27. 
The speaker series was created in 2015 as a result of a $2.079 million gift made by former Walmart CEO Lee Scott and his wife, Linda, both PSU alumni, with a mission to deepen the level of discourse, enrich the university experience, and elevate the university's reputation by examining American life from the perspective of nationally prominent leaders and innovators.  
 
"We hope that the exposure to these successful leaders will enhance the educational experiences for students and inspire them to someday be invited to speak about leadership on this same stage," Lee Scott said in making the gift. 
This year's speaker: Peyton Manning, two-time Super Bowl champion. The event, "A Conversation with Peyton Manning" is planned for 6:15 p.m. in the Linda & Lee Scott Performance Hall in the Bicknell Family Center for the Arts.  
"It's amazing to think about the caliber of individuals this series has brought to our campus, including President Bill Clinton, Republican presidential nominee Senator Mitt Romney, and Secretary of State Condoleezza Rice," said Vice President for University Advancement Kathleen Flannery. "We're thrilled to add Peyton Manning, who is not only a legendary quarterback, but an inspiring leader in philanthropy, to that list."    
Manning has earned his place among the greatest quarterbacks in league history and was selected for induction into the Pro Football Hall of Fame's Class of 2021. 
Today, he serves as a member of the American Red Cross National Celebrity Cabinet and The Pat Summit Foundation Advisory Board. The PeyBack Foundation was established in 1999 to promote the future success of disadvantaged youth. 
One of his current projects is serving as host and executive producer of the revival of the classic television quiz show, College Bowl.   
Tickets  
Ticket sales will begin July 27, with a limited number available to the public online at www.pittstate.edu/office/ticket-office/ and in person at the PSU Ticket Office in the Weede for $30.   
Starting Aug. 3, a limited number will go on sale for faculty/staff in-person only at the PSU Ticket Office for $20.  
Starting Aug. 16, a limited number will go on sale for students in-person only at the PSU Ticket Office for $10.  
Starting Aug. 24, any remaining tickets in each block will be available to the public.  
The Ticket Office is open from 8:30 a.m. to 4 p.m. Monday through Thursday and from 8:30 a.m. to noon on Friday.  
There will be no group sales; buyers are limited to a maximum of six tickets. Faculty/staff/students must have PSU IDs for each of the six individuals for whom tickets are being purchased.