Drone competition showcases purpose of new makerspace; middle school team declared victors    
  Friday, May 7, 2021 10:45 AM
  News, Science and Technology
Pittsburg, KS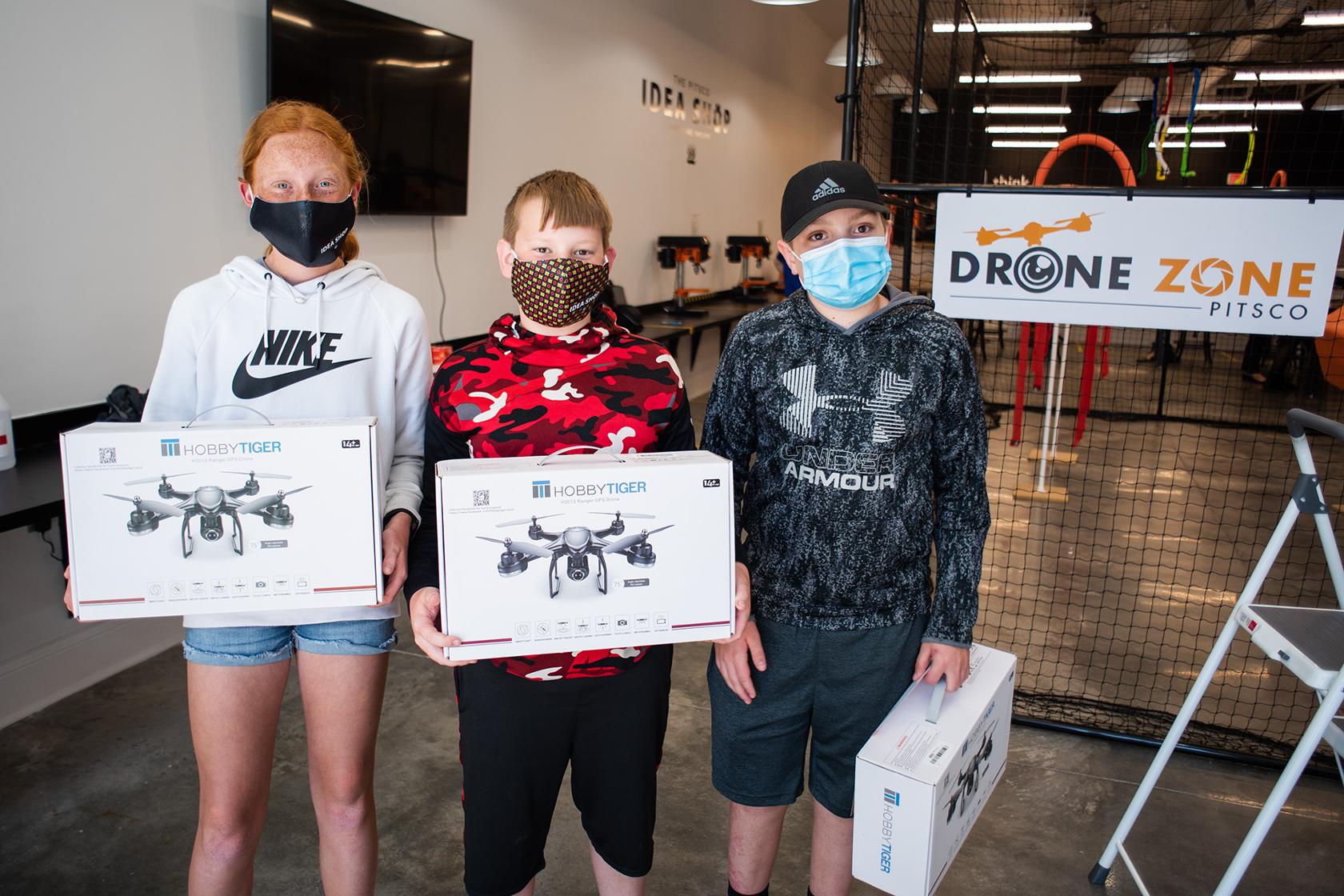 Noah Howard and his best friend Wyatt Raine fell in love with the world of robotics and began looking for ways to further their knowledge, test their skills, and compete.  
What they found was a drone competition at The Pitsco Idea Shop, a collaboration between Pitsco Education and Pittsburg State University in Block22 in Downtown Pittsburg that's designed to help innovators and dreamers turn their ideas into reality. 
Despite living in Fredonia, Kansas, an hour and 15 minutes away, the opportunity was enough to inspire the two boys to enter the competition with their classmate Harlee Blackwell, travel to Pittsburg to prepare, and return Thursday afternoon for the competition. 
It was a wise choice: the three middle schoolers were declared the winners and left with three new drones of their own with which to kick off summer vacation. 
"It feels amazing," Howard said. "We never thought we'd wind up as the winners. It was a great experience." 
Their team, called The Stingers as a nod to Fredonia's school mascot, the Yellowjacket, narrowly beat out two other teams — one from Frontenac High School and one from Fort Scott Middle School — in the finals. 
How it worked 
Prior to the competition, each team developed a mission and portable field elements, or obstacles, to support that mission. 
The Fredonia team created a scenario in San Francisco, California, in which an earthquake occurred, and a drone navigated through the rubble to communicate with rescuers about a trapped individual. 
The Fort Scott team, which came in second place, created a scenario in which a drone navigated an asteroid field in search of photos of aliens as proof to NASA that they exist. 
They set up their missions within a 10-foot by 20-foot netted drone arena. Pitsco Education provided the supplies, the drones, and the judges. 
Among them: the owner of AV8 Droneworx, a local company founded in 2017 by Troy Graham as the need for drones became evident. Today, his clients include municipalities, realtors, ranchers, and others who want aerial imaging, roof inspections, and even search and rescue. 
"It's great to help with something that is inspiring the next generation," Graham said after the competition. "What they've come up with shows just how broad the use is of drones — you can send them were you can't always send a human." 
For Pitsco employee Bill Holden, who coordinated the competition and had high praise for all participants, it showcased what the makerspace is all about: allowing people to bring ideas to life using materials, equipment, and resources not commonly available at home or at school.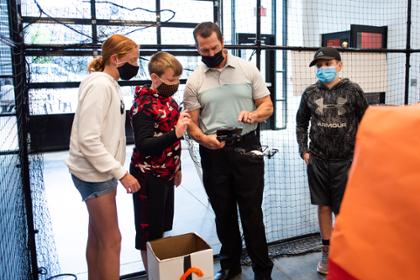 Up next 
More student-focused opportunities at The Pitsco Idea Shop are in the works, says Block22 Manager Mary Louise Widmar, and will be announced in coming months. 
This summer, a drone workshop open to anyone will be held at Pittsburg State University in the Overman Student Center. Planned for July 17, it will cost $60 and will cover the basics, including drone photography, videography, safe flying practices, and regulations. 
It will be taught by Jason Ward and Rob Freeman, who have been drone operators for several years. 
Also this summer, an FAA Part 107 Exam Prep workshop for drone owners will be held July 6 to July 22 by Wayne Bailey, an FAA-certified drone pilot who has 45 years of experience in emergency services. The cost is $528.  
Learn more or register for either workshop: https://kccte.pittstate.edu/workshop/ 
Learn more about The Pitsco Idea Shop: https://pitscoideashop.com/