Colleagues share memories of long-time math teacher  
  Wednesday, May 19, 2021 3:45 PM
  News, Academics, People and Society
Pittsburg, KS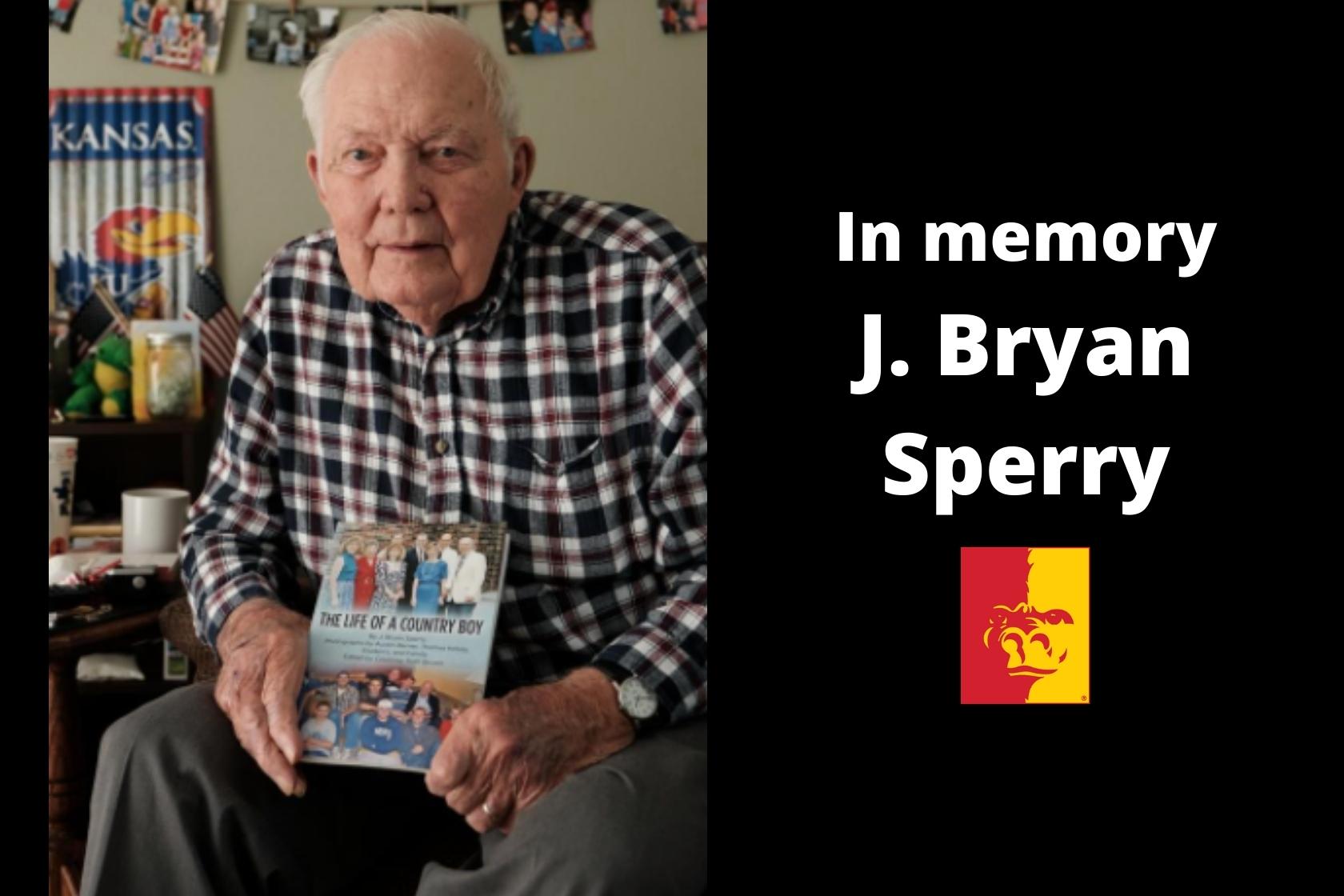 Colleagues and former students are mourning the loss of longtime math educator and volunteer J. Bryan Sperry, who died May 12 at age 95, remembering him as one who shared lasting life lessons — not just math lessons. 
Sperry was an associate professor of mathematics for 32 years at Pitt State and a sponsor of PSU Fellowship of Christian Athletes, impacting thousands of students during his tenure. He retired in 1995 but stayed connected to the university as a volunteer until just a few years ago.  
"He was a very dedicated teacher who demonstrated that he cared about his students," said University Professor Cynthia Huffman. "He even wrote a 'Programmed Algebra' book to help put the material in bite-sized pieces to help his students understand the material better." 
Sperry was one of Huffman's professors, and they became colleagues when she joined the faculty. 
"I was blessed to have him as a professor, colleague, and friend. He was a great man who cared deeply about his students," she said.  
Sperry grew up on a 30-acre farm northwest of Lawrence; his parents both taught in one-room schools. Many of those memories, as well as his time at Pitt State, were included in his book, "Life of a Country Boy," published in 2012. 
Soon after his freshman year in college, he was drafted and sent to Europe where he would fight in four battles in Belgium, France, Holland, and Germany, including the Battle of the Bulge. 
When he returned, he earned degrees in education at the University of Kansas, where he also played in the 1948 Orange Bowl — the first bowl game in school history — and set a school record for two touchdown receptions in a single game. 
He also captured the nation's heart in 2015 when at age 89 he ran for 37 yards during an alumni football game at the University of Kansas and scored a touchdown. It was covered by the national news, and he became an internet sensation; the video has been viewed more than 40 million times. 
Even after he retired, Sperry felt called to continue his work with the department. 
"After he retired in 1995, I asked him to come help with Math Relays every April. He helped until about 2018 by handing out and proctoring tests for the high school students," remembered math instructor Terry Martin. "He always came about an hour early to visit with his former colleagues, and of course, to tell stories about the war and his math career." 
Martin, who was a colleague of Sperry's from 1979 until Sperry retired, also was his student. 
"In class, he often veered from the geometry lessons and gave life lessons," Martin said. "Even though he was a Christian and he cared about his students' souls, he didn't preach. His topics were about values like integrity, honesty, and punctuality." 
A service was held Monday, May 17, in Pittsburg, with burial at the Fort Scott National Cemetery. The family suggests memorials to PSU Fellowship of Christian Athletes; they may be mailed to Brenner Mortuary, 114 E. Fourth St., Pittsburg, KS 66762.