Student Employee of the Year: "I've found my calling in creating a sense of community"
  Friday, April 16, 2021 3:15 PM
  News, People and Society, Academics, Campus Culture
Pittsburg, KS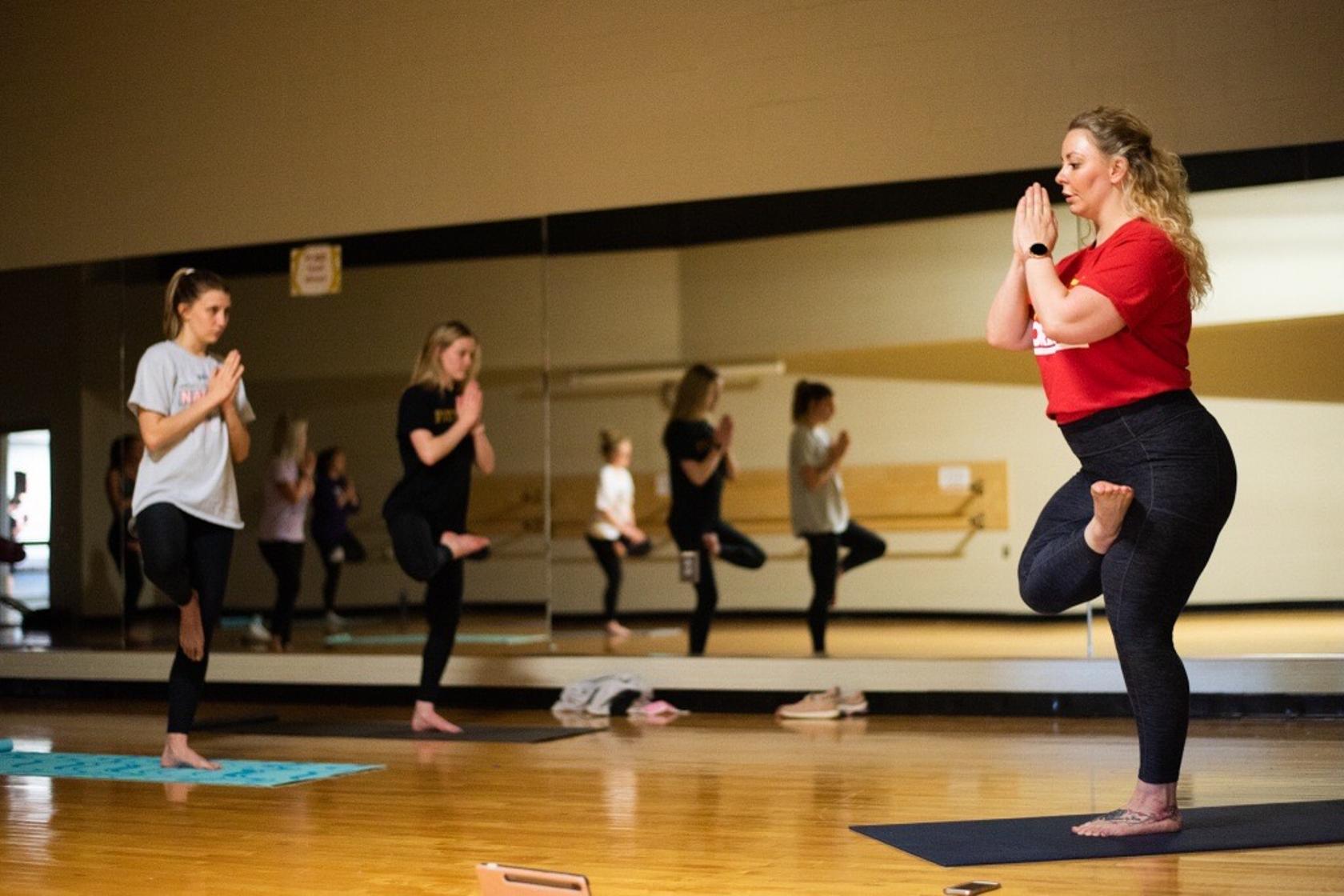 Often, Pittsburg State University's Student Employee of the Year award is given to one of the 600+ students on campus who work in support roles in office settings.  
This year was a bit different: 8 hours a week, Sarah Linville can be found on a yoga mat in Studio 212 of the Student Rec Center guiding students, faculty, staff, and retirees through poses and movements that focus on flexibility, strengthening, and conditioning. 
She also teaches yoga for the Pittsburg Family YMCA, Pinamonti Wellness Center, and children served by SEK-CAP, where she's doing her senior internship. 
"The biggest thing is that as a student, she found her passion in life," said HHPR faculty member Shelly Grimes, who nominated Linville for the award. "When you notice a student has found that passion, they're going to be 100 percent all in." 
In two weeks, Linville will complete her degree in Recreation Services, Sport, and Hospitality Management with an emphasis in Community Worksite Wellness through the Department of Health, Human Performance, and Recreation. 
This fall, she intends to come back to campus — not as a student, but continuing her work as a part-time yoga instructor.  
"They've asked me to continue, and I just can't give it up," she said.  
Grimes said it's evident that Linville is making a difference, is excited to teach, and she always goes the extra mile. 
"She includes her students in the music selection, she invites them to wellness sessions in the community, she helps them with customized plans — she's about the whole person, not just flexibility," Grimes said. "She has a good heart and she wants to help people." 
Linville also is excelling in other areas while carrying a full course load: She's a Dean's Scholastic Honors student, launched her own company, Blue Orchid Yoga, and volunteers with many non-profit organizations, all while being a single parent.  
She's focused, she said, on creating a range of community collaborations while actively promoting wellness and healthy living through yoga and meditation.  
"A sense of community" 
Born and raised in Southeast Kansas, Linville attended St. Mary's-Colgan High School and began her college journey at PSU in 1998, but challenges derailed her. She worked in retail sales, law, and medical businesses in this area and in cities across the Midwest.  
Four years ago, she was inspired to work with SEK-CAP's employment services manager to get enrolled at PSU, choose a course of study, and be successful. 
She soon embraced being not just a student, but a teacher. 
"In our classes we work on self-care, on overcoming anxiety," she said. "All of those things are important, but they're especially important for the time that we've been in this past year." 
This summer, she'll begin looking for positions as a wellness coordinator in the region while working on a few specialty certifications. 
She's in shock and awe, she said, that she was named Student Employee of the Year, but quickly downplayed her achievements in favor of discussing her students. 
"I'm all about creating a sense of community with my students, and I have loved every minute of it here," she said. "I've worked with them on developing a sense of 'OK,' to know that this is a safe place, to help them learn to deal with anger, stress. They're my driving force." 
Other winners 
Also honored at PSU's 32nd Annual Student Employee of the Year Awards Ceremony: 
Grace Haworth, 2nd runner up, who works in Campus Activities 
Bralyn Wilson, 1st runner up, who works in Student Success Programs