State Treasurer presents unclaimed property check to PSU 
  Tuesday, April 13, 2021 2:30 PM
  News
Pittsburg, KS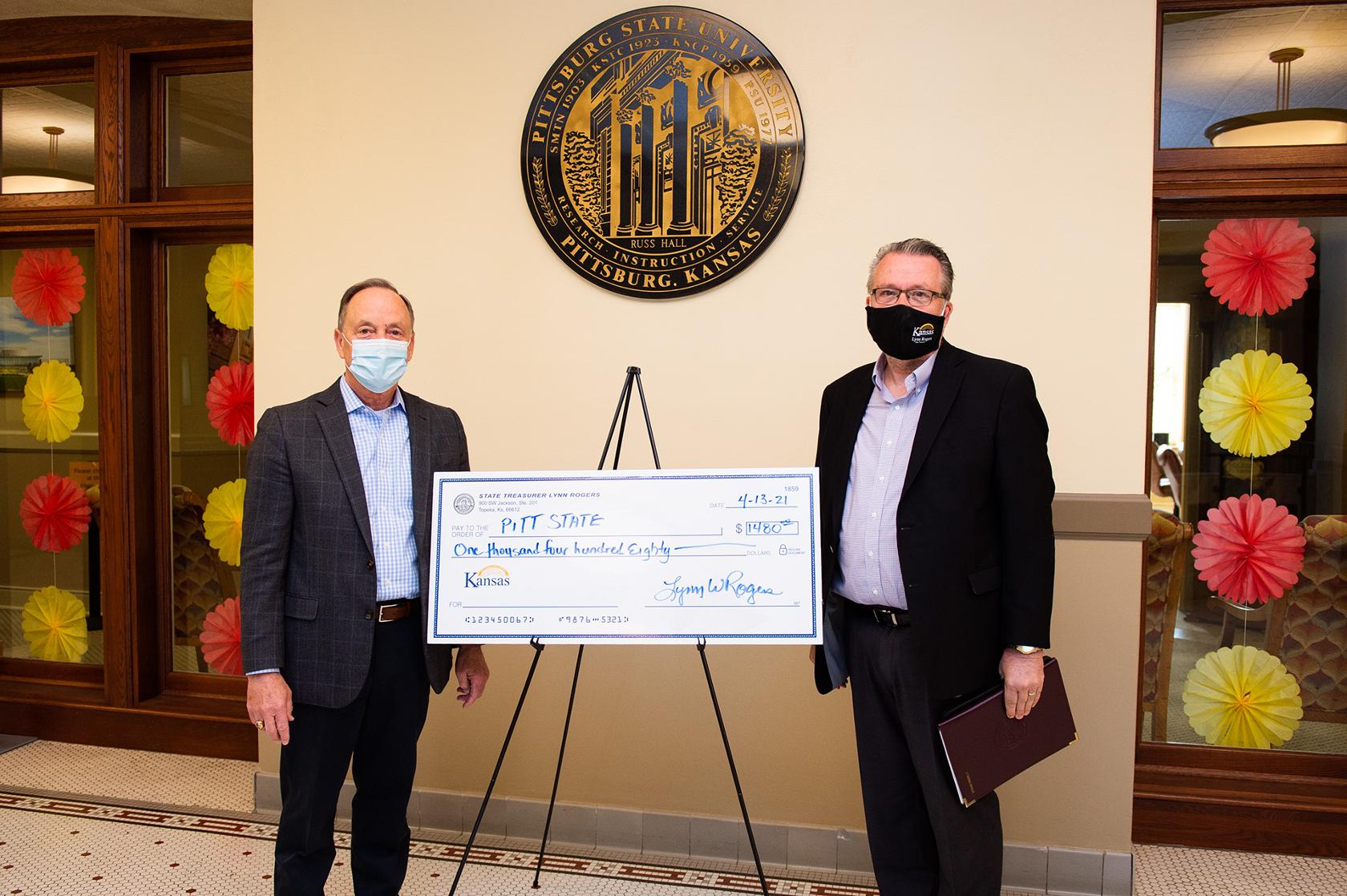 Kansas State Treasurer Lynn Rogers was at Pittsburg State University Tuesday to present an unclaimed property check to the university in the amount of $1,480 in a small ceremony in Russ Hall. 
The funds represent several small dollar items identified through the state's unclaimed property process. 
"It's my job as treasurer to reunite people with what is rightfully theirs, and this is a great opportunity to raise awareness for Kansans in Pittsburg and the surrounding areas," Rogers said. "It's a small amount, it's not a huge amount, but we think it's better in your checking account than ours." 
PSU President Steve Scott said the university was happy to bring attention to the efforts of Rogers' office to return unclaimed property and get the money circulating in the economy, particularly now.  
According to Rogers, there are 33 million people in the U.S. — one in every 10 — who have unclaimed property, and in Kansas, that totals more than $400 million. 
"Each year, Kansas businesses send the names of people with bank accounts, wages, stocks, and dividends that have been abandoned," Rogers said. "You or someone you know likely has money waiting to be collected." 
Rogers described unclaimed property as financial accounts or items of value in which the owner has not initiated any activity for several years. He hopes students, faculty, staff, and community members will check to see if they have unclaimed property awaiting them. 
"We're over a year into a pandemic that has taken a financial toll on many Kansans," Rogers said. "Unclaimed Property is money that can go toward paying for another tank of gas, a bill, or some groceries. Sometimes, the property is worth a lot of money and can change a person's life. There aren't any catches or loopholes — we simply want to deliver good news to people that will improve their lives and help stimulate local economies." 
To check on whether you have unclaimed property, visit KansasCash.ks.gov