Outstanding Senior Erin Kruse: "I've flourished here" 
  Wednesday, April 28, 2021 8:45 AM
  People and Society, Milestones, News
Pittsburg, KS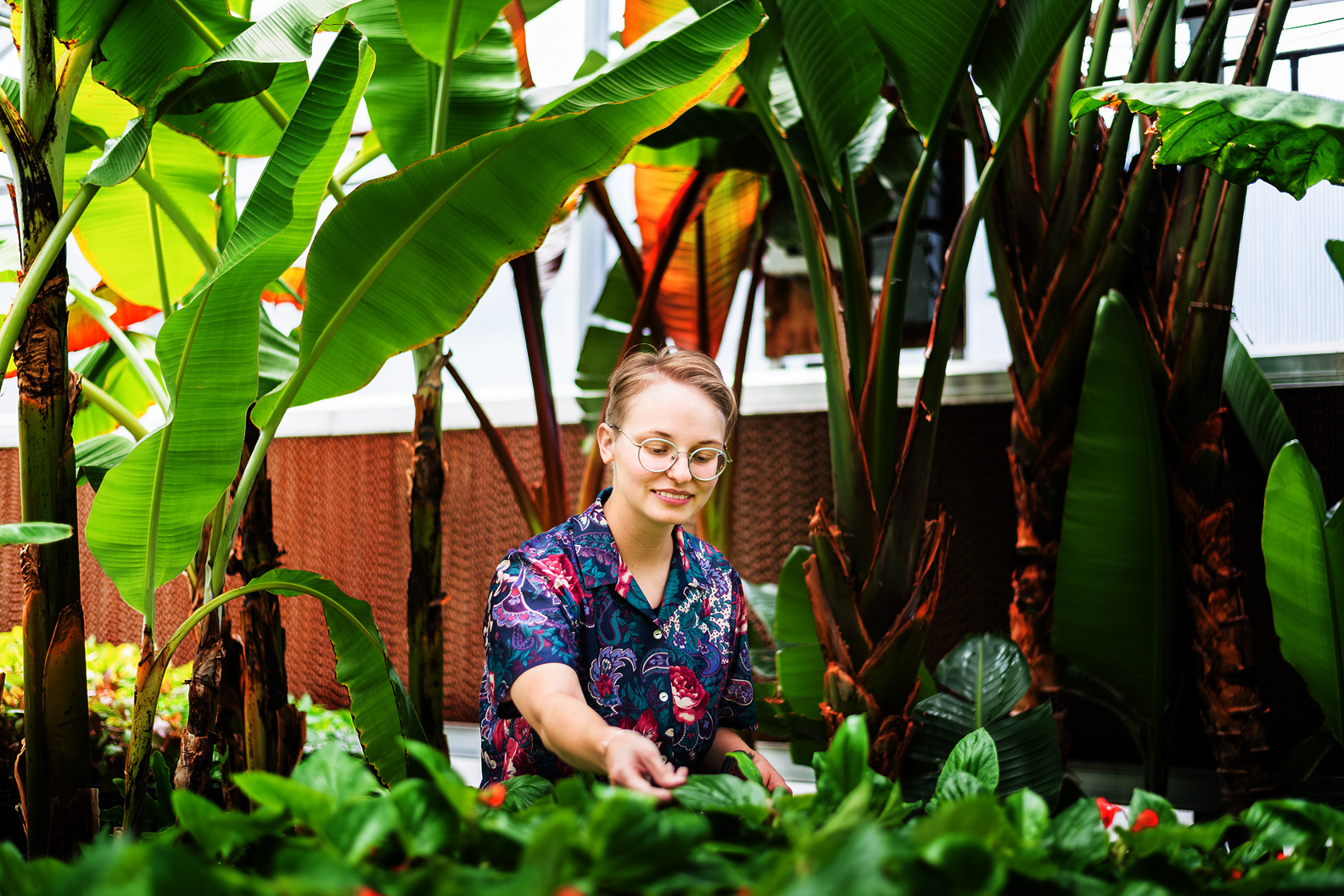 An hour after recording her Commencement address to fellow graduating seniors, 2021 Outstanding Senior Erin Kruse was offered a job that wraps up and ties with a bow everything she learned at Pittsburg State University and will allow her to make a difference like she's dreamed. 
Kruse, a dual major in Sustainability, Society and Resource Management and Political Science, was snatched up by the Climate + Energy Project. It's a statewide nonprofit building resilience in Kansas through equitable clean energy solutions and climate action. 
In a word, it's about the future. 
"It's right where I want to be," said Kruse, who will divide her time between Southeast Kansas and Kansas City after the semester concludes May 7. "I'm very excited." 
Pittsburg State wasn't her first choice. 
She had been studying sustainable agriculture at Johnson County Community College in Kansas City when she was needed back home in Girard, Kansas. 
"I was like, 'What am I going to do? What am I going to study?' And that's when I found the sustainability degree option," she said. 
The degree is unique in Kansas and is interdisciplinary: it brings together faculty and resources from the departments of Communication, Geography, and Biology. 
It was a perfect fit. At PSU, she was able to take her passions for making the world a better place to the next level. 
"My passions are centered around social justice, accessibility, and community organizing," she said. 
She enacted change on campus, taking leadership positions that aligned with the university's commitment to sustainability on campus and in the community. She served as president of Students for Sustainability and worked as the Student Assistant for Sustainability in the President's Office. 
In 2019, she played a lead role in erecting an aquaponics system in the greenhouse on the roof of the university's science building.  
Also that year, she wrote a grant to the Kansas Health Foundation for $25,000 to implement an aquaponics food production system at a small rural high school in Cherokee, Kansas. Her goals: to help them learn to address the lack of fresh and local food in an area 20 round trip miles from a local grocer, and to enrich students' hands-on learning opportunities in sustainability. 
She was successful in securing funding, and with fellow students and the support of two faculty members, began building the system in Fall 2020. 
"I saw a need, and I wanted to be part of the solution," she said. "Being part of the Pitt State program helped make that possible." 
Along the way, Kruse conducted media interviews, presented at international conferences, won literary awards, and was a keynote speaker at a collegiate event. 
"I'm super glad I changed directions. Here at Pitt State for the past three years, I've had opportunity after opportunity. I've been able to grow as a person and in what I want to do with my career," she said. 
And because it is a small campus, she felt supported and connected.  
"I don't think I would have nearly the same kind of community support and could have had the same level of engagement if I had gone somewhere else. All of the roles I got to step into, they took me outside of my own box."  
"Leadership wise, I feel I've definitely gained a lot here. I've flourished here, and it's been nice." 
Chris Wernimont 
Also chosen as 2021 Outstanding Senior was Chris Wernimont, an Architectural Manufacturing and Management Technology major from Overland Park, Kansas. 
Both will be featured in commencement ceremonies Friday and Saturday at John Lance Arena. Approximately 1,200 students are completing their degrees this spring.