Outstanding Senior Christopher Wernimont: "Pitt State has transformed me" 
  Wednesday, April 28, 2021 8:45 AM
  News, People and Society
Pittsburg, KS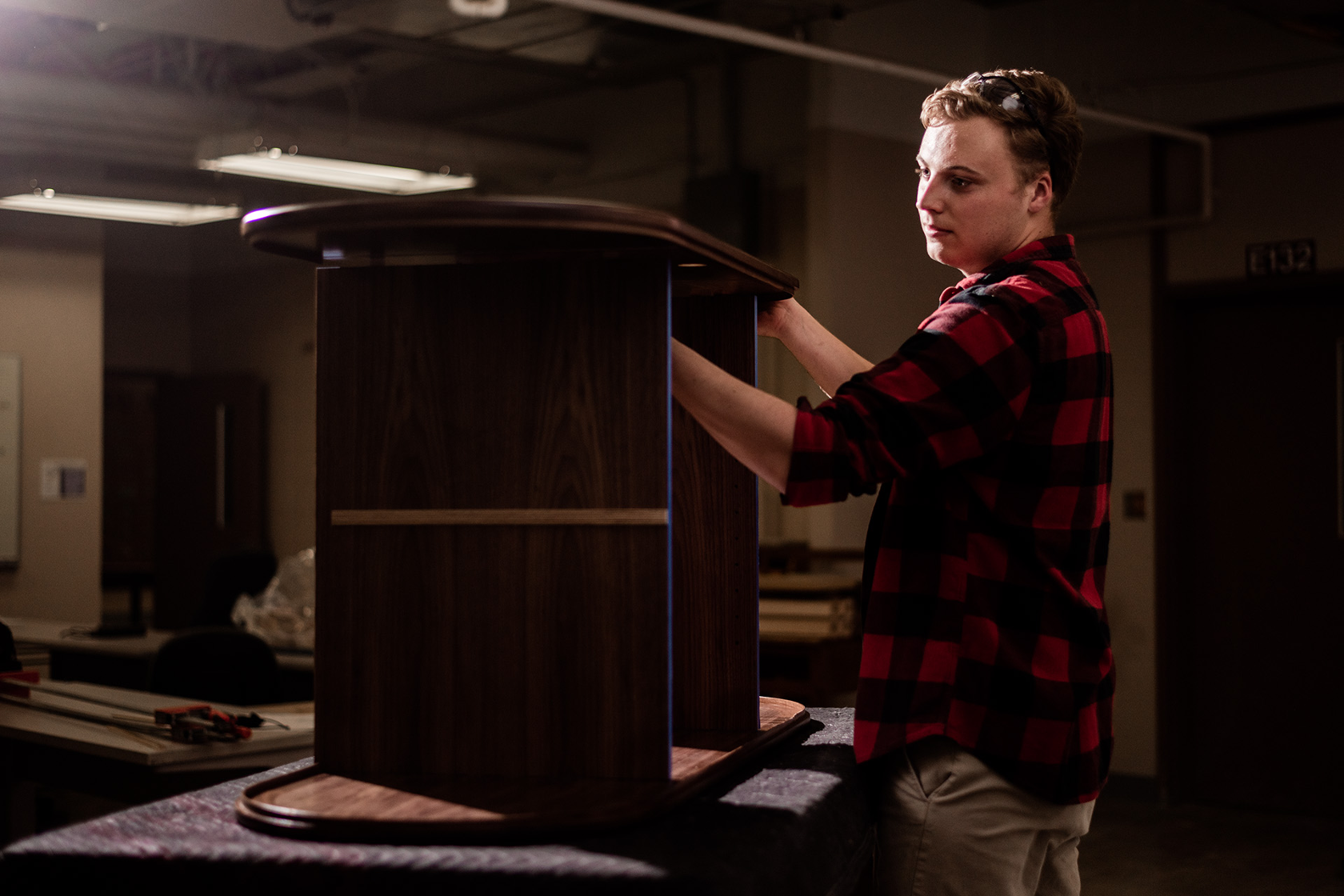 Inspired by a high school wood shop teacher, Christopher Wernimont chose Pittsburg State University for his education and wound up making a tangible impact while here, starting a program that to date has benefited 450 area children. 
His efforts earned him the designation of being one of two 2021 Outstanding Seniors. 
"I am a passionate woodworker on the outside and a servant leader in my heart," he said. "I love using my talents to give back to those around me, and I firmly believe in helping others every step of the way." 
Wernimont is completing his degree in Architectural Manufacturing and Management Technology in the College of Technology. 
"Coming in, I knew from my high school teacher, who went here, that this was the only program of its kind in the country — a four-year bachelor's in wood technology," he said. 
He was excited to work with his hands, learn more, and follow his passion. 
"Those things all came true, but looking back on my four years, I probably appreciate the connections I made with the people here more than anything," he said.  
As a native of Overland Park, Kansas, he found the small campus and class sizes not a handicap, but an advantage.  
"We have three professors who teach us every class in our major, and by the time we're seniors, they're not just our teachers, they're our mentors." 
As a sophomore, he took the lead on starting a program just like his high school wood shop teacher did to benefit area children through the United States Marine Corps Toys for Tots program. 
He learned how to use drafting software and familiarized himself with using a CNC machine that could replicate parts for what would become an assembly line-like process. It was a project he'd repeat with his classmates his junior and senior years, for a total of 450 toys donated to date. 
"We wanted to get the AMMT name out there in a positive way, and we wanted to help kids have a nice Christmas," he said. "I'm really glad we could make both those things happen. It's my proudest accomplishment to date." 
Wernimont served the department by helping underclassmen with homework and personal projects, advising the Society of Architectural Woodworkers Club on projects, giving tours of the facilities, and traveling to high schools across the country to promote the program. 
A dual major in Management and Marketing through the Kelce College of Business, he also became a published author in the Economics & Business Journal with "Inquiries and Perspectives in 2021," in collaboration with two faculty. 
Following a summer internship with a global company, he will return to campus this fall to begin work on becoming a teacher himself. 
"I want to start my master's degree in Career & Technical Education so I can one day invest in youth like my teachers did in me," he said. "Pittsburg State has transformed me by furthering my passion for what I do, and I will be forever thankful for my time here." 
Erin Kruse 
Also chosen as 2021 Outstanding Senior was Erin Kruse, a dual major in Sustainability, Society and Resource Management and Political Science from Girard, Kansas.  
Both will be featured in commencement ceremonies Friday and Saturday at John Lance Arena. Approximately 1,200 students are completing their degrees this spring.