New air cleaning system improves air quality in dorms  
  Thursday, April 1, 2021 3:30 PM
  News
Pittsburg, KS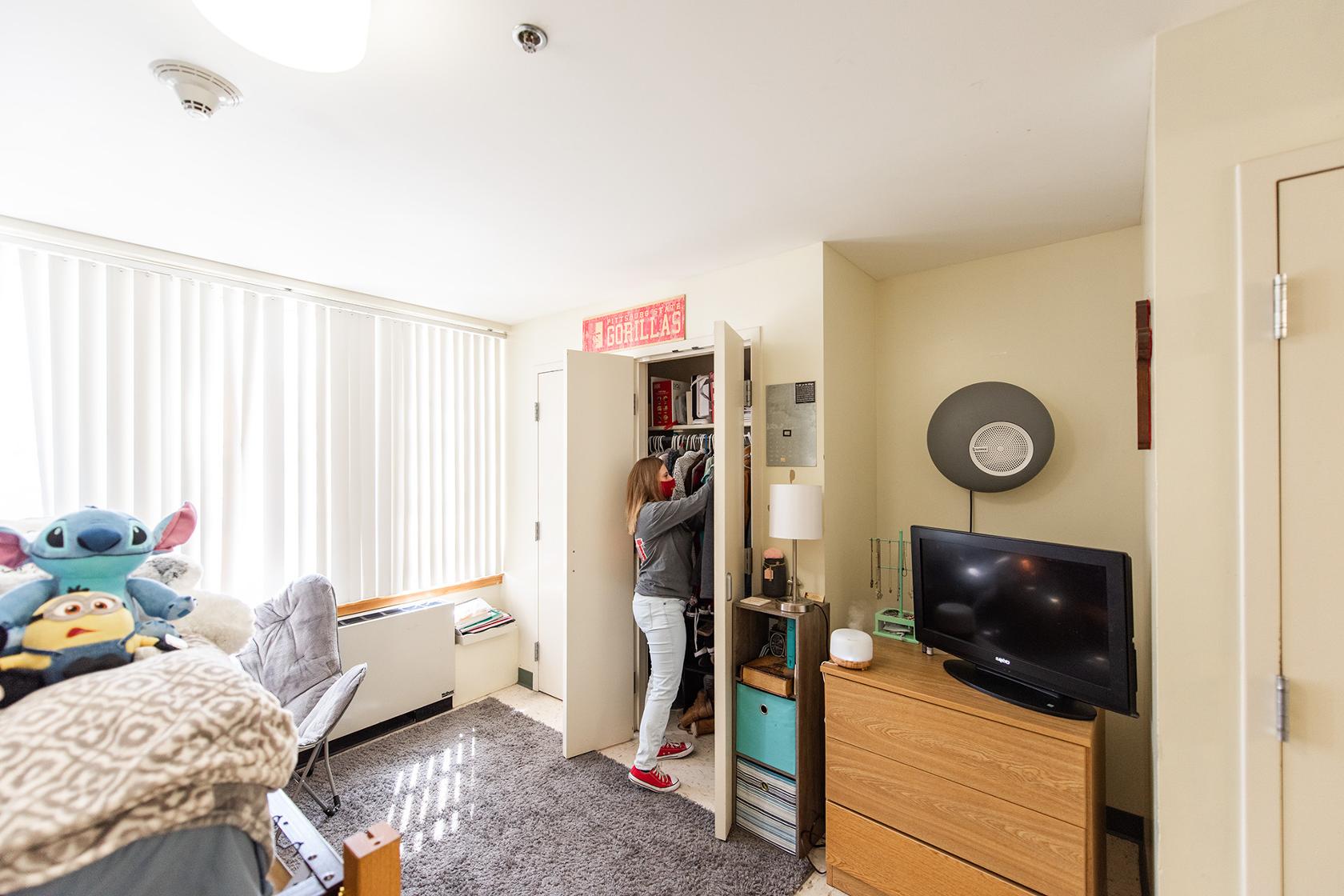 When Hannah Reel transferred to Pittsburg State University as a junior, she discovered something unexpected: she loves her residence hall floor in Willard Hall — especially her own room. 
Part of the credit, she says, goes to a new air cleaning system installed by University Housing to improve air quality in indoor spaces, including individual rooms and many common areas. 
"The new air cleaning system has allowed for my room to feel less musty and inviting," she said. "I've made some great life-long friends and feel at peace with living in the dorms."   
The devices are part of a system known as Synexis Biodefense System, which produces safe levels of dry hydrogen peroxide, or DHP. DHP is designed to safely and effectively break down pathogens, flowing freely and continuously through indoor spaces, to reduce the presence of microbes in the air and on surfaces.  
That, in turn, renders viruses non-infective, including both influenza and COVID-19, as well as mold and bacteria. The system also will eliminate odors.  
Installation of the system is part of a strategic, ongoing effort around health and comfort in residence hall living. Starting with the Spring 2021 semester, the university made single rooms the default selection for residents, rather than the traditional double occupancy. Incoming freshmen now have expanded room type options, and upperclassmen have options for downtown apartment living at Block22.  
"Student safety is our top priority," said Steve Erwin, vice president of Student Life, the division that includes University Housing. "Installing these devices will help ensure the highest air quality possible in the spaces in which students spend a great deal of time studying, sleeping, and forging friendships."  
Erwin said the university wants students to get the most of their Pitt State experience, and that residence halls play a big role in that.  
"We've listened to feedback and expanded our options and amenities, and we hope this encourages more students to live on campus more than just their freshman year," Erwin said. "We feel residence hall living provides a level of immersion in campus life that can't be replicated elsewhere." 
Learn more 
Learn more about the devices: www.synexis.com 
Learn more about University Housing at Pittsburg State University: www.pittstate.edu/housing/