Media Production students win statewide awards 
  Friday, April 9, 2021 9:00 AM
  News, Academics
Pittsburg, KS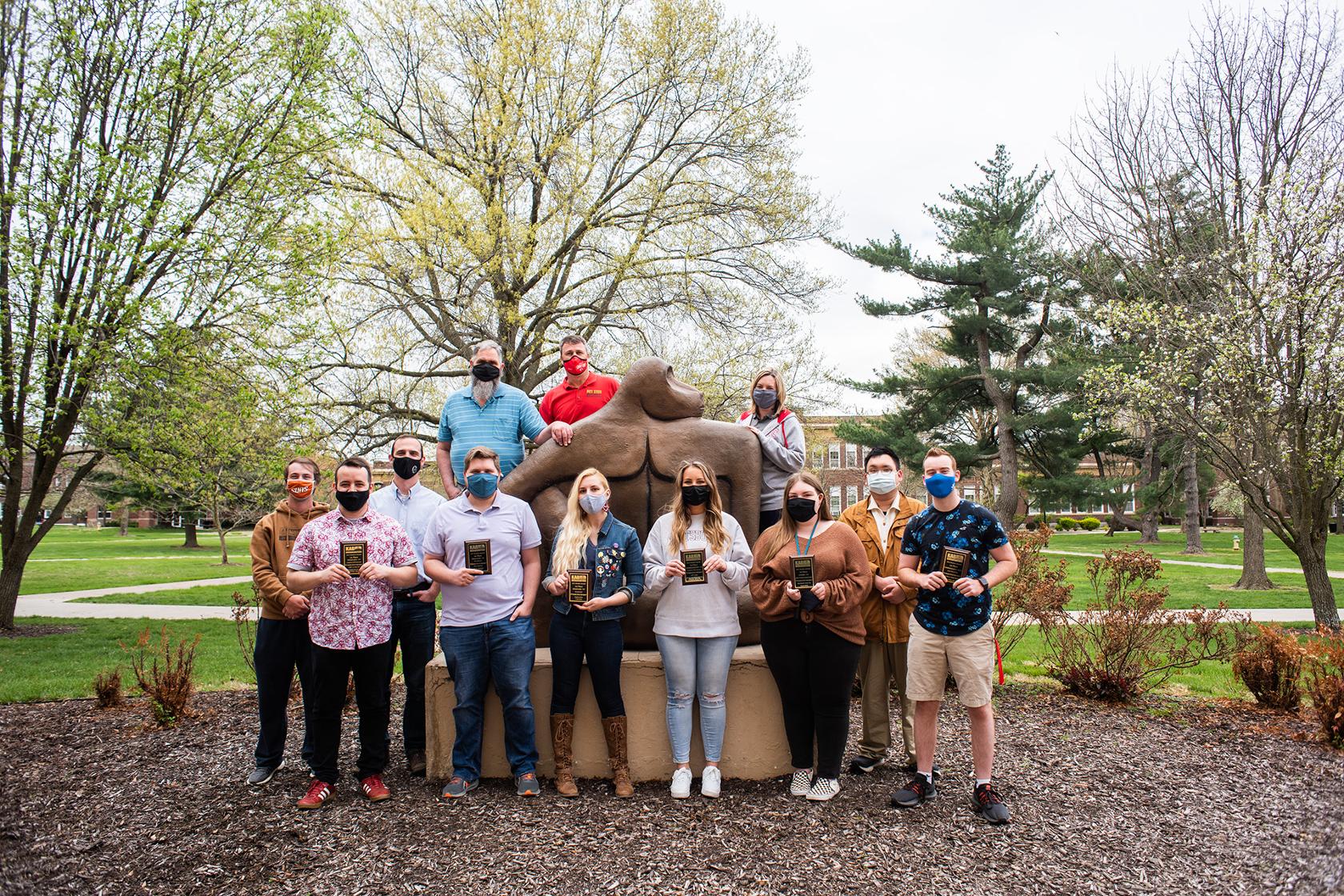 Last fall seems like a long time ago. But Pittsburg State University students Caleb Wuthnow and Kat Bailey have a clear memory of what they felt when it was announced the Gorillas would get to play a football game. 
"There was a lot of uncertainty about last fall, at first thinking there would be no season because play was suspended, and then learning that we would play. We thought 'this is one game we're guaranteed, so let's give it all we've got'," said Wuthnow. 
Wuthnow, a senior from Newton, Kansas, and Bailey, a graduate student from Ontario, aren't football players — they're Media Production students who value the games from a different perspective: broadcasting. 
Their efforts to tell the story of that one game — an exhibition game against the Lopers of University of Nebraska-Kearney — were rewarded this week as one of five first place wins by PSU students in a statewide competition by the Kansas Association of Broadcasters.  
PSU students also captured four second place awards and four honorable mentions in the competition, which drew more than 200 entries by students from all other colleges and universities in Kansas. 
"It feels really good to have our efforts recognized. We really wanted to achieve the best level, and so to think that someone else thought it was good is validating," Bailey said. 
"For it to win is great; we're both happy to have produced something really good." 
Joel Viets, a 33-year-old non-traditional student at PSU, earned a first-place win for a radio PSU about depression. 
"It was a hard year. Most of my other projects are light-hearted, but I wanted to do something important for the time we are in," said Viets, in reference to the pandemic. "I'm seeing people struggle, and I thought this would be a way to help." 
"It's been a long road to get here, but this award is just reaffirming that this is where I'm supposed to be." 
Other award-winning projects included two documentaries about the effects of the pandemic, promotional videos, sports play-by-play, and entertainment. First and second place winners will advance to national competition in May. 
"They learned a lot this year and had to use a lot of critical thinking to produce these projects during a pandemic," said Troy Comeau, director of Media Production at PSU. "I'm really proud of them." 
Also teaching Media Production at PSU is Assistant Professor Barth Cox. 
Award winners include: 
First place: 
Audry Elmore, Grove, Oklahoma, Promotional Audio/Video 
Sean Gordon, Joplin, Missouri, Graduate Documentary  
Caleb Wuthnow, Newton, Kansas, Station Promotion Announcement 
Emma Kathleen Bailey, Pittsburg, Graduate Station Promotion Announcement and Entertainment Program 
Joel Viets, Frontenac, Kansas, :60 second Radio PSA 
Second place: 
Cale Chapman, Mission, Kansas, :60 second Video PSA 
Chih Chieh Chang, Taipei, Republic of China (Taiwan), Entertainment Program 
Liberty Vogel, Pittsburg, Kansas, :60 second Radio PSA 
Shelby White, Pittsburg, Sports Play-By-Play 
Honorable mention: 
Tyler Godwin, Haysville, Kansas, Sports Play-By-Play 
Ty Goss, Documentary  
Pride Leggins, Lawrence, Kansas, :60 second Radio PSA  
Ivan Walter, Sports Play-By-Play and Documentary 
---
Learn more about the Media Production emphasis at www.pittstate.edu/communication/