Volunteer recognized for helping put PSU on music world map 
  Monday, March 1, 2021 8:00 AM
  People and Society, Alumni, News, Giving Back
Pittsburg, KS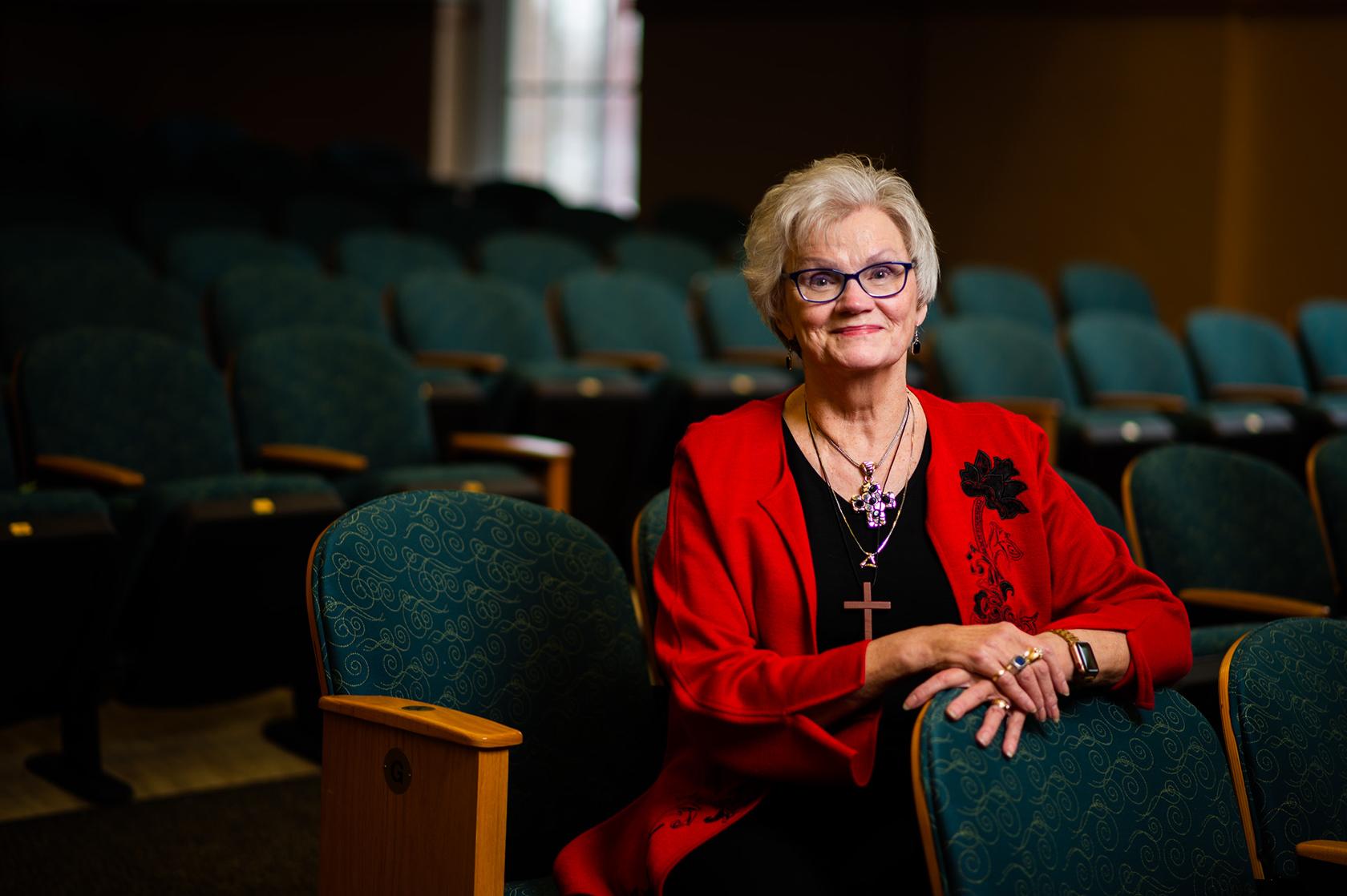 Each time Sara Henry has listened to a world-renowned music group from one of her favorite seats in the Sharon Dean Recital Hall at Pittsburg State University, she has found herself a bit awestruck. 
"Some of these individuals and ensembles who come for the Solo & Chamber Music Series have performed all over the world," she said. "It has always made me very humble, but also full of pride, that we have been able to get these professionals here and to know that we have a name now when it comes to the world of music." 
For 20 years, Henry has played an important role in making the Solo & Chamber Music Series possible. For her efforts, she was chosen as the winner of the 2021 Dr. Ralf J. Thomas Distinguished Service Award. 
Typically, the award comes with a luncheon at The Crossland University House, a public reception at the Wilkinson Alumni Center, and the Apple Day Ceremony at the Overman Student Center. This year, it comes with a virtual observance, but Henry is no less appreciative. 
"I'm so humbled," she said. "When I was told I was getting an award for helping out, I said, 'Huh? Really?' I never would have thought I'd get an award for my love of the Music Department and my love of the university. It's also special because the award is named after my advisor in college." 
Henry's dedication to the Music Department dates to the 1960s when she and her brother were part of the college band. She graduated with a business education degree in 1968 and began a long career in local banking.  
In the 1980s, she began attending Solo & Chamber Music Series concerts in McCray Hall and was smitten by the quality of the concerts and the atmosphere afterward at receptions hosted by community members in their homes.  
"Performers and members of the Friends group who financially supported the series would gather, and I would sometimes be among those to contribute food," she said. "One time we had a wonderful violinist and his pianist come — someone I had heard on Performance Today on KRPS — and they needed a ride to the Kansas City airport the next morning." 
Henry and her husband Richard drove them to catch their flight. Soon, the couple were volunteering to host receptions themselves and found joy in being able to give their service in some small way. 
"It was so much fun, and the musicians and our guests thoroughly enjoyed themselves," she said. "It was an honor. Non-music people don't realize sometimes how famous these groups are, and they're coming to Pittsburg." 
When the concert series coordinator at the time, Eunice Gariglietti, retired from the job, Music Department Chair Susan Marchant asked Henry to step in, and she agreed.  
"It's a multi-faceted role that extends into artist selection, assistance with ground transportation, planning and execution of all levels of hospitality, communication with patrons, and coordination with the local and regional members," Marchant said. 
"Simply stated, we could not have experienced the wonderful success that the series has enjoyed without her very substantial contribution. Her work helped to ensure that visiting artists have an excellent experience when they come to Pittsburg for performances, and this is a large part of the reason why we enjoy a secure position on the 'A' list with arts management companies all across the nation." 
Henry, who has also volunteered in many local civic and philanthropic groups, described her volunteer work as a way to give back to her alma mater and the community.  
When it comes to the success of the Solo & Chamber Music Series, she declined to take full credit, noting that many local couples including Linda and Gene Vollen, Marianne and Joe Wachter, Susan Marchant and Kathryn Parke, (President) Steve and Cathy Scott, Paul and Marybeth Grimes, and Sherri and Jeff Stephens have served as hosts.  
She noted that she has gotten as much as she has given. 
"I consider the Music Department a sort of family, and it's enriched my life. I've been fortunate to go on a few of the tours the choir has taken over the years, and I love interacting with the students," she said.  
"And, it's delightful to know that musicians consider Pittsburg a great place to come to have a concert and to perform, because the crowd is always very friendly, very accommodating, very enthusiastic and very appreciative." 
About the award    
The PSU Alumni Association established the Distinguished Service Award in 1991 and presented the first award later that year. In July 2000, it was renamed the Dr. Ralf J. Thomas Distinguished Service Award in memory of a retired faculty member who volunteered his service to the PSU Alumni Association for 22 years and was the first recipient of the award in 1991.     
"The recipients of this award are those who have been selfless at giving their time and their talent for the betterment of the university," said Director of Alumni & Constituent Relations Jon Bartlow, who first met Sara Henry when he was a student in the Music Department more than 20 years ago. "She and her late husband have been constant figures in the musical community for decades. I am thrilled that our alumni awards committee has chosen to honor such a worthy individual this year."