One year later: Surviving a pandemic at PSU 
  Tuesday, March 16, 2021 8:30 AM
  Academics, News, People and Society, Milestones
Pittsburg, KS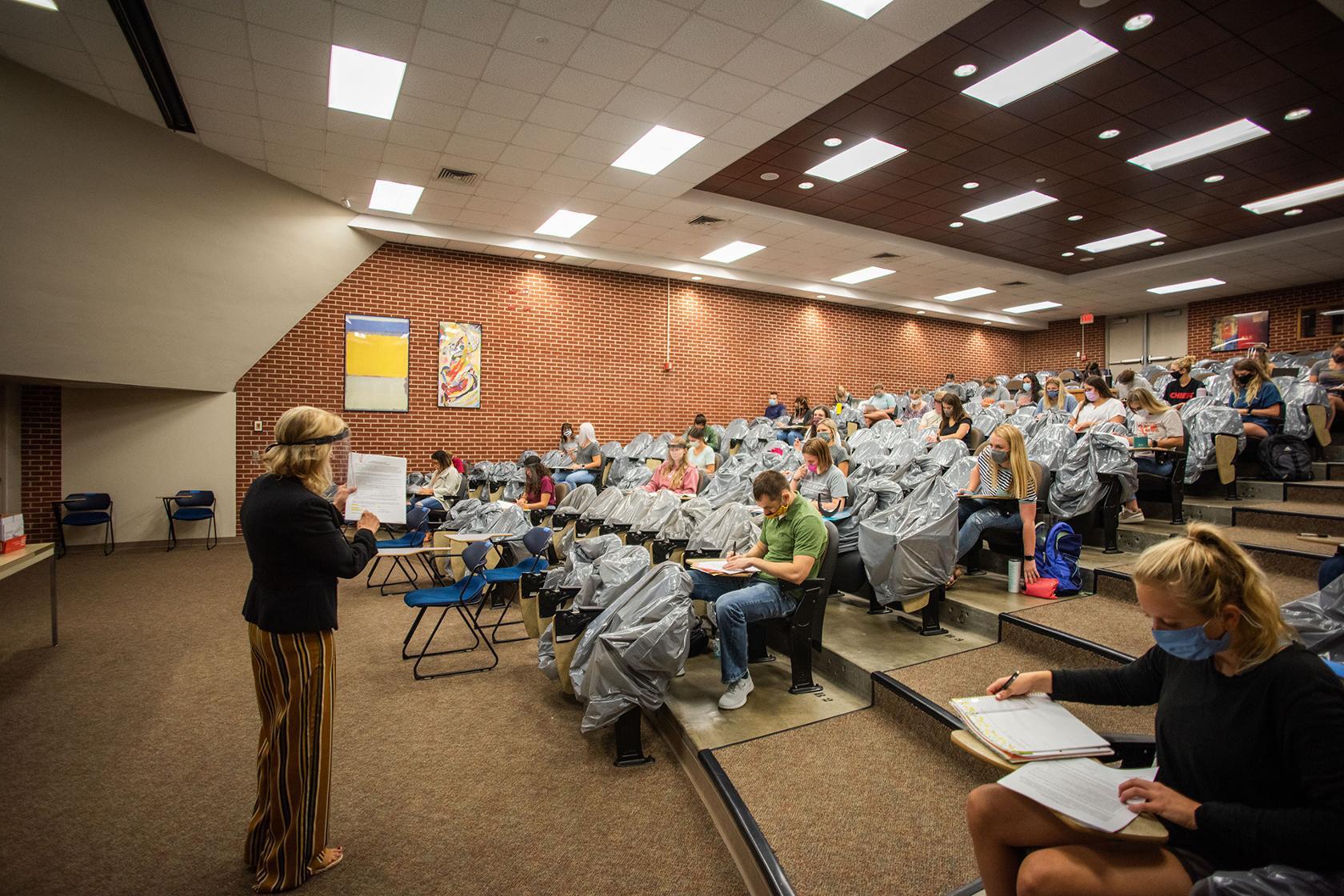 It's been a year. 
On March 13, 2020, Pittsburg State University students were sent home for Spring Break a week early as shelter-in-place orders were issued and the pandemic began working its way across the U.S. The following week, employees were sent home. 
And then, the world as we knew it changed in ways we couldn't have dreamed.  
For 12 months, we all learned to navigate the choppy waters of uncertainty while working to keep students on track toward their degrees and to mitigate the spread on campus and in the community. We also mourned colleagues and friends lost to the virus.  
And then, on Wednesday, March 10, 2021, the university announced for the first time since last summer that there were zero new cases to report among students, staff, and faculty. Also that day, more than 450 vaccines were administered to faculty and staff through a partnership with the Community Health Centers of SEK.  
Today, there's a new sense of a light on the horizon. 
What did it take to get here? 
Decision-making 
In the first few months of the pandemic, the university's Critical Response team met daily to make short-term decisions and to come up with possible long-term solutions; many of those had to remain flexible and fluid and changed several times as new information about the virus became available. The team continued to meet regularly once school began in August.  
Communicating 
The Office of University Marketing & Communication created a COVID web page to communicate with students, faculty, staff, and the community, and began sending daily messaging — which transitioned in recent months to a few times each week — via email and social media to keep all stakeholders up to date. The office also produced many stories and videos to showcase ways faculty, staff, and students were adapting.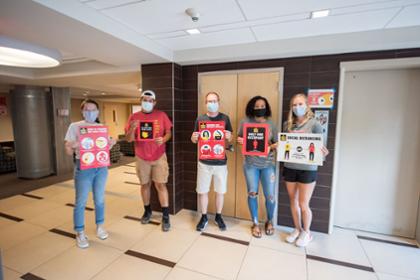 Learning 
Students transitioned to a mix of hybrid, online, and restructured in-person classes with safety protocols. They adjusted to wearing masks and observing mitigation strategies across campus — from the dining hall to their on-campus jobs. None of this was easy for them, but they did a fantastic job of adjusting and complying so that they could continue making progress toward their degree.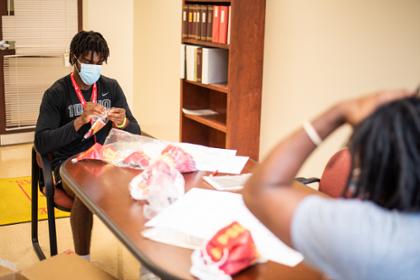 Working 
The university invested in technology and training, provided software, and checked out laptops to students. Faculty and staff transitioned to remote work for several months. They incorporated the use of tools like Microsoft Teams and Zoom to collaborate virtually and to conduct meetings in a virtual  environment. They got creative. They figured out how to do their jobs in new ways. 
It was especially challenging for subjects that relied on labs and other in-person, hands-on experiences critical to the learning process, but faculty made it happen: nursing majors completed clinicals, automotive technology majors worked on engines, biology majors completed labs, construction majors built things, and multi-media communication majors created things. 
The IT team installed additional wi-fi in exterior locations across campus so that students could access online courses and critical instructional resources safely outside of buildings. Custodial staff doubled down on sanitizing with a rigorous cleaning regimen. 
And essential personnel kept campus operations going, from Physical Plant staff to University Police. 
Mitigation and Collaboration 
The university developed and distributed guidelines for returning to campus, designed and printed extensive signage and installed plexiglass in all facilities across campus, and provided masks to all students, faculty, and staff on the first day of school in August.  
The Bryant Student Health Center created a new temporary position – the COVID-19 case manager – who worked throughout the fall and into the spring semester. Staff conducted entry testing of all students living in residence halls in August and again in January, conducted testing of symptomatic students who reported to the Health Center throughout the academic year, tested student athletes on an on-going basis, and provided support to those in quarantine and isolation.  
Staff also collaborated with the Crawford County Health Department and community partners on mitigation strategies, communications, and decision-making. And, staff were leaders on the Crawford County Recovery Task Force, a joint effort between the city and the university that included members from stakeholder agencies. It has continued to meet weekly since forming in the early days of the pandemic. 
PSU continues to stay in touch with local and county health officials and are continuing to test at the Health Center. Since the beginning, the university has reported weekly case numbers.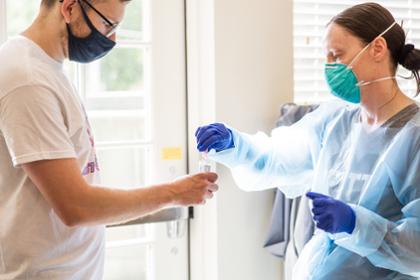 Reimagining 
University-wide, PSU changed up countless in-person events to be virtual with no in-person audiences. In this way, everyone has continued to have opportunities to experience those hallmarks that are a vital part of university life. 
This included a livestreamed Homecoming ceremony, livestreamed music concerts, recorded theatrical productions available for viewing on demand, and a virtual celebration of Apple Day in which Outstanding Faculty, Good Apple winners, and others were honored.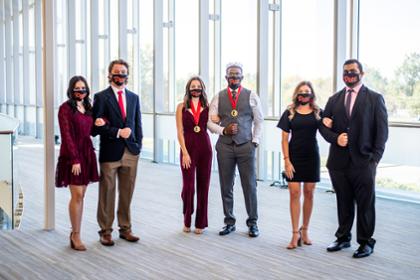 PSU worked closely with the county public health officer to devise a safer way to hold a home football game in November and was one of 11 NCAA DII football programs to play last season. With capacity limits and mitigation strategies in place, and with sign-off from the health department, the basketball and indoor track and field seasons were completed, and volleyball is playing a special spring season now. Baseball and softball are underway, and outdoor track and field will start soon.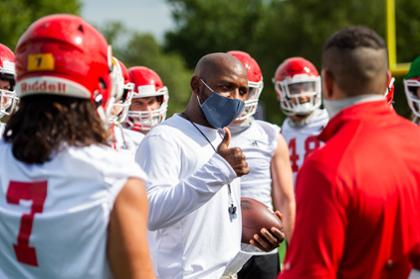 The Office of Alumni & Constituent Relations, which typically holds Gorilla Gatherings in cities across the Midwest and beyond each year, adjusted and held them virtually. The Office of Career Services, which holds several career fairs and interview days each year designed to help connect prospective graduates with employers, also shifted to virtual events. 
The university still held some critically important milestone events, like Fall Commencement (and a delayed Spring Commencement at the same time), but those events had a much different look and feel to avoid having thousands of individuals in an area at the same time. 
For the remainder of the semester, PSU is continuing to plan events using recommended safety protocols, some with limited in-person audiences and some virtual.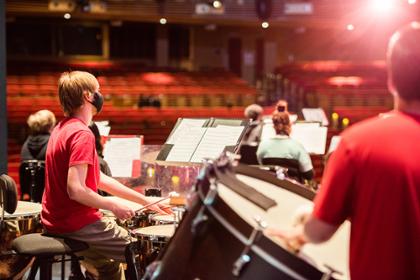 Enrollment 
International enrollment declined early in the pandemic because of travel restrictions, which was a loss to the university and the community. Staff in International Programs & Services strived to stay connected to prospective students abroad, however, and are starting to see gains: 70 new international students came to campus this spring — PSU usually averages around 80 — and applications are coming in for fall. 
The campus was a bit quieter than usual without the hustle and bustle of the traditional academic year, which everyone missed enormously. Even so, the team in the Office of Admission and individual departments recreated their traditional student recruiting events in virtual formats, giving prospective students a chance to learn about PSU from afar.  
Now, student recruitment is largely back to normal, with prospective students and their families back on campus and in the community almost every day taking tours and meeting with faculty as they make decisions about their higher education experience.  
Looking ahead 
Spring break was moved to the end of the semester so that students are not traveling and then returning to campus, meaning coursework will end on May 7 — a week earlier than usual. PSU has planned eight socially distanced commencement ceremonies that will be "walking ceremonies" like fall, and those will be April 30-May 1.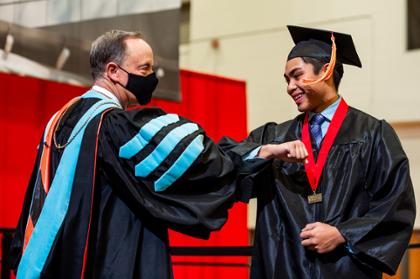 Hopefully, as the vaccine reaches more and more people, the university will be able to regain a sense of normalcy in the coming school year. 
"As individuals, we've all grown in some way. We've had opportunities to find new and exciting approaches to challenges, expanded our thinking, re-centered our priorities, and developed stronger senses of empathy for our fellow humans," said President Steve Scott.  
As an organization, we also grew.  
"Pitt State pulled together like never before to produce an experience for our students and employees that should bring pride to us all," Scott said. "It wasn't easy nor perfect, but Pitt State Together really means something, and we'll carry it forward with us."