Faculty art, photography on display in new exhibits 
  Wednesday, March 10, 2021 9:30 AM
  News, Campus Culture, People and Society, Arts & Entertainment
Pittsburg, KS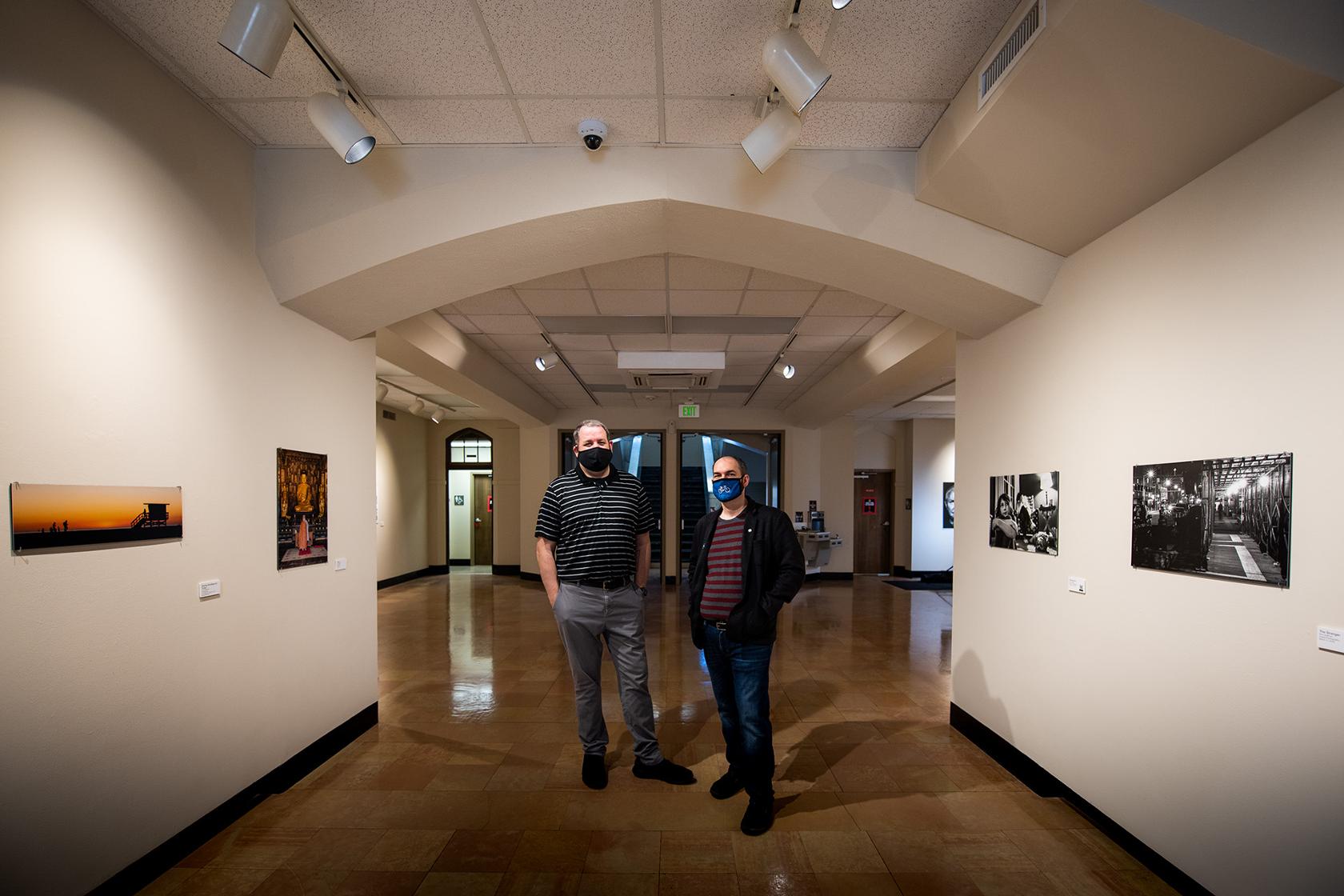 The talents of faculty at Pittsburg State University are on display in three exhibits at Porter Hall, home to the PSU Art Department. 
Assistant Professor J. Rocky Restivo and Associate Professor Rion Huffman, both of whom teach in the PSU Graphics and Imaging Technologies Department, have photography exhibits in the Harry Krug Gallery through March 30. 
Restivo's exhibit, "Wingin' It: A Series of Travel Photographs," combines his love of travel and his passion for photography. 
A keen observer of his surroundings, Restivo sees the way geometry combines with light to tell the unique stories of his travels. The photographs in the exhibit vary in subjects from a skate park in Los Angeles to travels in Asia, but the common thread is the openness to exploration.  
Huffman's exhibit, "Close to Home," includes QR codes to video links that allow viewers further insight into many of the works. With a dichotomy of photography aesthetics, formal studio photography and the snapshot, his photographs are of experiences that will resonate with viewers.    
"Some images were chosen for their aesthetics, some have been accepted to other national exhibitions and others might just have an interesting story behind them," Huffman said. 
In the University Gallery, the exhibit "Department of Art Faculty: Recent Work" is on display through April 30. It highlights creative works produced by the current studio art faculty in the department and showcases a range of media that celebrates creative research and the art-making process. 
It includes floral paintings, such as "A Series of Poppies" by James Oliver, department chair, inspired by his gardens, and mixed media by Kim Allison, who enjoys incorporating stories into her art. One of her works, "January," draws on her experience as a sketch artist for cross stitch kits and features felt appliqué and embroidery.  
It includes a series of several clay tile relief works by Associate Professor Malcolm Kucharski. 
And, it includes work by Instructor Janet Lewis that reflects the events of 2020 and their impact, from a sculpture called "Out of Balance" to a photo story called "How the Mighty Have Fallen."  
"The ever-present uncertainty and fear spawned by the pandemic have been unwelcome bedfellows, but they have shown me the critical importance of learning to shift to a more positive mindset in order to get through each day," she said.  
Also featured are a few works on loan from the estate of Paulus Berensohn, who is the subject of a book being written by Professor S. Portico Bowman. 
Admission to the two galleries is free; they are open to the public from 8 a.m. to 4:30 p.m. weekdays. Masks are required. For more information: 620-235-4302.