Unique Pitt State Theatre production depicts girls' struggles 
  Friday, February 26, 2021 4:00 PM
  Academics, Arts & Entertainment, News
Pittsburg, KS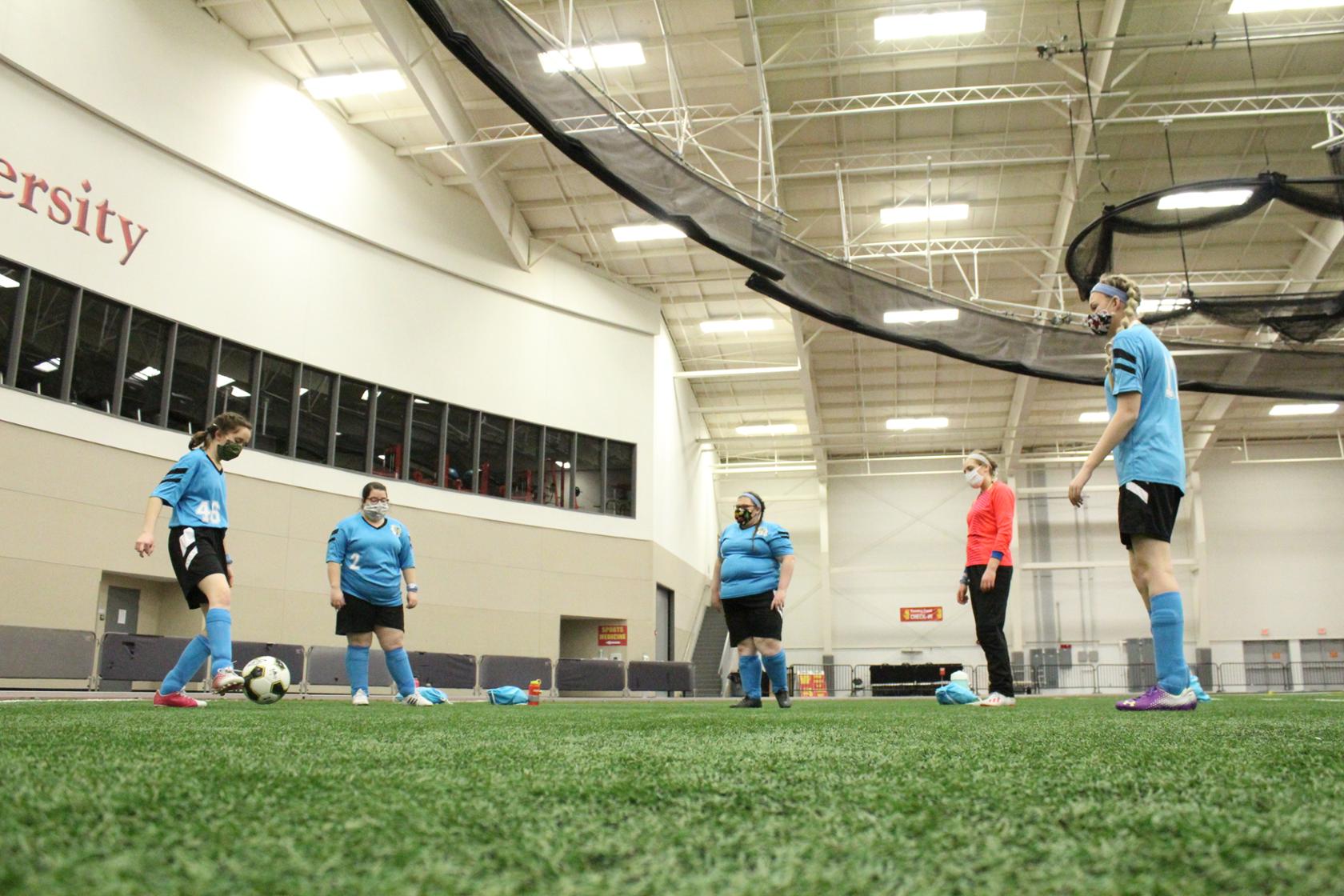 When the Robert Plaster Center was built with a state-of-the-art indoor turf field, it's unlikely anyone thought that one day Pitt State Theatre might stage a play on it. 
That day is here, and this week the field is being used to film a theatrical production of "The Wolves," which will be viewable on demand next week. 
The story, a 2017 finalist for a Pulitzer Prize, focuses on members of a girls' indoor soccer team as they navigate the struggles of a modern world amidst smaller battles of personal identity and relationships. It's quick, hilarious, unflinching, and is written for a mature audience, says Director Gil Cooper, an associate professor in the Department of Communication at Pittsburg State University. 
It features an all-female cast of 10 talented students including returning mainstage performers Hunter Adamson and Bella L'Heureux (both from Silent Sky), Payton Boswell (Merry Wives of Windsor) Hailey Denton (The Revenge of the Space Pandas), and Miranda Madden (The Bacchae).  
Joining them are PSU mainstage newcomers Khadijah Ceesay, Madison Correll, Audrey Hartwell, Tayler Matthews, and Shakota Woolsey. The design team includes Scenic Designer Linden Little and Costume Designer Lisa Quinteros. 
L'Heureux, an Overland Park, Kansas, junior majoring in pre-med biology, said the show focuses on the conversations young women have that tend to be avoided or not acknowledged. 
"The style is raw conversations that women have that might be uncomfortable or taboo for some people," she said. "The beauty of 'The Wolves' is how real it is. The lines include the ignorance, pain, and comedy that so many high schoolers have. This play has reminded me of the beauty of young friendships and innocence." 
 
Adamson, a Fort Scott, Kansas, sophomore majoring in political science, said the show is a "must see." 
"It's quick and witty and gives an insight into the world of a young woman," she said. "The characters in this show have a beautiful realness to them that anyone can relate to. This show will make you feel things you may have never felt before: amazed at the sheer bluntness these girls have and crying for them in their most vulnerable moments." 
Denton, a Pittsburg junior majoring in social work, said the show reminds her of her own struggles in high school, from puberty to small everyday dramas.  
"A huge theme is an inclusivity," she said. "Our characters are such a tight-knit group that when someone knew tries to join, who is very different than us in terms of she talks and acts, we get a little territorial. This play really brings to life how when you're 16 or 17, some small things can feel like the end of the world." 
Pitt State Theatre, which rehearses for and produces three shows at the Bicknell Family Center for the Arts each academic year, has this year has adapted to the pandemic with virtual productions filmed by students in Media Production. Cooper said everyone involved is excited to bring this comedy-drama to life. 
"The Wolves connects to all of us," he said. "It is a reflection of who we are through the lens of who we were." 
Cooper noted that playwright Sarah DeLappe, a rising star in American theatre, provides her adolescent characters with dialogue that is sharp, funny, and cuts right into the heart of contemporary life.   
"We then add our outstanding ensemble cast and the show jumps right out at you," he said. 
Tickets are $6 for the general public, and free to anyone with a PSU ID. Tickets may be purchased through the PSU Ticket Office location, by phone at 620-235-4796, or online at www.pittstate.edu/office/ticket-office.  
Patrons will receive an email with the online link to view the production. This show includes graphic language and references to mature themes. 
"The Wolves" is presented by arrangement with Concord Theatricals on behalf of Samuel French, Inc. www.concordtheatricals.com"