Dr. Stebbins, Dr. Bean honored for service during pandemic 
  Friday, February 26, 2021 9:00 AM
  People and Society, News, Giving Back
Pittsburg, KS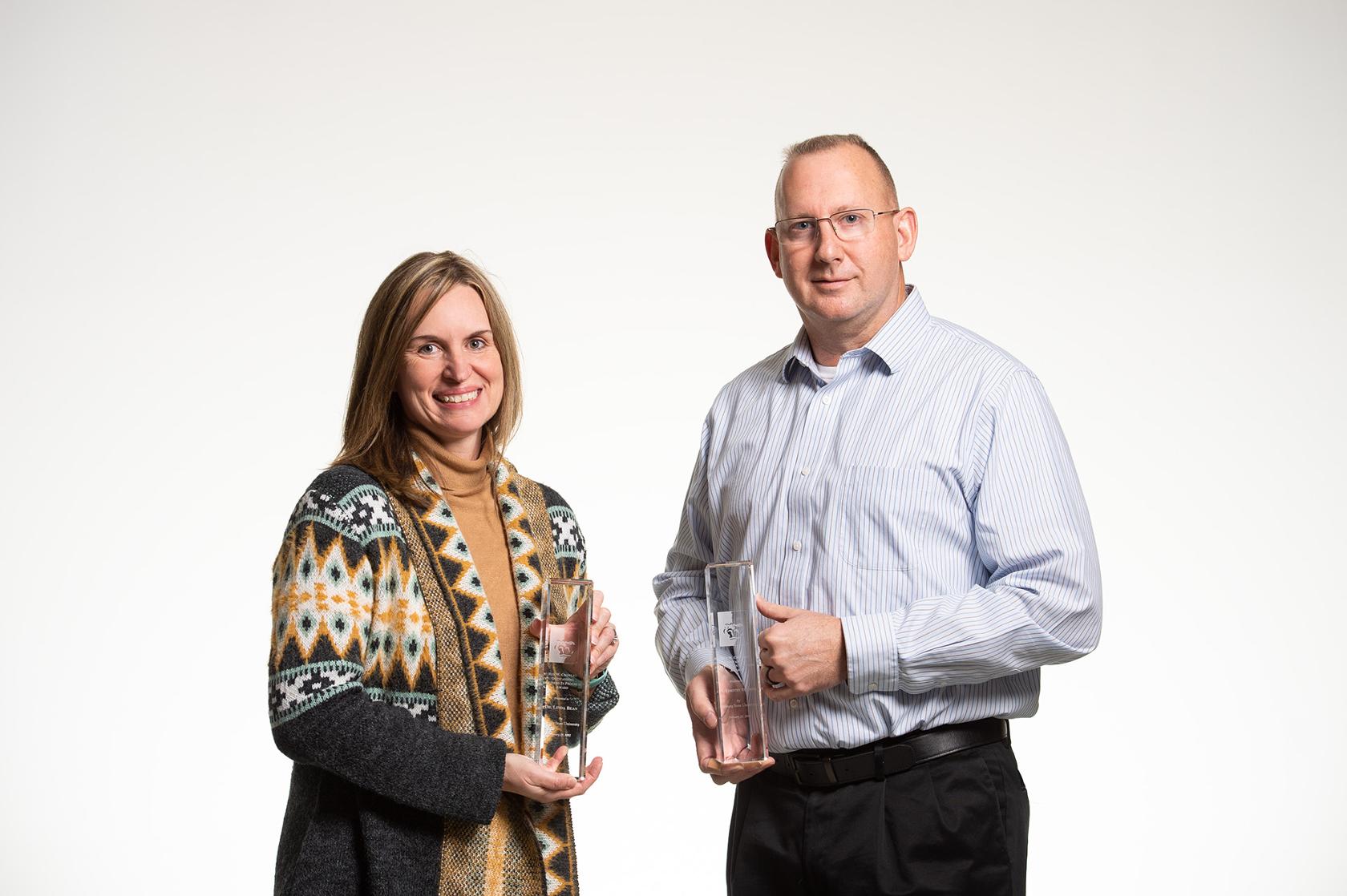 Dr. Linda Bean and Dr. Tim Stebbins entered new and uncharted territory professionally and personally last March with the onset of the COVID-19 pandemic, much like everyone else. 
But there was a difference: the two were responsible for guiding Crawford County through the pandemic. They were, in a sense, the county's own Dr. Fauci. 
It was that leadership that made them a logical choice, said Pittsburg State University Executive Director of Development Becky McDaniel, for the 17th Annual Rex Crowley Outstanding Partner in Progress Award.  
The award is part of the annual Community Campaign, "Partners in Progress," an effort by PSU Foundation, Inc., to recognize local businesses that support PSU. It was named for a well-known figure in the local banking community and a volunteer and friend of the university. 
For 11 months and counting, Stebbins, who directs the Emergency Department at Ascension Via Christi Hospital, has served as Crawford County's health officer.  
Bean, who provides clinical oversight for more than 65 health care professionals at the Community Health Center of Southeast Kansas, has served as the county's deputy health officer and most recently the county's medical advisor. 
In those roles, they have reported COVID-19 case load, quarantine numbers, concerns, and recommendations during weekly Crawford County Commission meetings that are livestreamed for public viewing. And, they have met with school districts, PSU personnel, city representatives, business owners, and others to help create mitigation plans. 
"We started in a position of an unknown — just knowing something's coming," Stebbins said. "We were learning how to manage that in our own arenas, the health systems, and ultimately within our county and our state. We were entering new and uncharted territory." 
Each day, they had to find a way forward. Sometimes, it required learning to pivot quickly as they navigated learning about the virus and how it spread. Often it came at the sacrifice of time with friends and family who "hate our phones," Stebbins said. 
It became a year of constant change and growth: They both had to lead their organizations through a time of significant change in how health care was delivered, while at the same time offering guidance to thousands of county residents, businesses, and schools — each of whom had unique perspectives and needs. 
"Our success, Crawford County's success, is a direct testament that all of these groups and organizations came together to overcome these challenges," Bean said. "The collaboration we experienced with entities in our community was a breath of fresh air; it was very invigorating for us in our roles." 
There's much to be proud of in Crawford County, Stebbins noted, including the success of local businesses and school districts that could be a model to the nation, with data backing up those assertions. 
"There are people that are happy with us and people that are not," he said. "We've tried to be smart about our actions as we've gone forward from the very get-go. We've used three pillars: current science, current data, common sense." 
"We've embraced the idea that we may not know all of this, and we've tried to listen to all the players involved, to be approachable and available to our community," he said. 
They're both honored to have been chosen for recognition, they said, but both said they were accepting it on behalf of many, many people who carried at least a bit of the load. 
"I'm humbled and very appreciative of this, but also feel we haven't done this alone," Bean said. "When we're making a decision without a guidebook, it's important that we've had support, that our organizations gave us the time to do this, that our families have shared us with the community for the past year." 
Stebbins credited EMS, hospitals, clinics, urgent care, the health department, and the county commission for their role; not every county has had such a positive collaborative experience. 
"It's humbling for me, but I'm accepting it for all of them," he said. "We're from here. This is our home, these are our families and friends, and our neighbors, our schools, our community. That's important to us. We are doing this for that. Some days are hard, but it makes it a lot easier when you step out the door and you know the person that may be helped by this, or for whom maybe we can at least minimize the impact. We're here for the community, because of our community, and with our community." 
Learn more about the Community Campaign: https://bit.ly/3uD2w2D