University mourns death of noted nursing school donor
  Thursday, January 14, 2021 2:30 PM
  Alumni, People and Society, Giving Back
Pittsburg, KS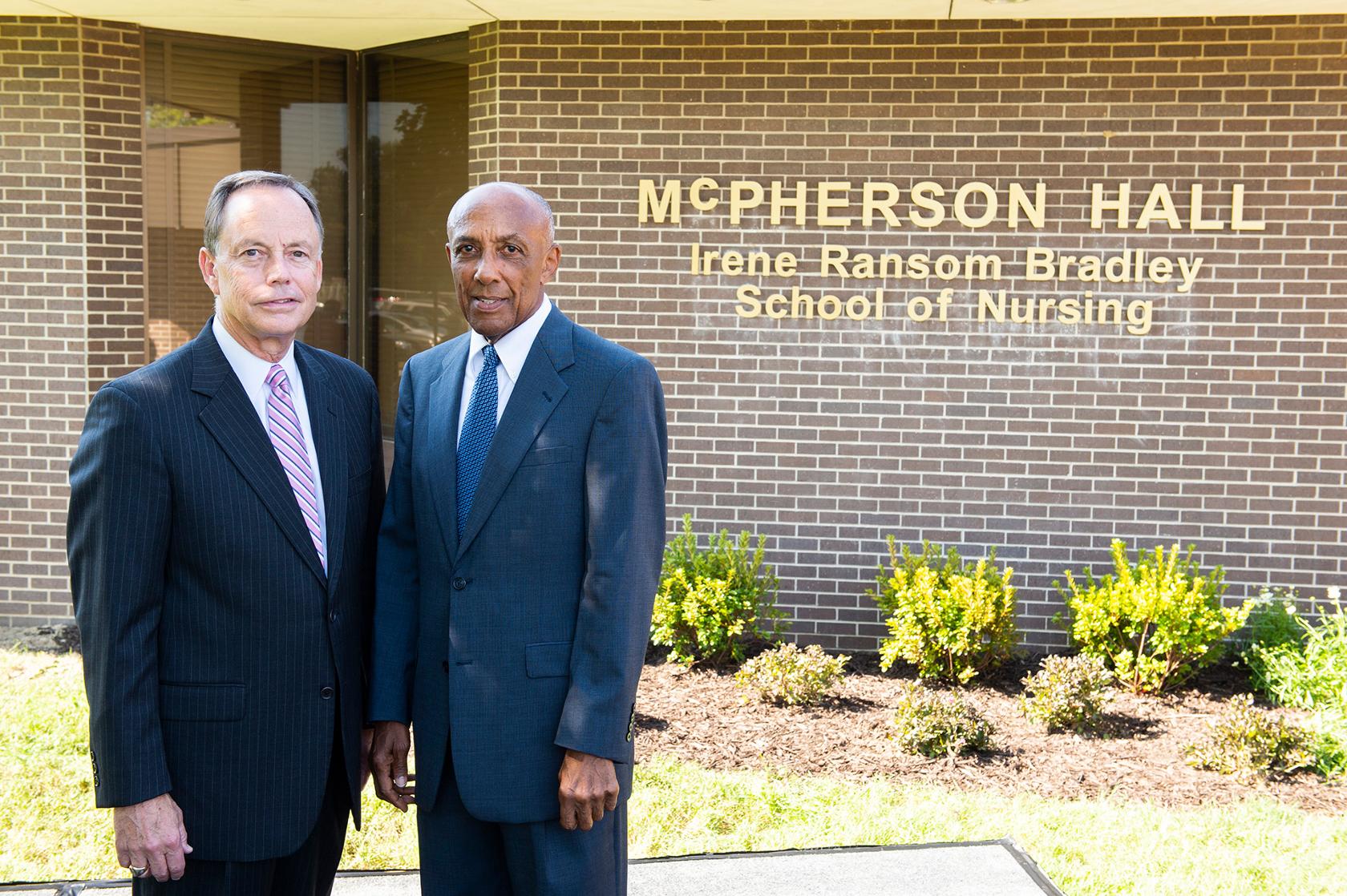 Pittsburg State University is mourning the passing of Dr. Fay Bradley, a 1960 graduate known for overcoming adversity and whose gift of $1 million transformed the Department of Nursing into the Irene Ransom Bradley School of Nursing. 
Dr. Bradley died Jan. 14 after a battle with cancer; he was 83. His story is the kind about which books are written.  
He was born on Jan. 13, 1938, at the home of his parents in Independence, Kansas, where their opportunities for education and employment were limited by the fact that they were Black. 
His mother, Irene Ransom Bradley, worked as a domestic in a private home earning $3.50 a week and did not complete high school. Neither did his father, Henry Bradley. 
Four of their children, however, including Dr. Bradley, earned college degrees. After setting records in track at Independence Community College, he came to PSU on a track scholarship and became a high hurdle champion.  
He graduated with a degree in biology and was drafted by the U.S. Army. He went on to work at Freedmen's Hospital at Howard University in Washington, D.C. — the first hospital to give medical aid to slaves when they sought freedom. A physician there advocated on his behalf for admittance to medical school and in 1970, his dream came true: he became a doctor.  
After a long career with the U.S. Public Health Service, he retired in 1992. 
In 2009, he received the PSU Alumni Meritorious Achievement Award, and in 2013, he was named a PSU Foundation Trustee. 
That same year he honored his mother, who wanted to become a nurse but never got the chance, with a gift of $1 million to a school that would bear her name: the Irene Ransom Bradley School of Nursing. 
Even in recent years he remained actively connected to the university, returning often to attend special events and visit staff, faculty, and students. 
Kathleen Flannery, vice president of university advancement and president of the PSU Foundation, said Dr. Bradley had been a loyal donor to PSU since 1982. 
"His passion for the university, medicine, and his family was unparalleled," Flannery said. "He continued to find ways to support the university even as his health continued to decline during the last few months." 
Flannery said his dedication to fund an endowment will impact health care professionals for generations to come.  
School of Nursing Director Cheryl Giefer said he was not just a donor, he was a friend.  
"We are mourning the death of our beloved Dr. Bradley," Giefer said. "With each passing year, we realize the impact of his contributions which remain vital to our success."  
Mary Carol Pomatto, dean of the College of Arts and Sciences and former director of the School of Nursing, said he had become an integral part of PSU and the nursing program. 
"We are all deeply saddened," Pomatto said. "He attended many ceremonies and events in nursing, and rarely missed the nursing pinning ceremony, where he delighted in personally congratulating each graduate as they walked off the stage after receiving their pin. He will be missed, but his legacy will live on."  
PSU Track Coach Russ Jewett described Dr. Bradley as a champion on and off the track and said he will remain an important part of the program's history and tradition. 
"We in the Pitt State Track & Field family are saddened by the news of Dr. Bradley's passing," Jewett said. "He was a man of strong principles, integrity and grace. His generosity, loyalty and devotion to Pittsburg State University has been inspiring and humbling. While we mourn his passing, we celebrate his legacy. Our condolences to his family and friends."    
PSU President Steve Scott said Dr. Bradley's life was spent on something that will long outlast it. 
"When you think about the hundreds of students who have earned their nursing degrees in the Irene Ransom Bradley School of Nursing, and the thousands of students who will do so in the years to come, there's no question Dr. Bradley left a true legacy in every sense of the word," Scott said. "His gift has, and will continue, to change the world of health care." 
Arrangements are through Potts Funeral Chapel in Independence, Kansas. In lieu of flowers, the family has requested memorials be designated to the Irene Ransom Bradley Nursing Endowment at PSU. Memorials can be mailed to the PSU Foundation, P.O. Box 4005, Pittsburg, KS 66762.