New materials science program celebrates first graduates 
  Wednesday, December 2, 2020 12:00 AM
  Academics, News, Milestones, Science and Technology
Pittsburg, KS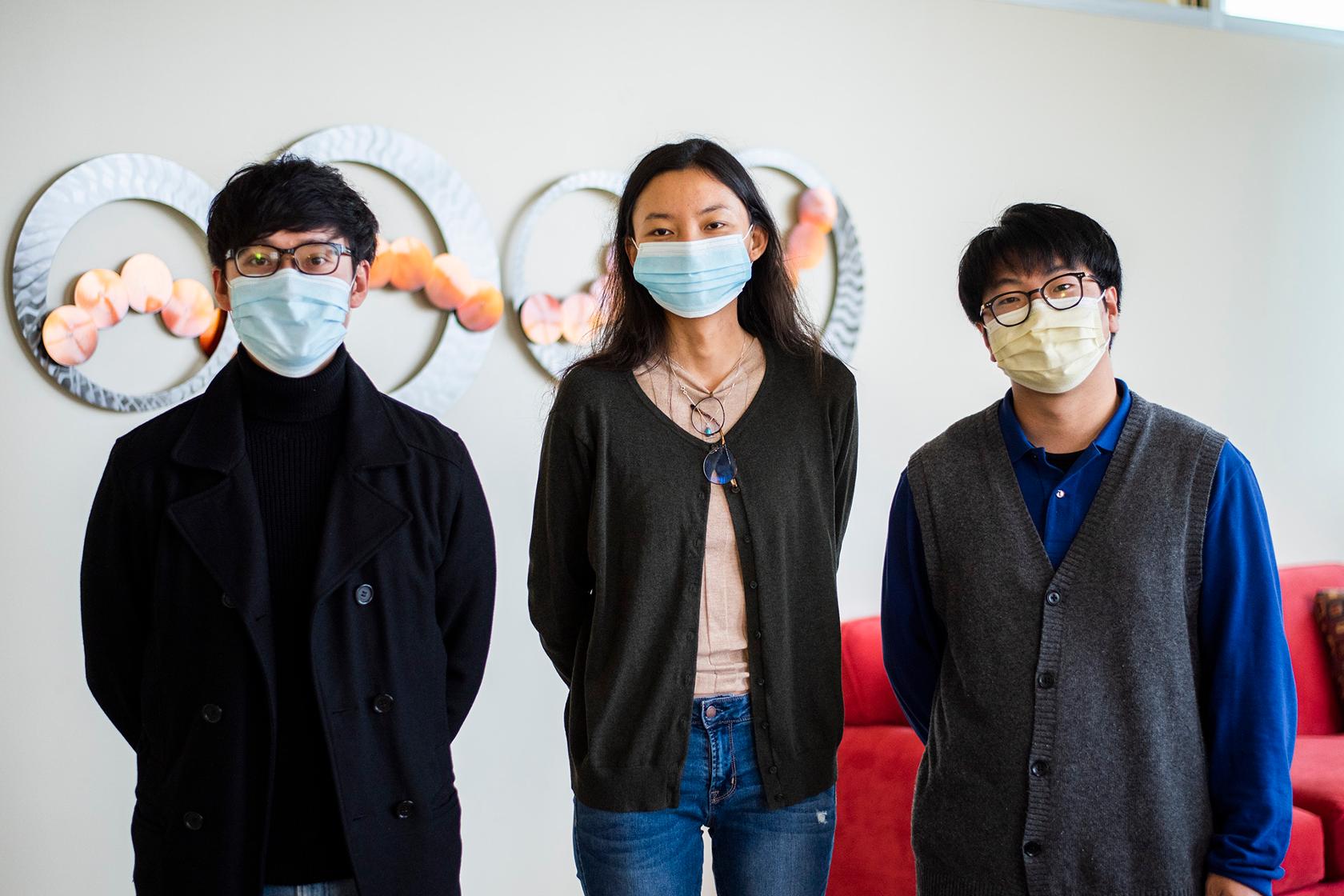 The first three students to graduate from a unique new program at Pittsburg State University are celebrating that milestone this month, with an eye toward careers that are in high demand and that pay above-average starting salaries. 
Jonghyun Choi, Tenzin Ingsel, and Sungwoo Hong say they are proud to be the first to earn the degree — a master's in materials science that will prepare them for jobs in a range of industries, including aviation, automotive, medical, and packaging, as well as for postgraduate degrees in materials science, engineering, and related fields. 
"The door is wide open when it comes to any career related to consumable or durable goods; anything you think of is made of materials. We have no doubt these students will be highly recruited," said Tim Dawsey, executive director of the Kansas Polymer Research Center at PSU. 
There, the students have worked for the past year side-by-side with scientists from around the world on heavy-hitting research projects to develop new technologies, like using coffee grounds to fuel batteries. 
The degree is a partnership by PSU's chemistry and physics departments in the College of Arts and Sciences; the College of Technology; and the KPRC. 
"There is coursework embedded in both colleges and there are unparalleled research opportunities at the KPRC," Dawsey said. "It's a great blend between the sciences, chemistry and physics, with engineering aspects. It makes us unique in this region." 
PSU started the degree after hearing from students who wanted to pursue an advanced degree in materials science. 
"They found no such program like this anywhere in the world," Dawsey said. "That was the trigger for us, so we wrote a proposal and it was approved." 
Ingsel, who is from Tibet, was looking for a graduate program and research possibilities when she discovered PSU. 
"I came here and saw how much equipment they have, and how many resources they have, and I wanted to be a part of it," she said. "I was very impressed, especially for a relatively small university. The tuition is much lower than large research universities, and there are many passionate faculty members." 
Choi, who is from South Korea, first came to the U.S. in 2018 as an exchange student. 
"My first semester, I took a course from Associate Professor Dr. Ram Gupta and had a chance to work in the KPRC," Choi said. "That built my interest, so I decided to get my master's and work on energy storage devices. It was a good choice." 
Hong, who is from South Korea, said he was glad he made the decision to pursue the degree.  
"It can have a broad application and be used in so many ways," he said. 
Gupta said there are "endless possibilities" where students can get jobs, including Intel, Boeing, and the aerospace industry. Starting salaries for materials scientists are in the range of $70,000, with a mean annual wage of $101,910 according to the United States Department of Labor. 
"The sky is the limit," Gupta said. 
Dawsey said it's a particularly attractive degree for international students because of their strong background in science and engineering. 
"The ideal student for this degree will be one who is curious, open to a broad range of things, has high energy, and who is looking for a career, not just a job," he said. 
---
Learn more about PSU's Materials Science program: https://bit.ly/3g1BFGT 
Learn more about the KPRC: www.kansaspolymer.com