Environmental Safety teacher earns regional award
  Thursday, December 17, 2020 12:00 AM
  People and Society, Science and Technology, Academics, News
Pittsburg, KS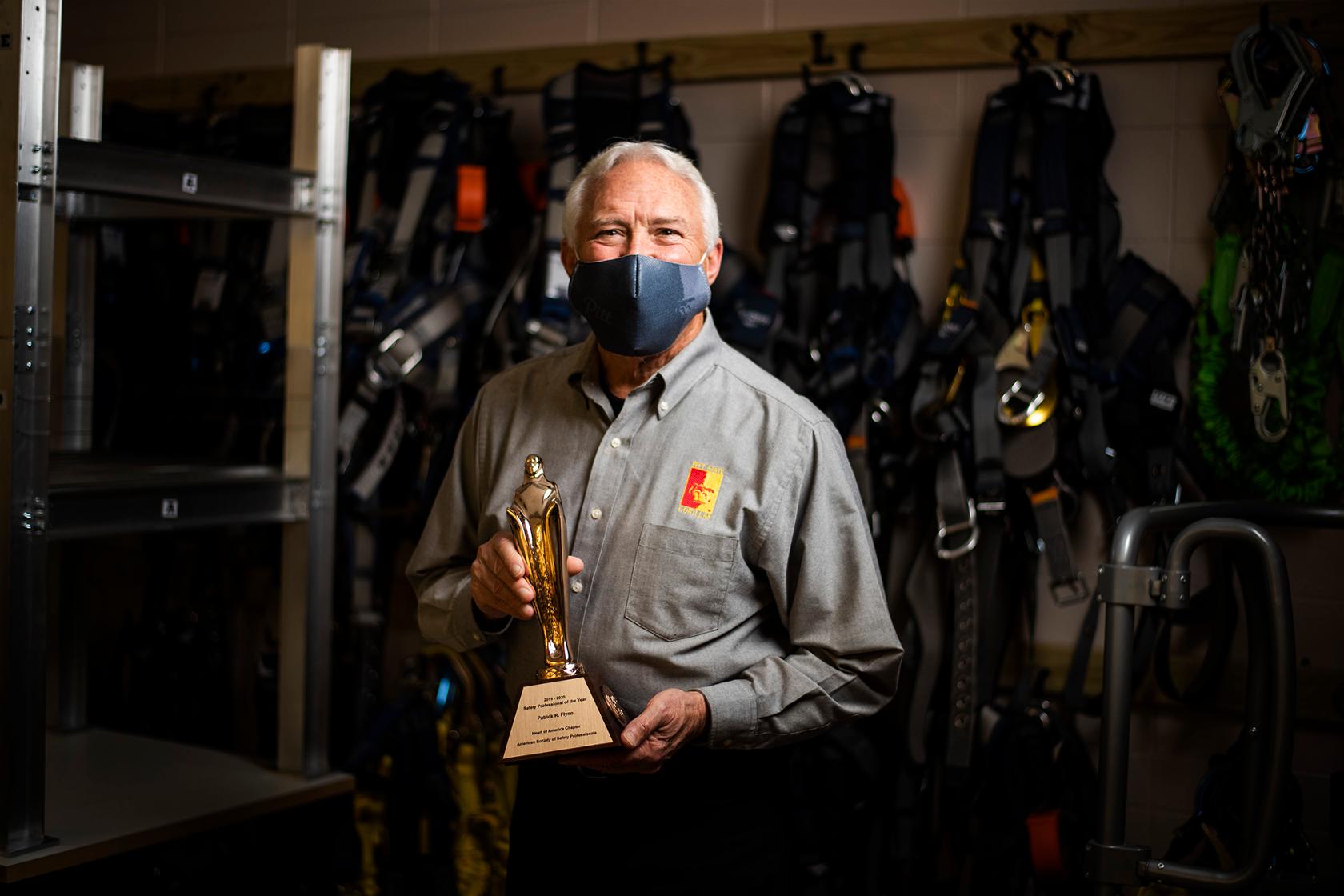 An associate professor who helped start the Environmental and Safety Management degree at Pittsburg State University has received a prestigious award for his leadership, his teaching, and his passion. 
Pat Flynn, a faculty member in the School of Construction, was named Safety Professional of the Year by the Heart of America Chapter of the American Society of Safety Professionals.  
PSU's Environmental and Safety Management program Is unique: it's one of just 12 in the U.S. recognized by the Institute for Safety and Health Management. Students who earn the degree at PSU are automatically qualified for the Associate Safety and Health Manager credential offered by the institute. The program boasts 100 percent placement and starting salaries range from $55,000 to $65,000. 
In the past seven years, Flynn has helped train hundreds of students who went on to become safety professionals in a range of fields, including construction, environmental management, fire safety, general industry, and human resource management. 
In doing so, he has impacted tens of thousands of lives, the chapter noted during the awards presentation; each of those students goes on to be responsible for the safety of hundreds and sometimes thousands of employees. 
Flynn also started the university's first Safety Olympics, attended by schools across the Midwest.  
"Pat has a passion for safety and seeing students grow in the safety field," wrote Associate Professor Clifford Morris in his nomination letter. "This passion shows through his teaching style, his outlook on education, and most importantly his students." 
One of them, Andrew Dix, a senior ESM major, wrote a nomination letter and was present for the award presentation. Dix said it's clear in the classroom that Flynn values what he's teaching. 
"His impact has not even been fully felt as more and more young safety professionals begin their careers each year armed with the knowledge and tools Flynn provided them," Dix said. 
Flynn's rapport with graduates who become employed by large industries across the U.S. has helped the program acquire donations of top-notch equipment for current and future students to use in training — equipment like fall protection harnesses and hazmat suits. 
"It's very humbling to get this," Flynn said of the award. "You don't start the job with the intent to be recognized. You just want to develop a population who care and who can impact the workforce positively by protecting it." 
"I'm proud to see where the program has gotten to, and I'm glad I got that I have gotten to be a part of it." 
---
Learn more about the ESM degree: construction.pittstate.edu