Governor, other dignitaries officially open The Pitsco Idea Shop 
  Friday, November 6, 2020 7:00 PM
  Science and Technology, Milestones, News, People and Society
Pittsburg, KS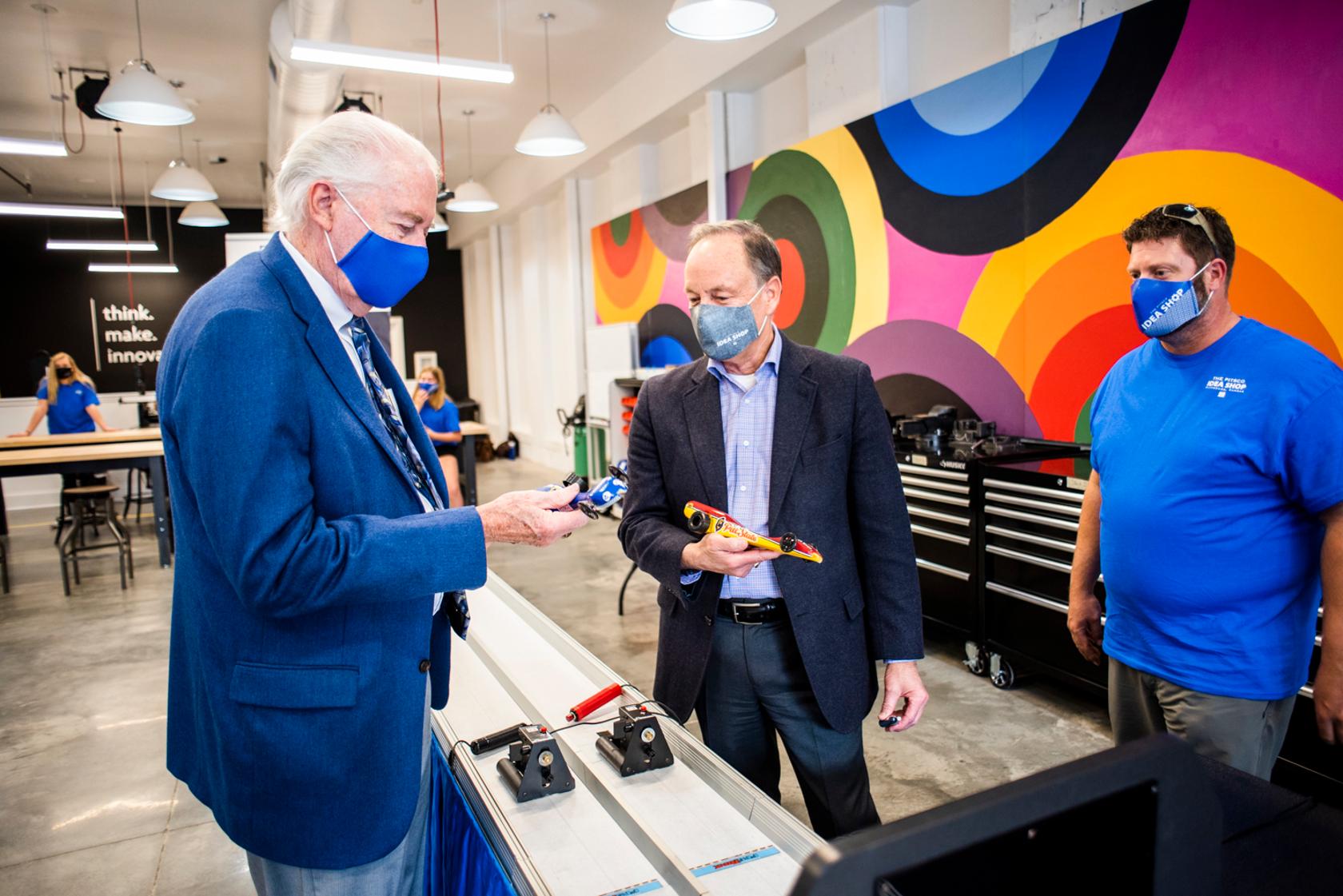 Local and state elected officials gathered in Downtown Pittsburg on Friday to officially celebrate the grand opening of The Pitsco Idea Shop, the final element of the Block22 initiative. 
The new "makerspace" is a collaboration by Pittsburg State University, the City of Pittsburg, a private developer called The Vecino Group, donors, and Pitsco Education — a Pittsburg-based technology education company that sells products nationally and abroad and is celebrating 50 years in business.  
The group included Kansas Gov. Laura Kelly, Secretary of Commerce David Toland, Mayor Dawn McNay, CEO of Kansas Manufacturing Solutions Tiffany Stovall, Pitsco Education Founder Harvey Dean, and Pittsburg State University President Steve Scott.  
It wasn't an ordinary grand opening: following prepared remarks at a podium, the dignitaries squared off against local middle and high school students to race C02-powered dragsters crafted from kits produced by Pitsco Education and using tools housed in The Idea Shop.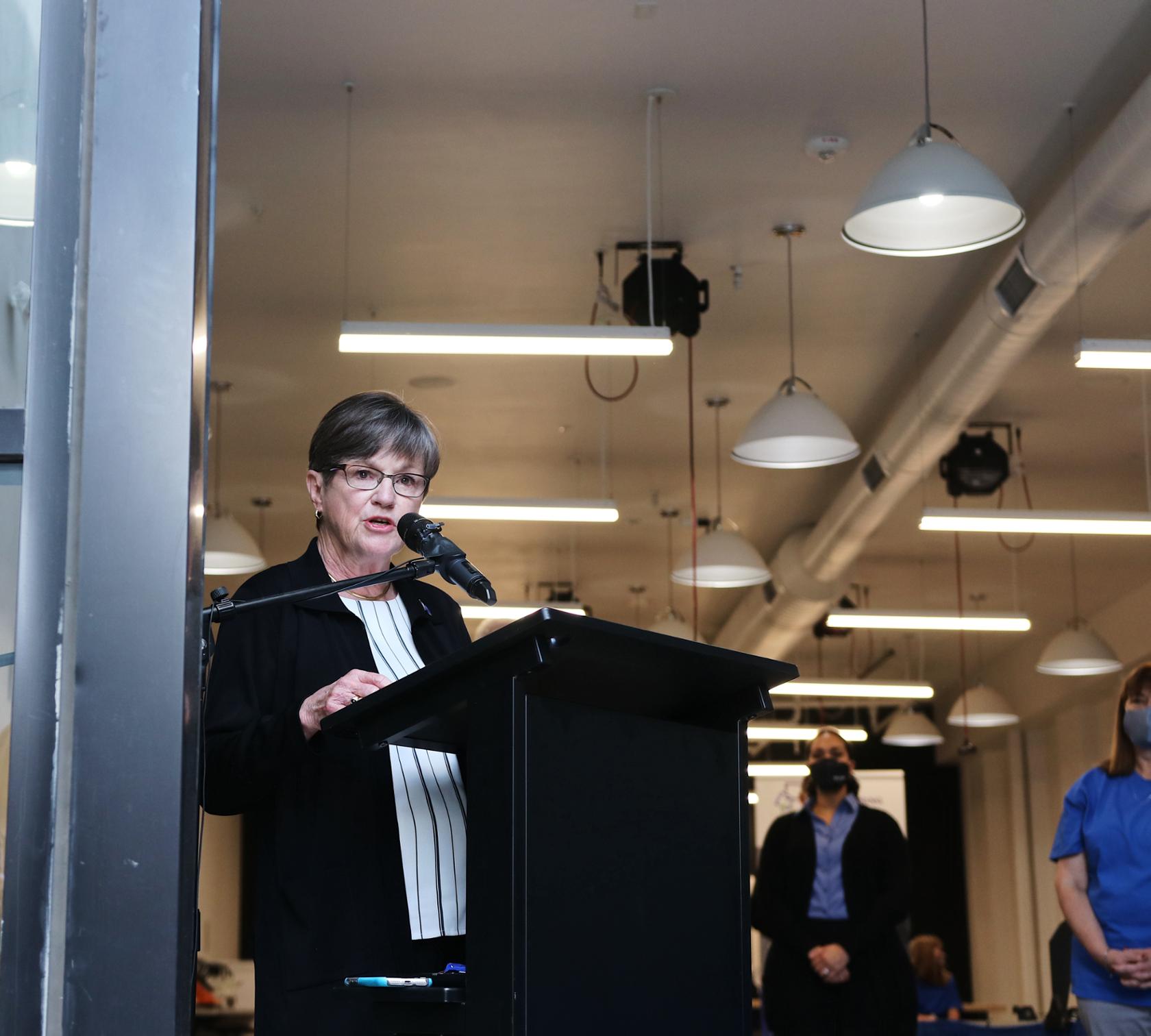 Photo: McKenna Hodges, student journalist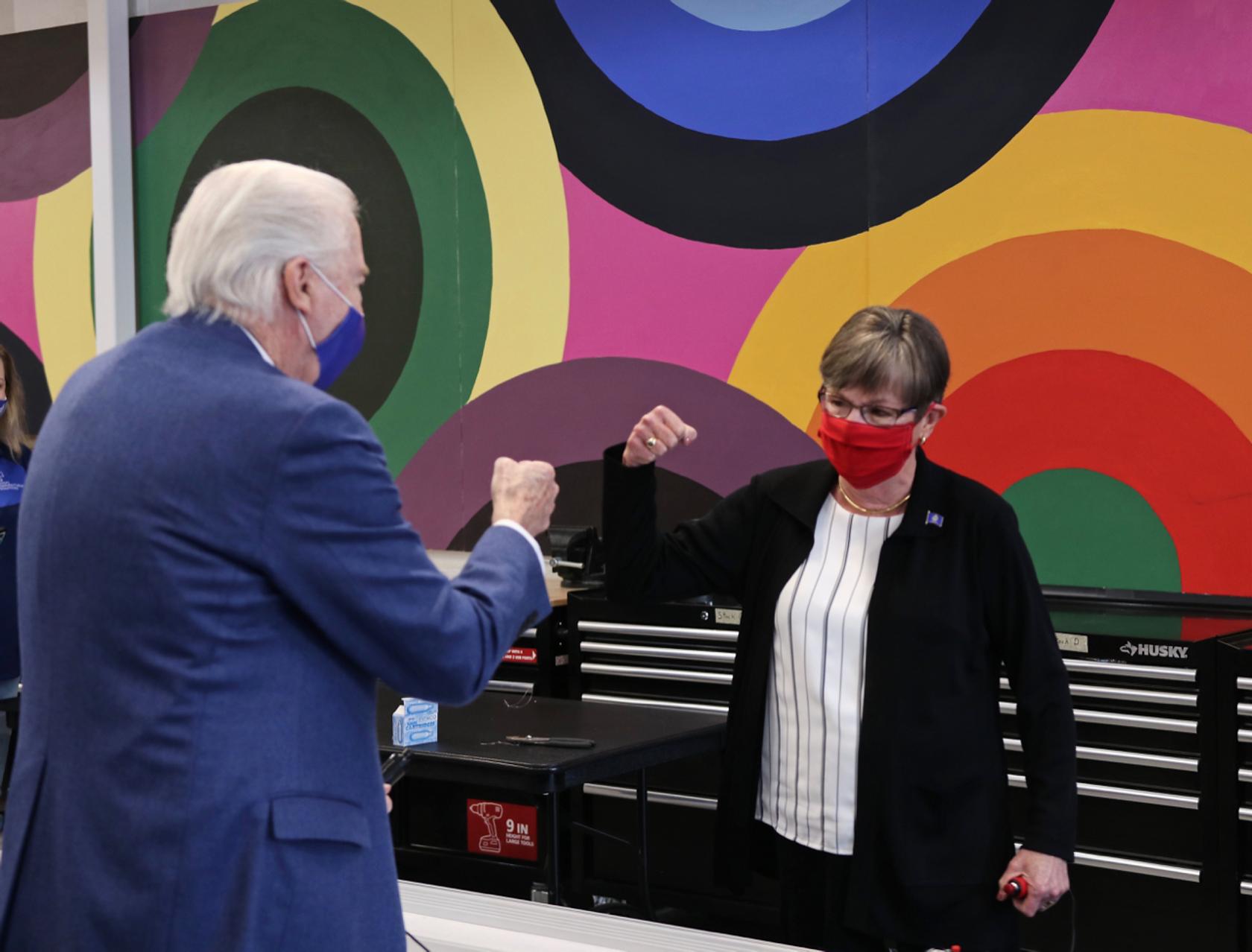 Photo: McKenna Hodges, student journalist
Kelly said Block22 and The Idea Shop are excellent examples of a university taking an energetic approach to public and private partnerships that then drive innovation and strengthen local economies — an important piece of the effort to attract manufacturing to Kansas. 
By restoring the downtown historic buildings, Kelly said, it created not only housing, but a perfect innovation hub for young people. She said The Idea Shop and Block22 showcase Pittsburg's unique, rich history and "show the state and nation what makes this community special." 
The Idea Shop will be open on a membership basis to youth and community members to think, make, and innovate in order to turn dreams into reality.  
By late afternoon, more than 30 additional students had taken turns there competing on Pitsco's 80-foot track using dragsters they created in The Idea Shop. Prizes and t-shirts were provided by Kansas Manufacturing Solutions.   
"Featuring state-of-the-art technology and equipment like 3-D printers, scroll saws, CNC routers, and laser engravers, this is the place where creativity and inspiration meet manufacturing and production," explained PSU Chief Strategy Officer Shawn Naccarato, who served as emcee of the grand opening and who has coordinated the Block22 initiative. 
Dean has long championed the idea of hands-on learning, particularly in the STEM field, having been inspired himself by an industrial arts teacher in high school. As a result, he helped to drive the vision of who would use the space – including not just college students, but younger students, as well. 
McNay said Block22 is evidence of the entrepreneurial spirit of Pittsburg. 
"The Idea Shop captured the industrious DNA that is in Pittsburg, and it reflects the creative drive of our city, of our university, and original start-ups like Pitsco Education," McNay said. "Historically, we are a city where innovation thrives. And now, we have this beautiful, modern space available to the public where innovation can come to life for generations to come." 
Stovall said the space represents the roots of manufacturing. 
"It's taking things from an idea to 'Wouldn't it be cool if?' to reality," she said. "That's the core of what this is. This is the heart of how this country was built — we are makers." 
Toland said it will be an incredible resource for the city, the region, and the state as a whole. 
"We all look forward to seeing how the idea shop helps foster the next generation of Kansas innovators and Kansas entrepreneurs," Toland said. "Perhaps more importantly, this will be a space to challenge the next generation to think creatively, to rethink the norms of today and turn those ideas into game-changing innovations and businesses of the future." 
Scott thanked Dean for his willingness to collaborate in order to inspire the next generation of entrepreneurs, and thanked Kelly, Toland, Stovall, and McNay for their leadership in supporting projects that can lead to economic development in Southeast Kansas. 
"What an extraordinary project this is, and what promise it offers the university, the city, the community, and the region," Scott said. "It is a worthy and exciting investment in our shared future." 
Learn more about The Idea Shop.
Learn more about Block22.
Learn more about Pittsburg State University.