Worth it: Couple returns to college to earn degrees
  Sunday, November 22, 2020 2:00 PM
  Alumni, People and Society, News, Academics
Pittsburg, KS
Three years ago, Joey and Kimberly Ross set out to achieve something together: earning their college degrees. 
It wasn't going to be easy. They were in their late 30s and each had a full-time job.  
On Nov. 20, they were each handed their diplomas in commencement ceremonies at Pittsburg State University. And on Nov. 30, they'll each start a new career that will fulfill a long-held dream. 
It was Kimberly, now 41, who set the plan in motion in 2017 as a second chance for herself.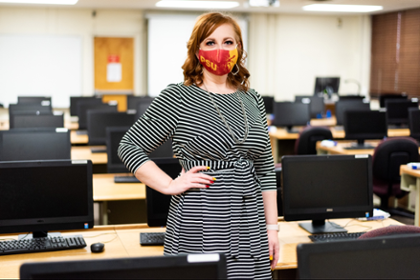 "I first came to Pitt State from Nevada High School as a freshman in 1997, but I lived off campus and worked and it was hard to keep up paying the bills and going to school," said Kimberly. "I also was a typical 18-year-old, probably not applying myself like I should have." 
She dropped out and worked a series of jobs in the region, at one point moving back home with her parents, before meeting Joey.  
It was when one of their children was close to being out of high school and another one had already graduated that she decided "it was time to finish what I started." 
"I love technology and computers, and I decided to go back to college to get a degree in computer information systems," she said. 
She enrolled in PSU's Kelce College of Business and encouraged Joey to pursue his dream: to become a teacher and a coach.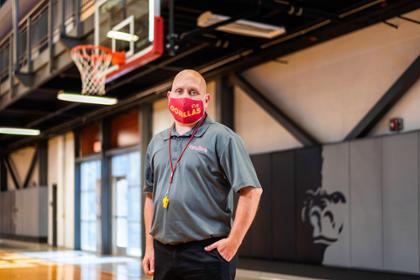 "I grew up in Weir, Kansas, and had a terrific coach," said Joey, now 44. "He was the best coach I ever had and inspired me. I always wanted to do that." 
Like Kimberly, when he first came to PSU as a freshman in 1995 to be a physical education major, he wound up dropping out. 
"I didn't apply myself. I had a really, really low GPA. I had some growing up to do," he said.  
But the desire to teach and coach kept pulling at him; when Kimberly enrolled, he did, too, in PSU's College of Education. 
Now residents of Lamar, Missouri, they've been logging some serious miles and hours. 
This fall, Joey has gotten up to work at home from 4 a.m. to 7:15 a.m. each weekday before heading to Liberal, Missouri, to complete his student teaching requirements from 8 a.m. to 3:30 p.m. After school, he drives to Southeast High School in Cherokee, Kansas, where he coaches wrestling, then returns home to finish remote work hours until bedtime. 
"It's taken a lot of hard work and determination," Joey said. "I just wanted to teach and coach, and now that goal is in sight."  
Kimberly has been juggling work for Leggett & Platt based in Carthage, Missouri, with coursework on campus and online. 
"We knew there would be give and take as a married couple, and that we had to be each other's support system through it," Kimberly said.  
Both are graduating with a 3.5 GPA and were invited to join the National Society of Leadership an Success, an honors organization. 
On Nov. 30, Kimberly will start a career as a programmer/analyst for Jack Henry based in Monett, Missouri. 
"I'll be analyzing code and trying to fix errors and debugging software for a Fortune 500 company that makes and supports online banking software across the U.S.," she said. 
Joey will start a job teaching and coaching middle school in Galesburg, Kansas, commuting 70 miles each morning and 70 miles each afternoon — a price he was willing to pay, he said, for landing a teaching job this time of year. 
"I've waited 20 years for this and I'm ready. It's a big deal, one of my biggest life goals, and definitely worth it," he said. "Hopefully I'll be inspiring to the young people I teach and coach. Maybe also to people who are considering going to college at an older age." 
"I'm also very proud of my wife," he added. "We supported each other to make it work." 
Kimberly said she has no regrets. 
"I think this will be one of my biggest accomplishments," she said. "The same is true for Joey. It was worth it."