Homecoming royalty crowned in livestreamed ceremony 
  Friday, October 16, 2020 2:45 PM
  People and Society, News, Campus Culture
Pittsburg, KS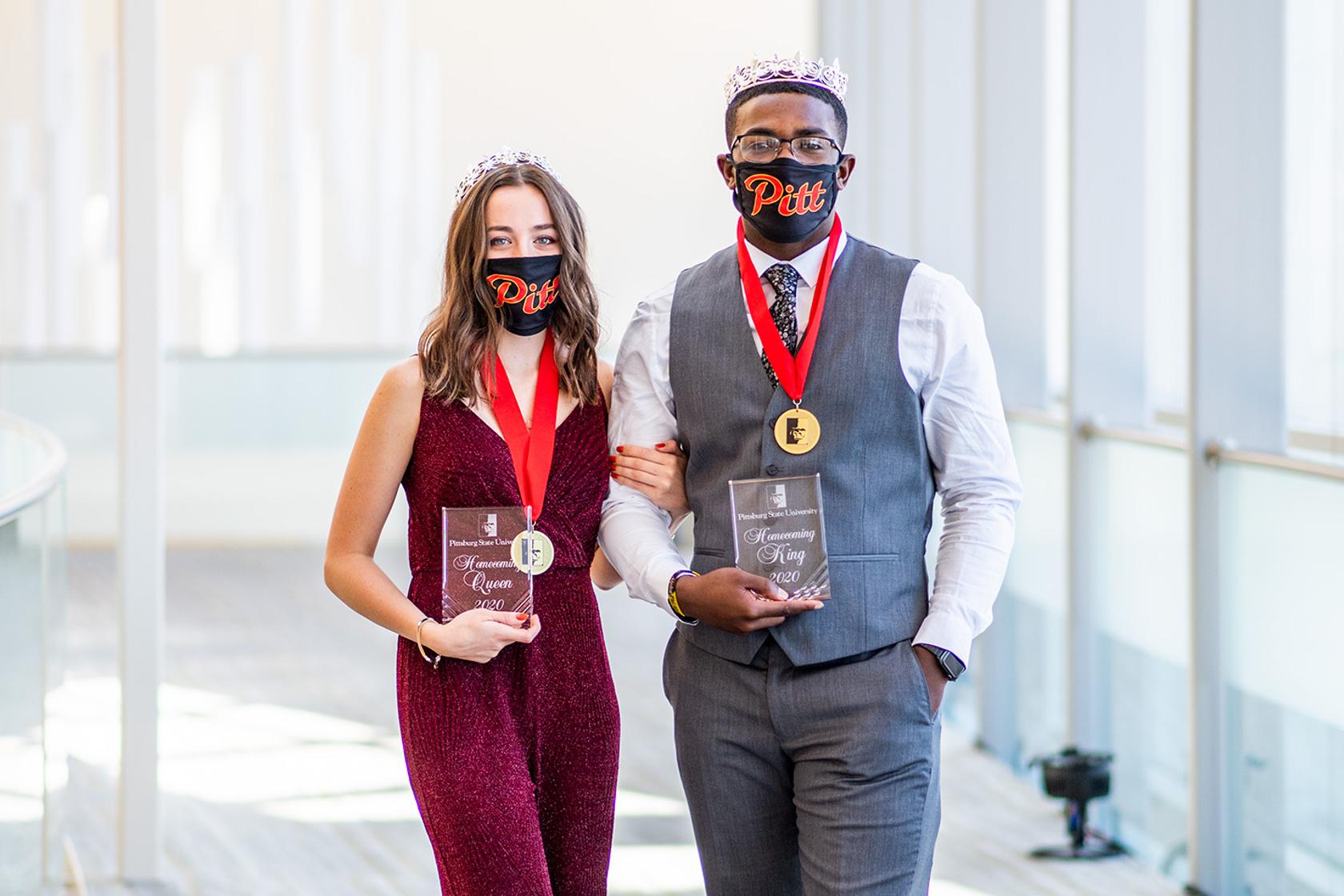 In any situation, D'Andre Phillips Coble carries with him a goal: to make a difference to the extent he's remembered.   
As the first person in his family to pursue a college degree, the math major from Topeka, Kansas, dreams of becoming a middle school math teacher and impacting young lives in the classroom.  
As the president of the Black Student Association at Pittsburg State University, he hopes to inspire other students of color and to help foster awareness and affect change at the grassroots level.  
"In everything, I just hope that I'm making my family and friends, and my city of Topeka that inspired me, proud," he said. "My number one goal whenever I go anywhere is to leave a footprint."  
On Friday, Coble was crowned Homecoming King in a livestreamed ceremony at the Bicknell Family Center for the Arts — something he said felt like a visible marker that perhaps he already has left his footprint here, on the campus.   
He will graduate in May and as a member of the ROTC Gorilla Battalion will be commissioned as a 2nd Lieutenant in the U.S. Army.  
"Getting this crown fortifies for me that my peers believe in me, that they believe in my future, my potential, and it really gives me reassurance," Coble said. "Especially being first generation — this reinforces to me that I'm on the right path."  
Camille Holman, a senior from Cassville, Missouri, who is dual majoring in plastics engineering technology and polymer chemistry, was crowned Homecoming Queen, and echoed Coble's sentiments.  
"There is so much opportunity here at Pitt State for students to be involved in ways that make a difference," said Holman. "I've been student body vice president, a leader in many other student organizations, and have been able to get an internship every year."  
Holman was nominated by her sorority, Alpha Sigma Alpha.  
"Getting this crown is a like a cherry on top— it's nice to be recognized, and it feels like someone saw what I was doing and felt it was worthy," she said.  
Holman followed her sister, a nursing graduate, to PSU. Drawn to the university's smaller class sizes, faculty, and the scholarships that came with Honors College, she said she chose her career path after a research project her freshman year.  
"I hope to manufacture medical supplies, and over the summer did an internship in Rogers, Arkansas, at a place that makes ventilators," she said. "I feel like that career path will be wide open."  
She will graduate in May, as well.  
The ceremony in which they were crowned looked much different than Homecoming ceremonies in years' past — it was livestreamed from the stage at the Bicknell Center with no audience other than the handful of staff members running the cameras, lights, and sound, and everyone was wearing masks. There will be no parade tomorrow in which to ride and wave at the crowd.  
But Coble and Holman said they didn't mind, they were just grateful that PSU still had a ceremony, and they both were honored to have been chosen.  
"This COVID season has actually been surprising – I've never felt more pride being at Pitt State," Coble said.  
The Homecoming Court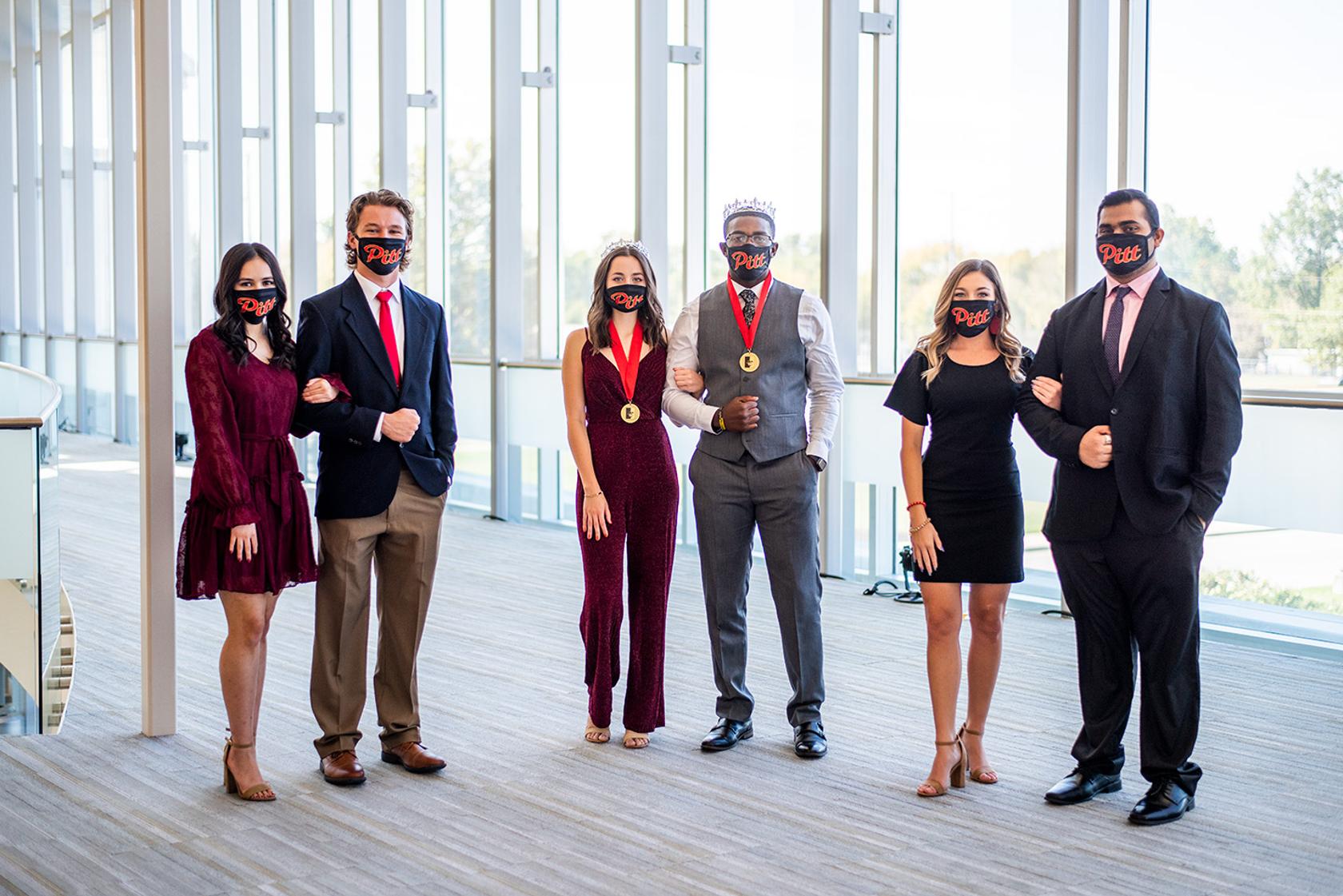 First attendants were Morgan Smith, a biology major from Welch, Oklahoma, representing Crimson & Gold Dance Team, and Raj Thakor, an automotive technology major from India representing International Student Association.  
Second attendants were Kaedra Brenner, a plastics engineering technology major from Wichita, Kansas, representing Student Government Association, and Dom Piccini, a finance major from Pittsburg representing Newman Club.  
PSU President Steve Scott described the crowning of Homecoming royalty as an important, longstanding tradition.  
"What an outstanding group of students," he said of the finalists before the crowning. "They're tremendous representatives of what it means to be a Gorilla."  
"They represent all of us," he said, "and we're so proud of what they've accomplished at Pitt State, because that's going to carry forward when they go out into their communities after graduation."  
Online 
The ceremony can be viewed in its entirety at pittstate.tv