Associate professor collects books for Africa 
  Thursday, October 15, 2020 11:00 AM
  People and Society, News, Academics, Giving Back
Pittsburg, KS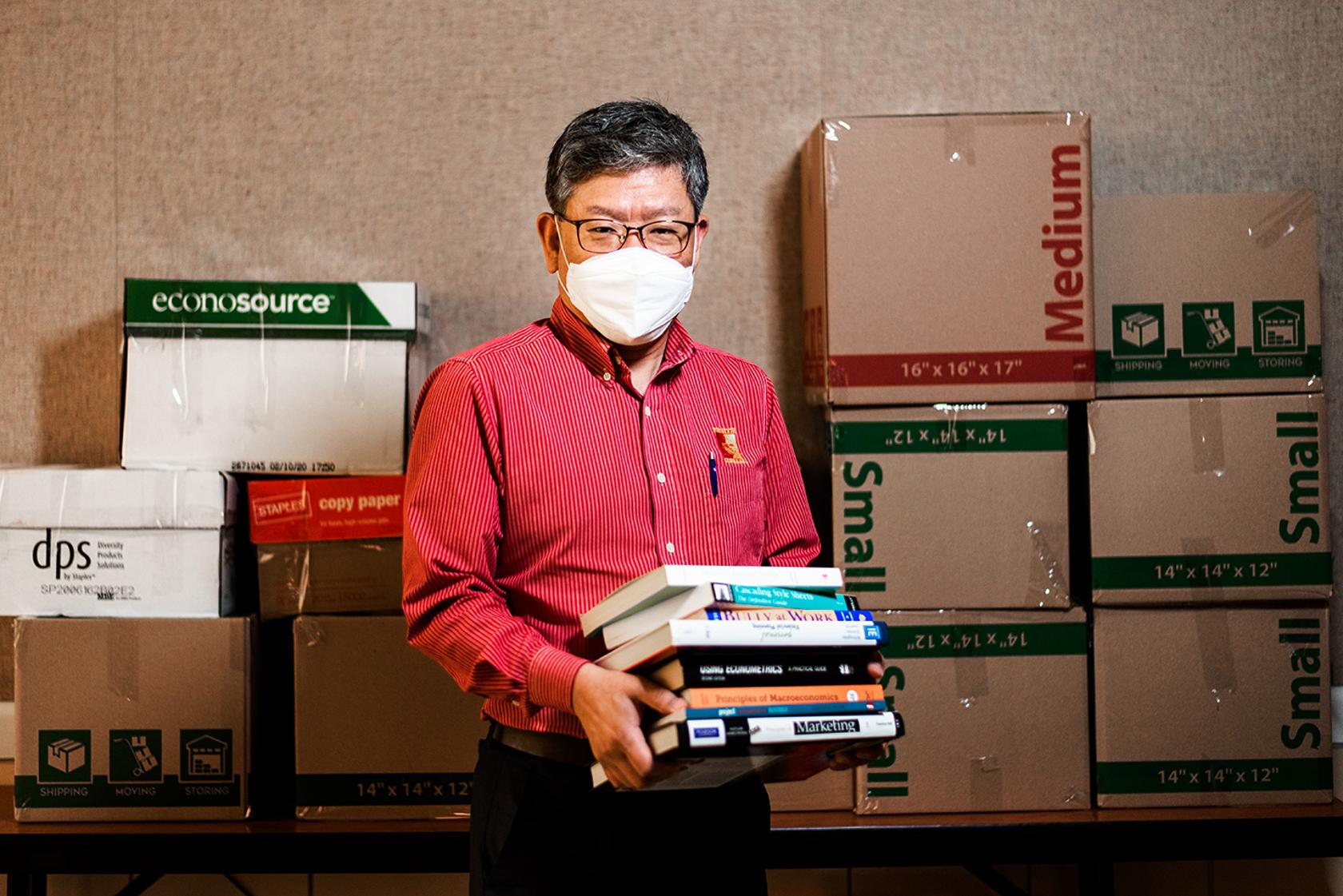 Eighteen boxes of academic books are on the way to Africa, thanks to faculty in departments across campus at Pittsburg State University and Associate Professor Sang-Heui Lee, who spearheaded the effort. 
Two years ago, Lee, who teaches in the Kelce College of Business at PSU, spent his sabbatical teaching at Africa University in Zimbabwe. 
Right away, though, he noticed a need in the university's library there. 
"I was looking for materials for the class I was teaching, and the most recent books were published in 1984," he said. "That's just not acceptable for business classes; a lot has changed since then." 
To compound the challenges, the internet speed in Zimbabwe is very poor, Lee added. 
"They have a beautiful library, but they need good materials for it," he said. 
When Lee returned to PSU, he discussed it with his dean, Paul Grimes, who was supportive of the idea of a book drive, and with the dean of Library Services, Randy Roberts, who shares a common interest in open source materials and provided him ideas and resources. 
Lee also found an ally in Kevin Backer, chair of the PSU Faculty Senate, who spread the word through announcements and emails to colleagues in several departments. 
Donations started coming in from across campus, and this week Lee packed and shipped the 18 boxes that he collected. He anticipates they will arrive in Africa in about a month. The cost of shipping was covered by two academic journals that KCOB publishes and distributes worldwide. 
"It makes me appreciate what we have here in terms of resources," said Lee, who has authored chapters of books and entire books himself, and serves as the editor in chief of the Journal of Managerial Issues and on the editorial board of the Service Business Journal. "I also appreciate my many colleagues who contributed. I am thankful for them." 
Here, Lee teaches management courses including Operations Management, Quality Management, Management Information Systems, Principles of Management, International Management, Logistics and Distribution Management, and Business Programming.  
While on sabbatical, Lee helped foster a relationship between AU and PSU and is working toward a 2+2 articulation agreement. 
"It certainly shows the mutual benefits of sabbaticals and highlights the generosity of our Pitt State colleagues to share with those on the other side of the world," Grimes said. 
---
Learn more about Kelce College of Business.