ROTC honors victims of 9/11: "They deserve to be remembered"
  Friday, September 11, 2020 10:00 AM
  People and Society, News, Giving Back
Pittsburg, KS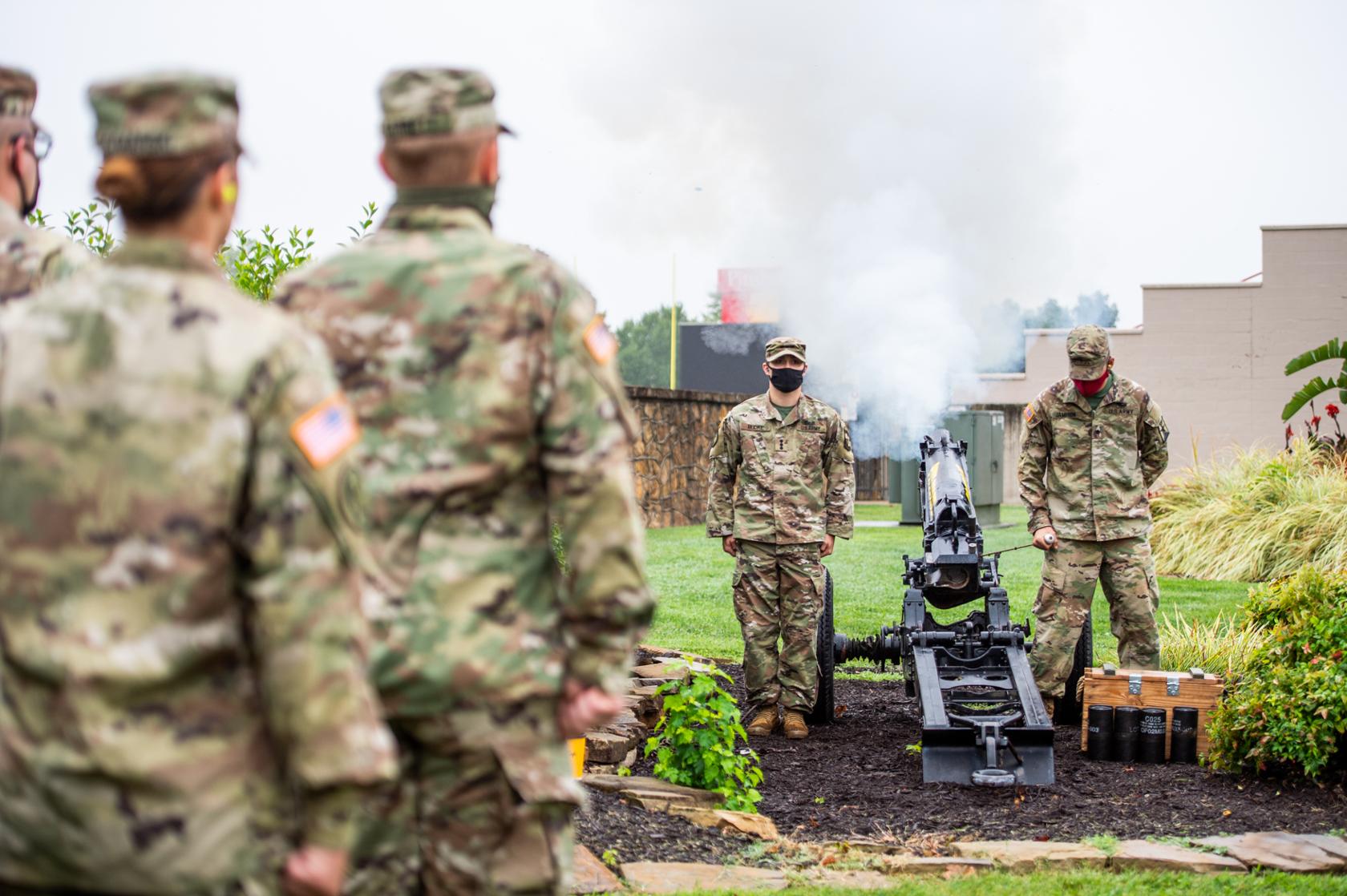 None of the cadets surrounding the ROTC cannon at Carnie Smith Stadium on Friday morning have clear memories of Sept. 11, 2001. Most weren't born yet, and a few were just babies. 
But they have a passion to serve their nation, they said, and part of that service is to help honor the nation's history — including the painful parts.  
That's why they planned and executed a solemn Patriot Day remembrance, which included firing the ROTC cannon four times: at 8:46 a.m., when Flight 11 hit the first World Trade Center towers, at 9:03 a.m. when Flight 175 hit the second tower, at 9:37 a.m. when Flight 77 hit the Pentagon, and at 10:03 a.m. when Flight 93 crashed into a field in Somerset County, Pennsylvania. 
In between the cannon shots, the cadets took turns reading each of the 2,977 names of those killed in the attacks and an additional 65 names of those who died from related injuries and lung disease; for each name, cadets took turns doing pushups. 
"It's important to remember history, especially history we don't want to talk about or that's painful. It's a history that belongs to all of us," said Cadet Kylie Brooks, a sophomore nursing major from the Houston, Texas area.  
She was six months old at the time of the attack. 
"It's especially important for coming generations who weren't a part of that history to see this and have an understanding," she said. 
The remembrance was the brainchild of Captain Erick Leon, who was 18 and a senior in high school in the Bronx when the towers were hit. Witnessing that was such an eye-opening experience, it prompted him to enlist in the U.S. Army. 
Today, he's an assistant professor in the Department of Military Science at Pittsburg State University, where he teaches and mentors cadets in the ROTC program. 
"It means a lot to do this," said Leon, who started the tradition on Sept. 11, 2019. "It takes me back to being their age in New York City on a day that our world changed significantly. I made a promise that as long as I'm here at Pitt State, we'll do this." 
The chair of the department, Major Charles Costello, also has vivid memories of 9/11: he was a senior in the ROTC Corps of Cadets at Virginia Tech at the time. 
"You knew once it happened things wouldn't be the same," he said. "I went home and told my wife, 'Get ready.' I was commissioned two months later, and then deployed to Iraq." 
Costello said he felt it was important for the cadets to have a leadership opportunity by planning and carrying out the remembrance. 
Evan Garrett, a junior construction management major from Maryville, Missouri, was one such cadet. 
"It was a tragic event and I wanted to pay honor to those we lost," Garrett said. "They deserve to be remembered."