PSU students build greenhouse, aquaponics system for high school 
  Wednesday, September 16, 2020 11:00 AM
  Giving Back, Academics, Science and Technology, News
Pittsburg, KS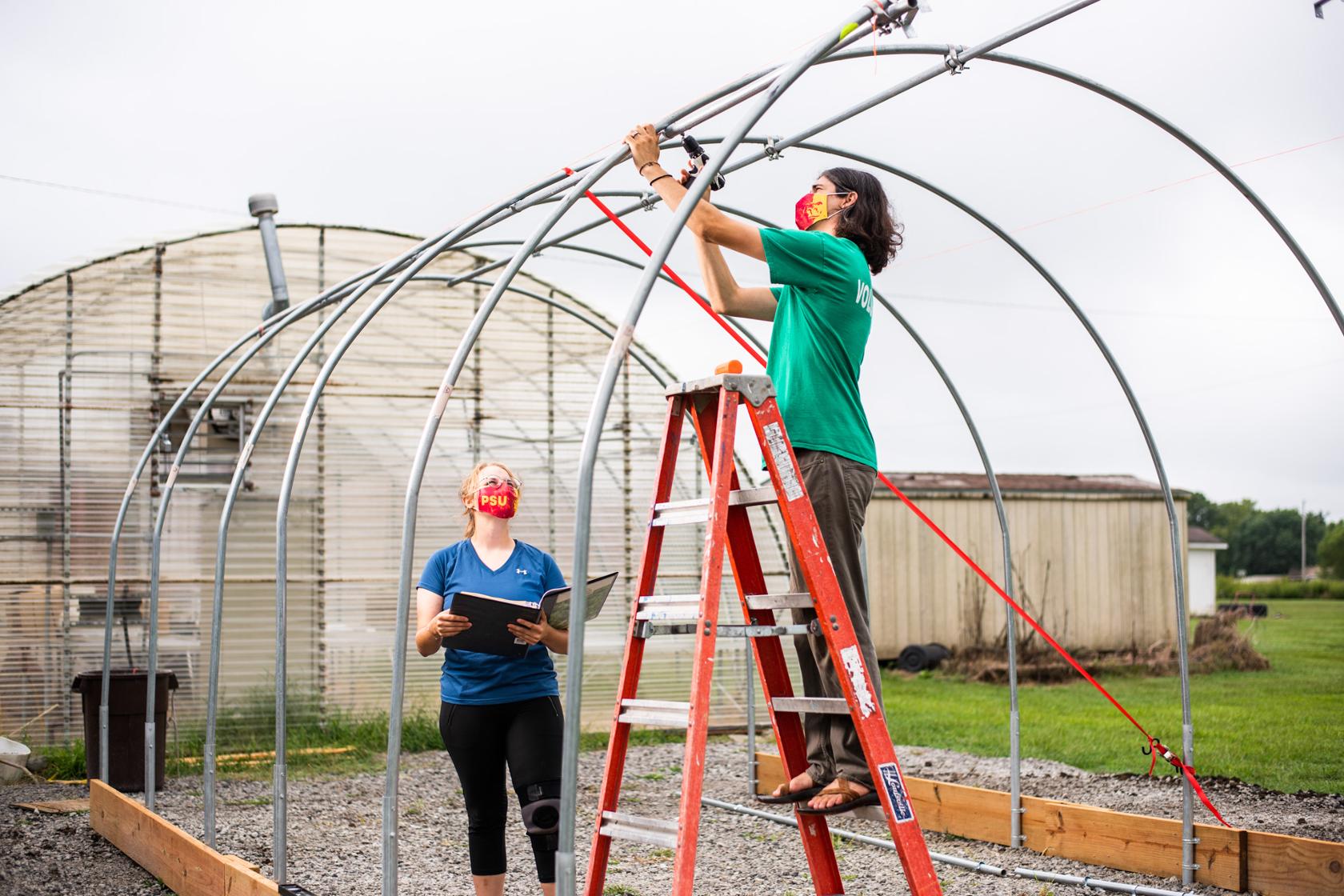 As the heat index hovered in the mid-90s in August, Pittsburg State University students gave up the comfort of air conditioning and Netflix in favor of physical labor outdoors that applied what they have been learning in their degree programs.  
Now, as the temperatures cool and with fall on the horizon, the end is in sight: By October, Charlie Beetch, Erin Kruse, Aaron Mackey, and Wren Lowrey hope to complete a 12x20-foot greenhouse and a 6x16-foot aquaponics system for use by students in a new class at Southeast High School in Cherokee, Kansas. 
"We're not getting a grade for this or anything," Beetch said as he sorted through some of the pieces and parts. "We just wanted to apply what we'd been learning in school and help a community get started with something we are very passionate about." 
Mackey, a junior majoring in Construction Management, would like for green construction to be part of his career. Lowrey, a junior majoring in Biology, is interested in the environment and wildlife. Kruse and Beetch are interested in aquaponics and sustainability that is focused on food systems.  
In fact, that's what brought Beetch to Pittsburg State — the only university in Kansas to offer a bachelor's of integrated studies degree in Sustainability, Society, and Resource Management.  
The students are all members of Students for Sustainability (S4S) at PSU, a group that last year built a similar aquaponics system in the greenhouse on the roof of Heckert-Wells Hall. 
Planning for a community-based aquaponics system began last summer, when Beetch and Kruse, both seniors, met with Live Well Crawford County, an organization that helps create healthy lifestyle choices for area residents. 
An idea was borne to introduce such a system in a community that is considered a "food desert," or lacking a grocery store where residents can buy fresh produce.  
Kruse successfully applied to the Kansas Health Foundation for a $25,000 grant, which provided funding for everything they'd need to build a complete aquaponics system and a greenhouse in which to put it so it can operate year-round. 
How it works 
"Aquaponics refers to any system that uses aquatic animals when growing plants in water, to the benefit of both the animals and the plants," explained Beetch, who traveled to Wisconsin last year for a training by aquaponics manufacturer Nelson & Pade.  
Excretions from 50 tilapia to be housed in a 100-gallon tank will flow into a smaller tank called a clarifier, where solids will settle in the bottom and then flow into yet another small tank for aeration.  
Beneficial bacteria will convert it into ammonia nitrate, then it will be aerated once again to force out C02. Plants started as seeds in floating sheets of foam in large troughs of water will convert the C02 to grow. The water will then be recirculated. 
The system, called F5: Fantastically Fun Fresh Food Factory, arrived in pieces and parts in numerous boxes; the students worked for several days to assemble the wooden stands and fit the PVC pipes. 
They also dug post holes in a gravel pad next to the school's existing greenhouse; on that pad, they're working to build a high tunnel-style greenhouse using bags of Quickrete, a stack of lumber, and a pile of closed cell foam insulation panels — all of which will be covered by a poly sheeting. Inside it, they'll install the aquaponics system. 
S4S advisor Catherine Hooey, a professor at PSU, said she's very proud of them. 
"The initiative they have shown to write the grant, to put in the time and energy on building this in order to help a community, and at the same time use what they've learned, is really what Pitt State's all about," she said. "I'm very proud." 
"Definitely interest" 
Caitlyn Brummett, who teaches the agriculture program at Southeast High School, was interested in using such a system with her students, and maintenance supervisor Adam Wells, who dabbles in hydroponics himself, was happy to assist.  
Superintendent Brad Miner, Principal Larry Malle, and Vice Principal Debbie Clawson also expressed positive support. 
"This is the first year we have a horticulture class, partly because of our greenhouse and partly because of the aquaponics," said Brummett. "Our largest class size we can have is 18, and we had 17 enroll in it, so there's definitely a lot of interest." 
Brummett anticipates the class being able to use the system as early as mid-October. 
"Before then, we'll be learning in class what we will be doing once it's completely built and we can get out there," she said. "They'll learn what student roles will be each day, what we'll be checking for, and so on."