Graphics grad: "I made the right choice." 
  Friday, September 25, 2020 11:30 AM
  Academics, News, Alumni
Pittsburg, KS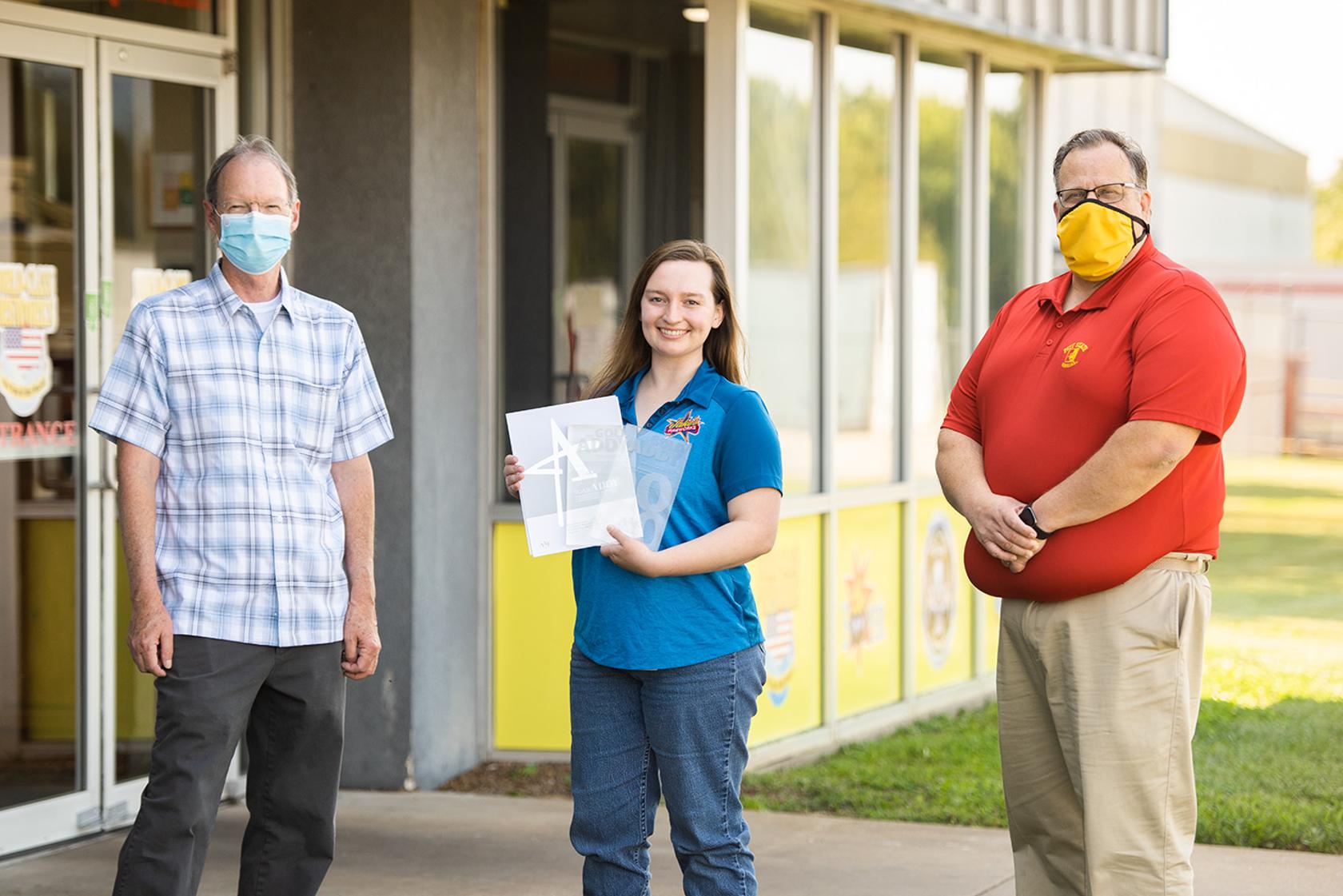 As a senior at Erie High School, it didn't take long for Abigail Cook to make a decision about her future. She chose the Graphics and Imaging Technologies Department at Pittsburg State University. 
"There were scholarships available, and I knew they had a good graphics program with a lot of success, with grads having no problem getting jobs," Cook said. 
On Thursday, she confirmed she made the right choice during a small ceremony held for her at Jake's Fireworks by one of her professors, Chris Huitt, and GIT Department Chair Doug Younger. 
Cook, who graduated last December with a bachelor's degree, has in the past 10 months won four prestigious awards and landed a position as a graphic designer at Jake's Fireworks, a Pittsburg-based company with national reach. 
The job offer came as a result of her level of preparedness from the GIT program. And the awards — two regional gold awards in the ADDYs (the advertising industry's largest and most respected competitions), a silver ADDY won at the district level, and a first place GraphEx Award won in PIA MidAmerica's Graphic Excellence Competition — were won for projects designed in Huitt's Publications Graphics class. 
The pandemic meant it took a little longer to get the trophies to her, but the delay made them that much more special. 
"This is really neat," she said as she posed for photos. "I made the right choice." 
The projects for which she won them: a calendar, and the announcement she designed as an invitation to her college graduation.  
"She was a summer intern with us last year, and we could see the level of preparation she got from the PSU GIT program," said her supervisor, Jessica Benford. "When we had a position open last fall, we gave her a call. She made an impression." 
That's not unusual when it comes to PSU students and graduates, she added.  
"We're so thankful for our partnership with PSU," Benford said. "Every intern we get from Pitt State is primo. And not just in GIT, but in sales, retail, marketing — they're all able to hit the ground running when they get here. I can tell their education is top notch." 
Cook designs a variety of assets for Jake's Fireworks, from social media content to print items to web graphics to vehicle wraps. 
"It's exciting to see my work used nationally," she said.  
And, she added, as a new college graduate with a solid job, she and her husband were able to buy a home and begin building a life together in the Pittsburg area. 
In April, when Jake's partnered with the Pittsburg Area Chamber of Commerce to create and market a Pittsburg Strong t-shirt that would benefit small businesses impacted by the pandemic, they turned to Cook for the design concept. 
"It was super successful," Benford said. "It generated thousands in proceeds for our local small businesses." 
Partnerships 
Huitt and his colleagues said industry partnerships like the one with Jake's Fireworks are invaluable to the GIT Department and its students; InTouch Solutions, as just one example, sponsored 40 winning ADDY entries, making student participation in that contest possible. 
Industry partnerships also provide students like Cook internships that often result in job offers. Two current PSU students, junior Neali Weaver, a print major, and sophomore Marci VanBecelaere, a marketing major, are working at Jake's Fireworks after interning there over the summer and have a good shot at job offers when they graduate, Benford said.