Move-In Day: different, but the same 
  Friday, August 14, 2020 11:30 AM
  Academics, Campus Culture, Milestones, News, People and Society
Pittsburg, KS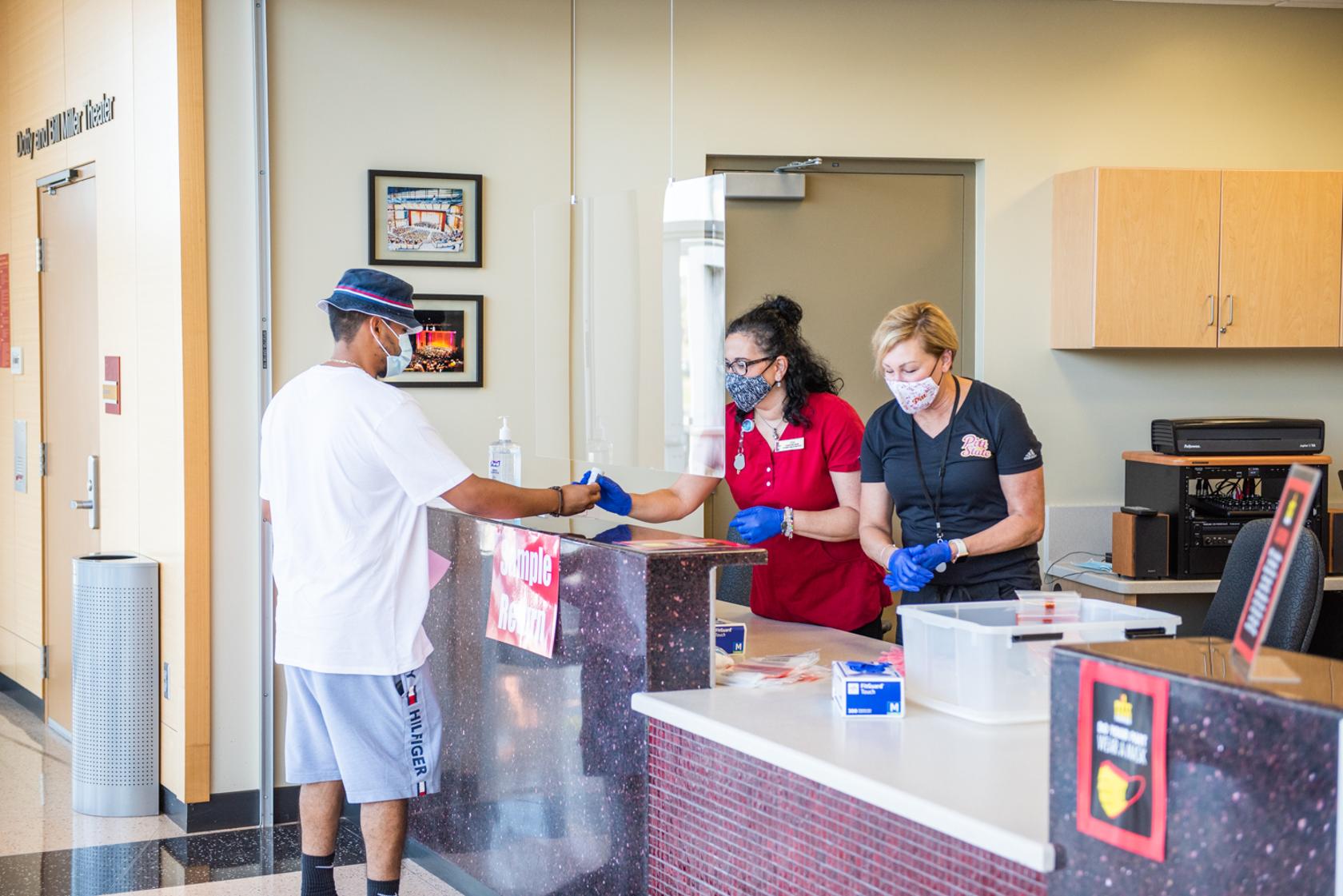 Move-In Day looks different this year. Much different. 
Different location. Strict safety protocols. 
Usually held on a Saturday — a day that's a flurry of activity marked by students, staff, and families hauling laundry baskets and suitcases up and down the staircases of residents halls — this year it's been spread among three days, beginning today and continuing through Sunday, in order to reduce capacity. 
Parents and family must wait outside of the Bicknell Family Center for the Arts, where the process is being carefully staged in the expansive lobby, while individual students enter one at a time.  
Inside, a team from the Bryant Health Center, assisted by students from the Irene Ransom Bradley School of Nursing, uses the box office to collect saliva samples from each student to screen against COVID-19.  
University Housing staff, led by Connie Malle, are handing out packets and room keys, but this time they're also handing out Gorilla-themed masks — now a requirement on campus. 
Hand sanitizer stations are common. And when students head to their residence halls, they are limited in the number of family members who can enter with them.  
But beneath the masks and beyond all of the protocols, there still is an undercurrent of excitement, just as there has been on every Move-In Day in Pittsburg State University's history: it's a new school year. 
The Pride of the Plains Marching Band still is going through drills at Carnie Smith Stadium under the baton of Doug Whitten, playing the same fight song. 
Parents of freshmen still are taking photos and offering final reminders and hugs.  
Faculty still are quickly putting the finishing touches on lessons, lectures, and labs in anticipation of the first day on Monday.  
And students are ready to start the next chapter of their lives. 
"It will be a lot different this year, but I'm still excited," said Alexis Denton, a freshman from Oklahoma who came to PSU to earn a degree in the Family & Consumer Sciences Department and was checking in at the Bicknell Center on Friday morning to pick up her packet and key to her new room in Tanner Annex. 
She was nervous, as most freshmen are, about making friends and figuring out where things are located. 
"It will be a memorable year, no matter what," she said. "I'm just ready to get started." 
But her biggest concern, she said, is that school not send students home early because of an increased case load — she wants the full freshman year experience, to the extend she's able. 
Erika Ramfos, of Detroit, Michigan, waited in the shade outside for her niece, Jillian O'Connor, to check in, and noted that they're used to strict protocols because of a high caseload in Michigan. 
"We own a business, and we've been closed since March," Ramfos said. "We've gotten used to being very cautious, so having to wear masks and the other safety things here is no big deal." 
Like many Gorillas, Jillian, who will pursue a degree in political science with an emphasis in pre-law, is following in the footsteps of family, including her late mom, Jennifer O'Connor (BS '98), and her grandfather, John Brunet (BS '65, MS '66), a member of the 1961 championship football team. 
Katie Crawford, a pre-physical therapy/exercise science major from Olathe, Kansas, was excitedly gathering with Kaitlin Leiker, a nursing major from Kansas City, Kansas, and Giolivia Calagno, a criminal justice major from Webb City, Missouri, outside the Bicknell Center to prepare for sorority Bid Day announcements inside the large performance hall. 
It's an event that's usually held in The Oval on the Friday before the fall semester, the culmination of a week of rush and recruitment activities. Being in the performance hall allows students to spread out more and still be able to hear. 
Decked out in purple and pink feathered boas, bling, and Alpha Sigma Alpha baseball caps, only the three girls' masks gave an indication it wasn't a normal year.  
"We're doing what we can to have a college experience while still being safe about it," Crawford said. "You can still be yourself and dress up, attend events, you just have to do it in a smart way." 
The girls said they stayed home as much as possible all summer and plan to not to go to bars — deemed a risky environment by state and county health departments — in an effort to mitigate the spread of COVID. 
"We want to have a great year and for school to stay open, so we're doing what needs to be done," Crawford said.