Virtual concert provides forum and audience for high school students who missed spring performances
  Friday, July 31, 2020 11:15 AM
  Arts & Entertainment, News
Pittsburg, KS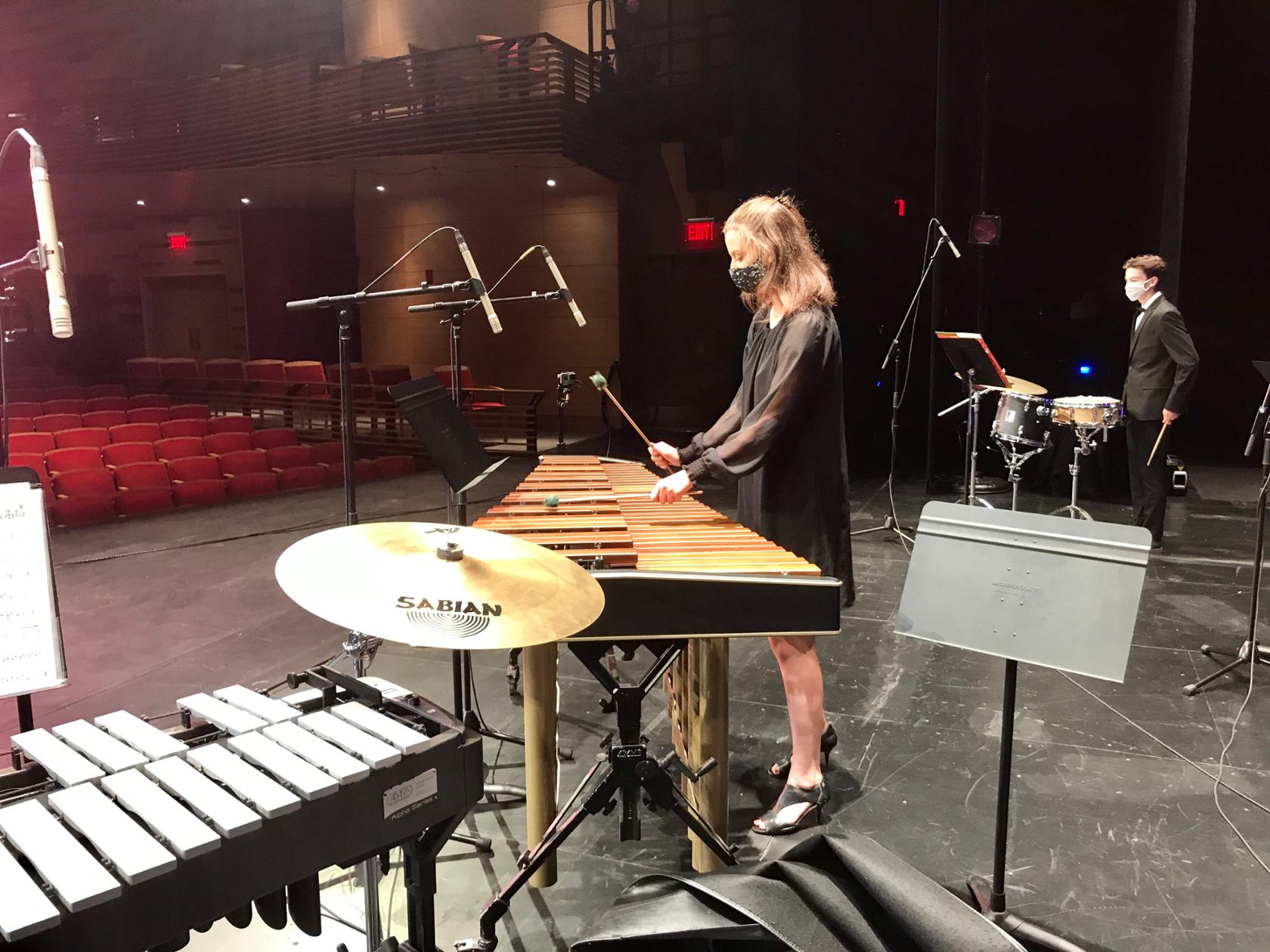 When the pandemic hit and schools closed in mid-March, musicians at Pittsburg High School — including several who were accomplished seniors — missed out on spring vocal and instrumental concerts, contests, and festivals. 
A few months later, the creation of the Pittsburg Virtual Festival of the Arts, a collaboration of the Bicknell Family Center for the Arts and the Pittsburg State University Department of Music, provided both a forum and an audience.
At 7 p.m. on Aug. 5, several PHS musicians will be featured in the sixth concert in the festival's series, to be broadcast on CAPS 13 TV and streamed across multiple online channels. 
"Being able to perform as a part of this series this summer really meant a lot to me," said Christopher Saman, an incoming senior at PHS. "With everything that is going on in the world, it was nice to have this musical outlet and perform with my friends and fellow percussionists. We all had fun playing together again and that we were excited to have a little normalcy back in our lives, while also remaining safe. I'm very thankful that I was able to be a part of this!" 
Using social distancing and other safety protocols this summer, Saman and some of his classmates took turns at PHS and at the Bicknell Center rehearsing and recording with instrumental music teacher Cooper Neil and vocal music teacher Susan Laushman. 
Their concert will include: 
Rebekah Sheward, marimba solo

 

Marissa Vail, horn solo

 

Jewel Lunday, flute solo

 

Emma Annan-Noonoo, vocal solo

 

Sophia Wehrman, piano solo

 

Lunday and Vail, flute and horn collaboration

 

Gabe Anderson, vocal solo

 

PHS Percussion Ensemble 

(Bo McDowell, Josh Ortolani, Declan Ortiz, Christopher Saman, Rebekah Sheward, Jack Stefanoni, Isaiah Yamamura)
Laushman, an accomplished pianist, will accompany several of the numbers. 
Those performances, along with a vocal solo by MJ Harper, who is a PSU music graduate, music teacher, performer, and a volunteer for PHS performing arts, were then edited into an entire concert. 
"Being able to perform as part of this concert series was exciting and nostalgic for me," said Sophia Wehrman, who graduated a few weeks ago and will study piano at PSU this fall. "This is my last performance as a high school student, but it's also been a hint at what's coming up next as a Pitt State student." 

Jewel Lunday, who also recently graduated from PHS and will be a music student at PSU this fall, said rehearsing for and performing in the series motivated her to keep practicing her instrument and keep improving.   
"This was one of my first opportunities to perform outside of a strictly school related event, so I feel that it helped me get more experience preparing music as an individual musician," she said. "As it was a very professional setting, I got the experience of working with the technicians and other musicians as professionals working together to create a product. This has served to be an educational and fun experience that has provided me with a valuable beginning to my college career." 

Harper will sing the Postmodern Jukebox arrangement of "Creep." 

"The ability to perform this summer has been fuel for my soul!" Harper said. "Even though so much of the world is in a dark place right now, there are so many amazing humans that are working diligently to advocate for the performing arts and a modified sense of normal. I am epically thankful to be a part it." 
Audiences may view the one-hour concert, along with others coming up on Aug. 12 and Aug. 19, on the Bicknell Center Facebook page, at youtube.com/pittstate, at pittstate.tv, and on CAPS 13 TV. 
---
Cutline: PHS senior Rebekah Sheward rehearses with sophomore Jack Stefanoni for a virtual concert that provided several music students a forum for performing songs they never got to when schools closed in the spring. The concert will be streamed and broadcast on Aug. 5 at 7 p.m.