University mourns passing of longtime supporter, Hall of Famer, community icon 
  Friday, June 19, 2020 5:00 PM
  Alumni, News, People and Society
Pittsburg, KS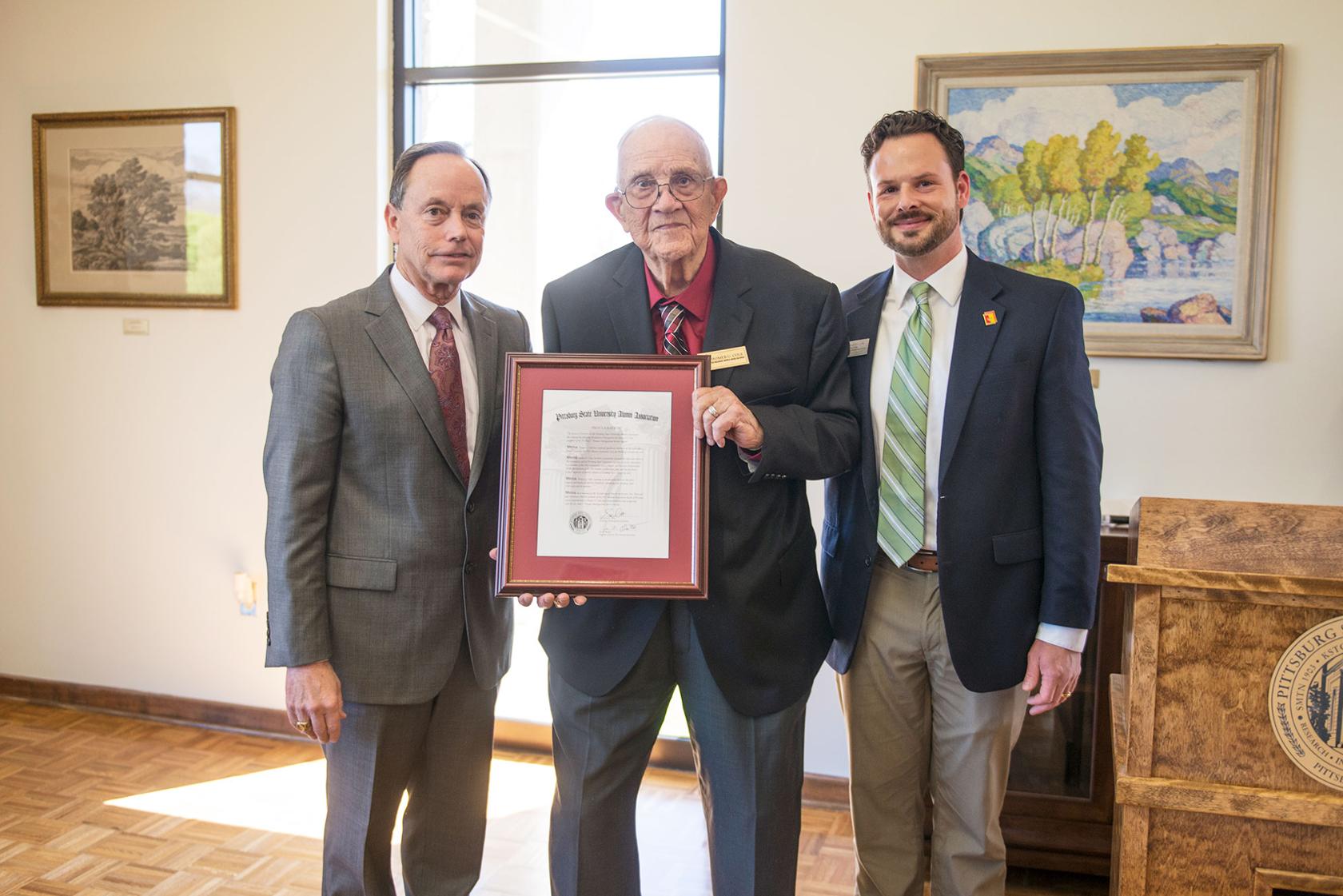 War hero, Pittsburg State University basketball record holder, civic leader, and ardent supporter — it's hard to find anything at which Homer Cole didn't just succeed, he excelled. 
Known for his unique personality and his passionate love for Pittsburg and PSU, Cole died on Thursday, June 18, at the age of 94. 
"Over the years, I've had many conversations with Homer, including over the phone, at ball games, and at breakfast at Otto's," said PSU President Steve Scott. "Every single time, I felt uplifted afterward as he praised our student athletes, our coaches, and the university. His encouragement and support made a difference to many, many people in this community. He will be missed." 
A Pittsburg High School graduate, Cole began attending Kansas State Teachers' College, now PSU, in Summer 1943, but by September was drafted and sent to England to serve in the 487th Bomb Group. He was 18. 
By the time he returned to get both his education and his basketball career underway, he had experienced more than the average freshman: he had flown 19 missions in the European Theatre of World War II, and on April 10, 1945, was forced into an emergency landing in Brussels after his B-17 Flying Fortress was shot. 
For his service, he earned the Good Conduct Medal, American Campaign Medal, World War II Victory Medal, Purple Heart, Air Combat Medal, European-African-Middle East Campaign Medal and Air Medal with Three Oakleaf Clusters — medals he kept prominently displayed on his fireplace mantle. 
From 1945 to 1950, he took the PSU court in a school record of 110 career games — a mark that stood for nearly 50 years. 
He then coached basketball, football and baseball, worked for McNally's for three years, served as the Joplin, Missouri, parks and recreation director, and managed bowling alleys across the region, including Holiday Lanes in Pittsburg.  
Cole served on the Pittsburg City Commission from 1987 to 1991, including a term as mayor, and was active on at least a dozen boards throughout the community. 
He was also the driving force in getting the Homer Cole Community Center, which provides programs, services, and a meal site for seniors citizens, and was the founder of the annual Government Day for high school students in cooperation with the Elks Lodge, City of Pittsburg, and Crawford County — he believed in the investment of young people as the leaders of tomorrow. 
Through it all, Cole, along with his wife, Eveyln, never lost his connection to PSU. He contributed a collection of historic publications, maps, photographs, newspaper clippings and materials related to World War II to the archives at Axe Library. They attended special events. 
And Cole continued to be a regular fixture at basketball and football games and an ardent supporter of the coaches and players both on and off court. 
In 2012, he was honored with induction into the PSU Athletics Hall of Fame Legacy category as a meritorious achievement honoree. 
On that occasion, coaches and fellow PSU athletic supporters spoke at length about Cole's love for the game. 
"Homer personifies what Pitt State Athletics is all about: family ... he has a genuine interest as strong as any fan you'll see around the country," said then-Coach Kevin Muff. 
Gene Bicknell, who said he and Cole considered each other brothers, called him "one of the greatest guys I've ever met, not only a great athlete with a tremendous career at Pitt State in basketball, but a guy who cares about the community ... devoted, committed." 
In 2017, in conjunction with Apple Day, PSU honored Cole with the Ralf J. Thomas Distinguished Service Award, an award given to those who have rendered significant volunteer service to the university in such areas as Alumni Association activities, the PSU Foundation, PSU athletics, academic departments and student service programs. 
In an interview a few years ago, Cole reflected on his connection to the community and university and said he wouldn't change a thing. 
"I consider myself lucky," he said. "The people of Pittsburg, if you're honest and treat them right, they'll do anything for you. It's a great town to raise a family."