The J3 Band to kick off Pittsburg Virtual Festival of the Arts 
  Tuesday, June 30, 2020 10:30 AM
  Giving Back, People and Society, News, Alumni, Arts & Entertainment
Pittsburg, KS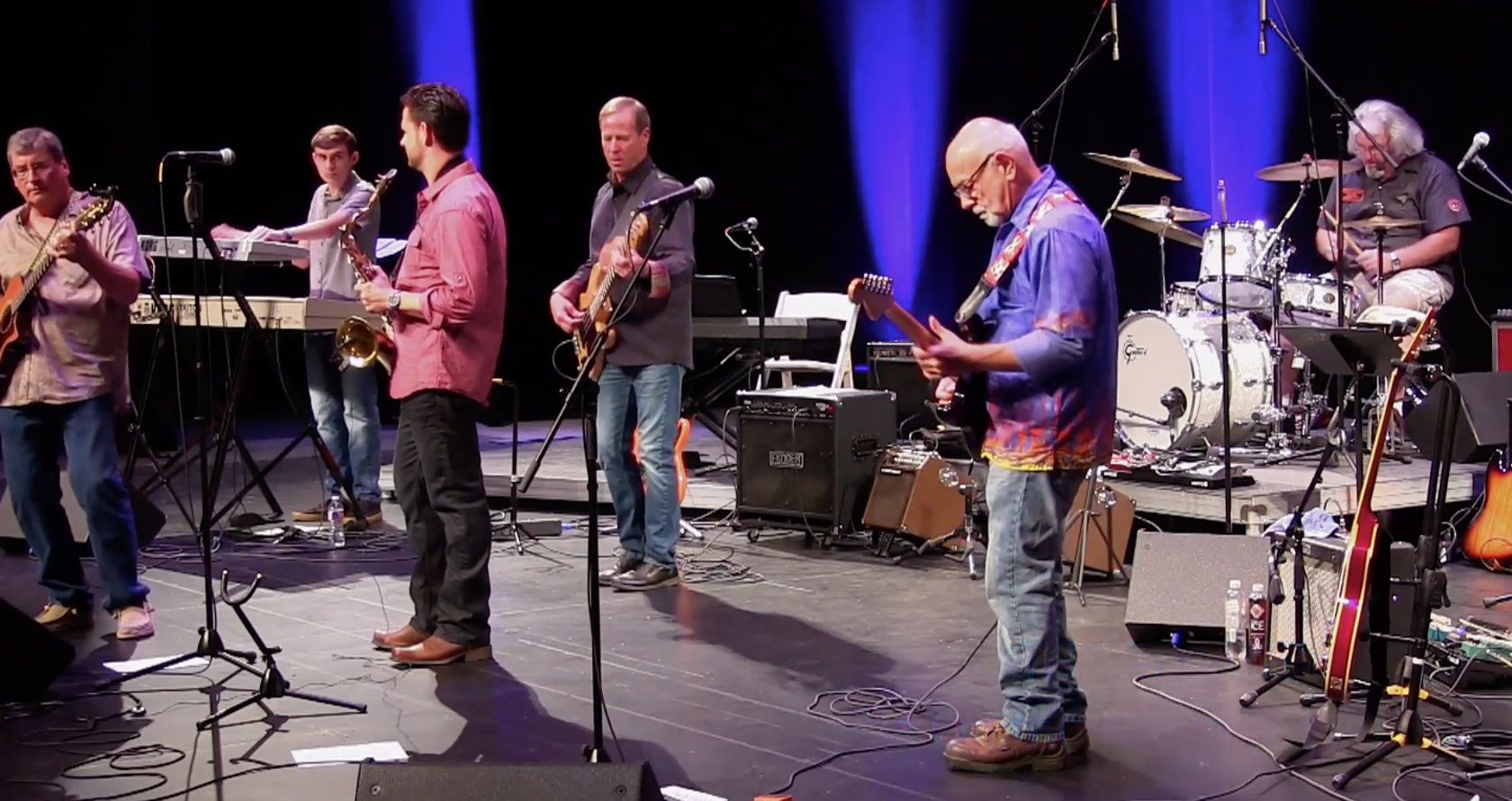 By day, and sometimes evenings and weekends, Jon Bartlow is the director of Alumni and Constituent Relations at PSU.  
But in his free time, he picks up his saxophone and wails with The J3 Band — an iconic group known for its blend of classic rock and roll, blues, and swing and chosen to kick off this summer's Pittsburg Virtual Festival of the Arts. 
The concert will air on Wednesday, July 1, at 7 p.m. 
The festival is a collaboration of The Bicknell Family Center for the Arts, the Pittsburg State University Department of Music, and local performers in an attempt to provide a concert-like experience during the COVID-19 pandemic. 
Audiences may view the one-hour concerts streamed each Wednesday evening through mid-August on the Bicknell Center Facebook page, on CAPS 13 TV, on pittstate.tv, and at www.vimeo.com/pittstate.  
In the concert by The J3 Band, audiences will hear tunes such as "The Thrill is Gone," made famous by B.B. King in 1970, the 1972 hit "Your Momma Don't Dance" by Loggins and Messina, "Caldonia," first recorded in 1945 by Louis Jordan, "Like a Hurricane" written by Neil Young in 1975, "Eye in the Sky" released by The Alan Parsons Project in 1982, and R.E.M.'s 1991 hit "Losing my Religion." 
Band notes 
The band got its start with two J's:  
John Gobetz, a singer, songwriter, musician, and recording artist who graduated from PSU in 1973, and Jamie Ortolani, a Pittsburg native who attended PSU, works in screen printing, and has played music since he can remember, starting with a harmonica in elementary school at George Nettels. 
Both have played in numerous cover and original bands across the area, including Cottonmouth, The Heaters, MANTRA, Mister X, and more.  
They added another J: Jon Bartlow, who started making music years before he became a student at PSU in the late 1990s. 
A few years ago, Ortolani's son Andrew Ortolani, now a senior biology major at Pittsburg State, joined the band on keyboard.   
Chris Harris, a sign solution manager with CDL Electric, bought his first bass in 1984 as a freshman at Pittsburg State, and the rest is history.  
And drummer Larry Douglas, now a pro account sales associate with The Home Depot, got his first kit and starting playing at age 17 — "a lonnnng time ago," he said.  
They all love the band's set lists for the versatility — the same reason the band appeals to a varied demographic of listeners. 
"Plus, it's fun!" Gobetz said. 
Other concerts planned for the festival will feature violinists, pianists, dancers, small wind ensembles, percussion ensembles, and a jazz combo. Details: @BicknellCenter on Facebook.