PSU students, athletes, employees take part in rally 
  Monday, June 8, 2020 8:00 PM
  Campus Culture, News, People and Society
Pittsburg, KS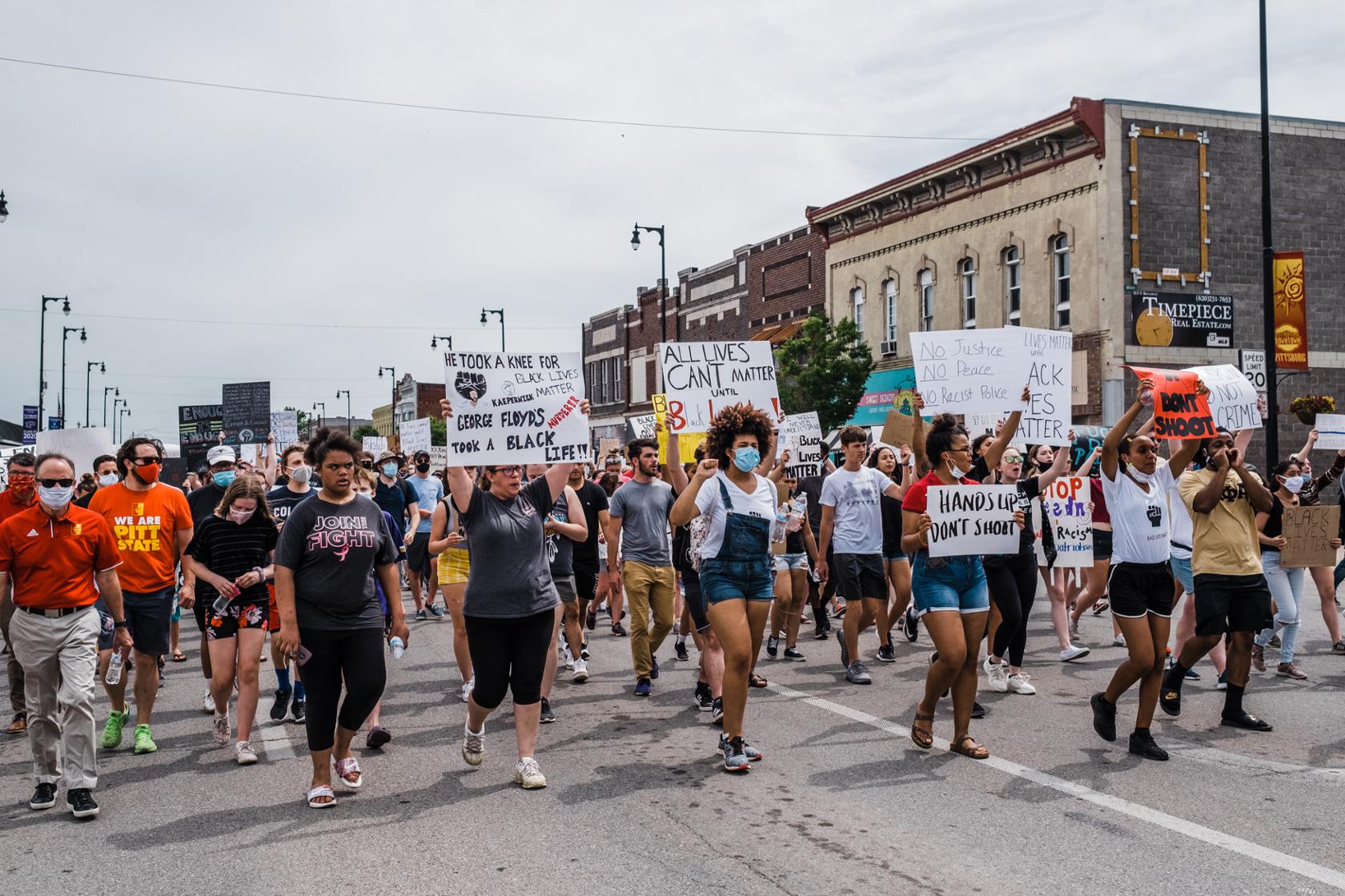 Deatrea Rose wrote four speeches before she settled on one for Monday's #BlackLivesMatter rally in downtown Pittsburg. 
D'André Phillips was so overcome emotionally while at the mic that on at least a couple of occasions, he opted to pass it to someone else. 
The two — Rose, the director of student diversity at Pittsburg State University, and Phillips, the president of the PSU Black Student Association — were among several to address a supportive crowd of an estimated 300 people in Immigrant Park. The crowd included PSU students, alumni, staff, faculty, and administrators, as well as city leaders, law enforcement, and community residents. 
Both Phillips and Rose acknowledged the moment was a transformative one. 
"It doesn't just end today. Today is just the start," said Phillips, a senior math education major, who also read an essay he posted on Facebook last week that was widely shared. 
They were joined at the mic by speakers from many walks of life, from Marti Sinclair, a 2015 Pittsburg High School graduate who helped organize the rally, to Rev. K.O. NooNoo, who in 1990 moved to America from Ghana, Africa, to attend school, and for the past 14 years has raised his family in Pittsburg. 
All shared two similar talking points: 
Th

ey encouraged th

ose who want to help 

to 

do more than post a black profile picture and a hashtag

 on social media

; register to vote

 and be an activist for change

, they said

.

 

They explained that the movement is not 

only

 about the death of George Floyd, 

Ahmaud 

Arbery

, 

Breonna Taylor, Tamir Rice, 

and other recently slain blacks; it's about 

bringing attention to and ultimately ending 

systemic racism

, or inequalities and discrimination

,

 in education, housing, employment, and representation in leadership positions.

 
University Police Chief Stu Hite was invited by Rose and Phillips to speak, and underscored that PSU has "a zero tolerance for racism, inequalities, or any sort of bias whatsoever. Zero tolerance." 
"My rule (at Pitt State) is that our students and staff feel they have a safe place to study, to live, to work...they come from all over the country, all over the world, and make Pitt State and Pittsburg, Kansas, their home, and we want to make sure they're safe and have that feeling," he said. 
Hite encouraged open dialogue and conversation. 
"If you have a concern, please let us know – our door is always open," Hite said.   
Organizers also invited students from other universities to attend and speak. 
"My heart has been broken so many times," said Haylee Valley, a 2019 PHS graduate who now attends Mid America Nazarene University. "I have experienced different levels of grief, anger, frustration, and stress." 
"I have been called a (derogatory term) more time than I can count. My parents have been refused service because they are an interracial couple...my teachers used to make jokes about Treyvon Martin having his hood up," she said. 
During her impassioned speech, Rose told whites in attendance that "we need you to help us." 
"We cannot do it by ourselves," she said, noting that in many communities, blacks still don't have "a seat at the table" when it comes to lawmaking and policy setting.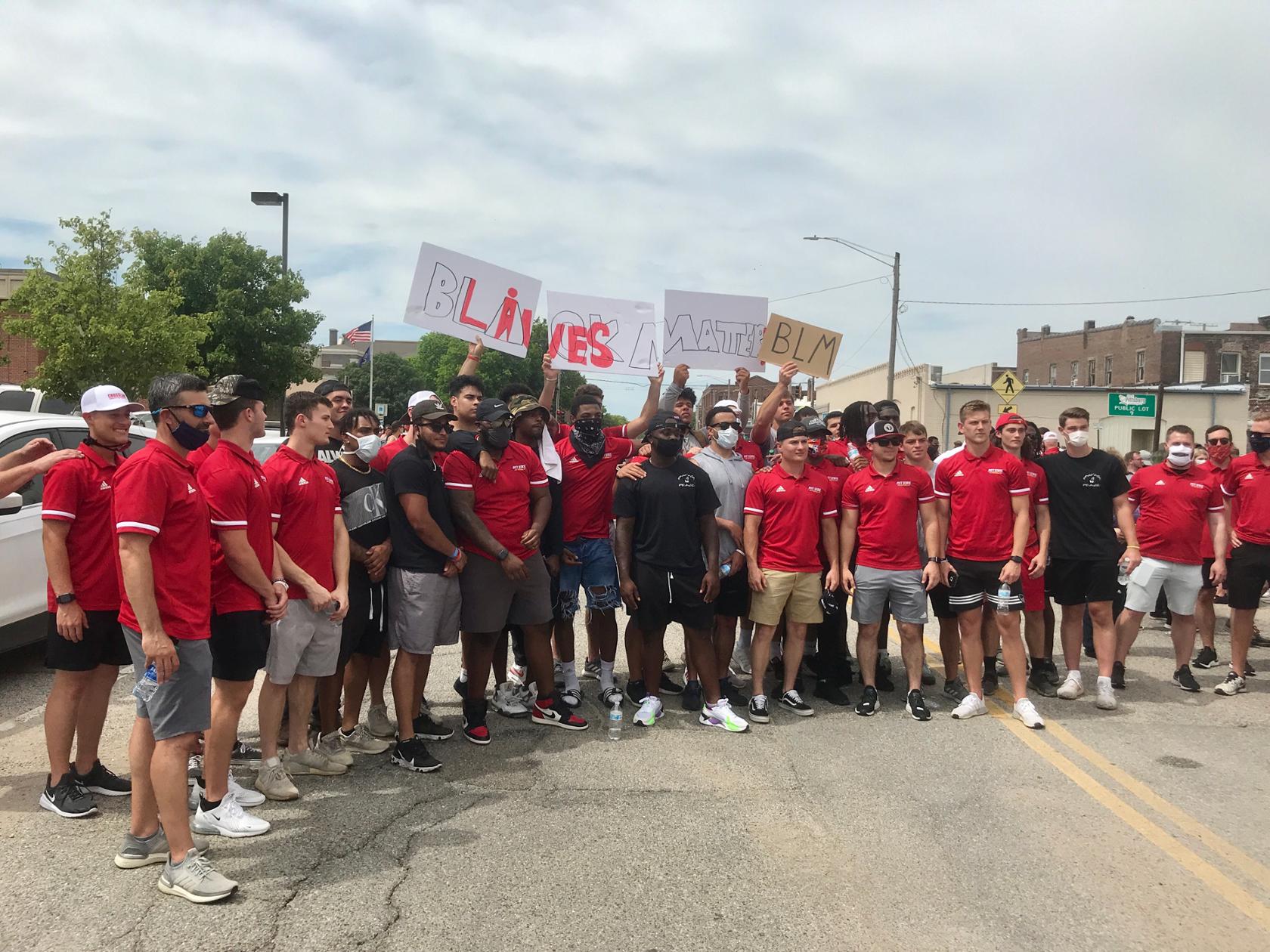 PSU Football Coach Brian Wright and many of his football players attended the rally. 
"Our football team believes that black lives do matter," Wright said. "We had a team meeting last Tuesday and let our black players speak their minds and explain what many of they have had to deal with their entire lives. Many of them educated many of the white players, and many white coaches, to the fact that injustices still occur. It was very informative." 
"We wouldn't have missed this for anything," Wright said. "We're here to support our black players, and better educate our white players about how to be part of the solution." 
Following the addresses, songs, and poems, the crowd marched on Broadway north to Fourth Street, then back to Immigrant Park via Pine Street. In front of the Pittsburg Law Enforcement Center, they stopped, took a knee for two minutes in silence, and said a prayer. 
VIDEO: https://www.youtube.com/watch?v=Xg_JVMvJJdc&feature=youtu.be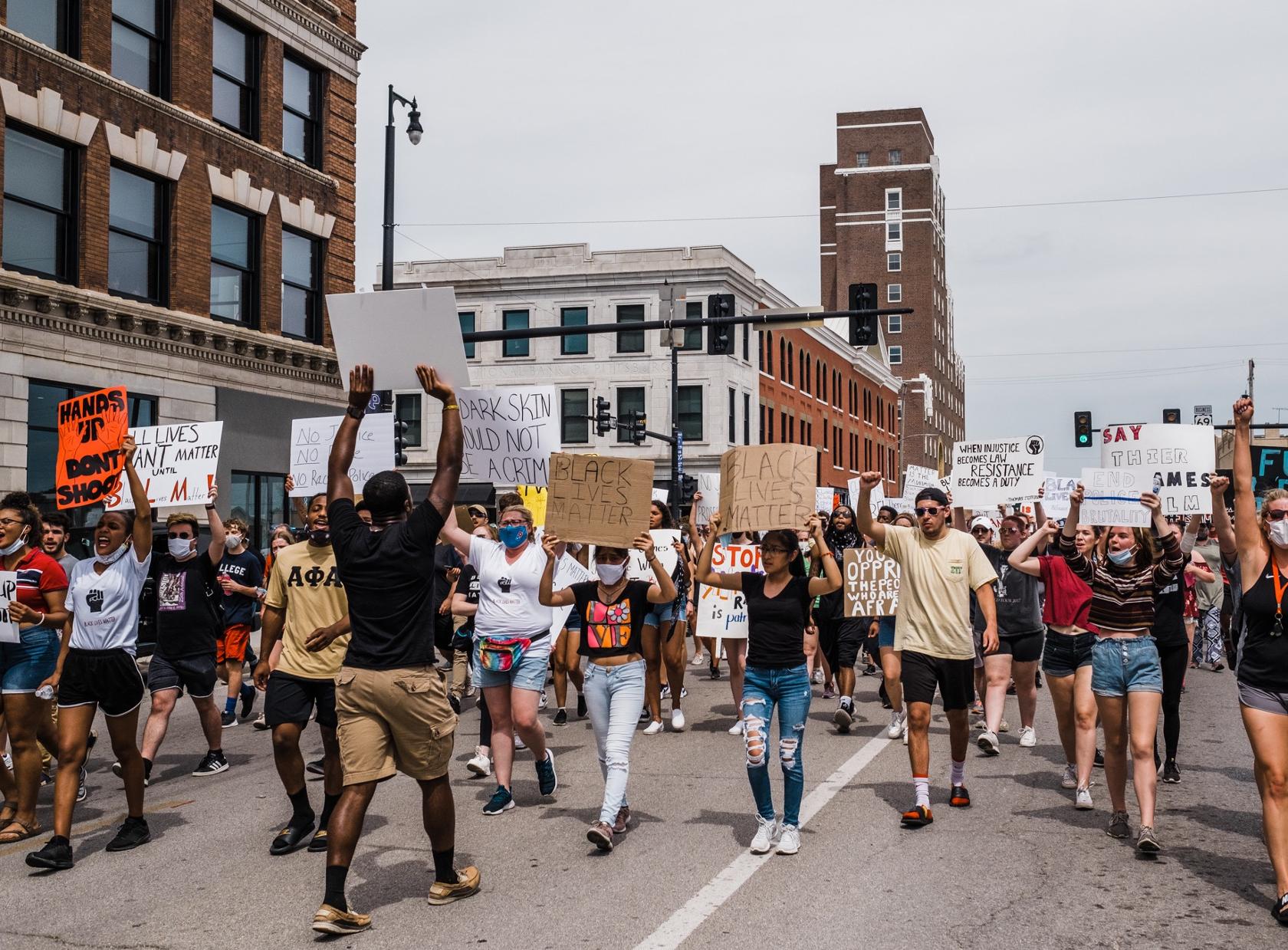 Photo: Andy Grotheer