Nursing majors named Outstanding Seniors 
  Friday, May 1, 2020 7:45 PM
  News, People and Society, Milestones
Pittsburg, KS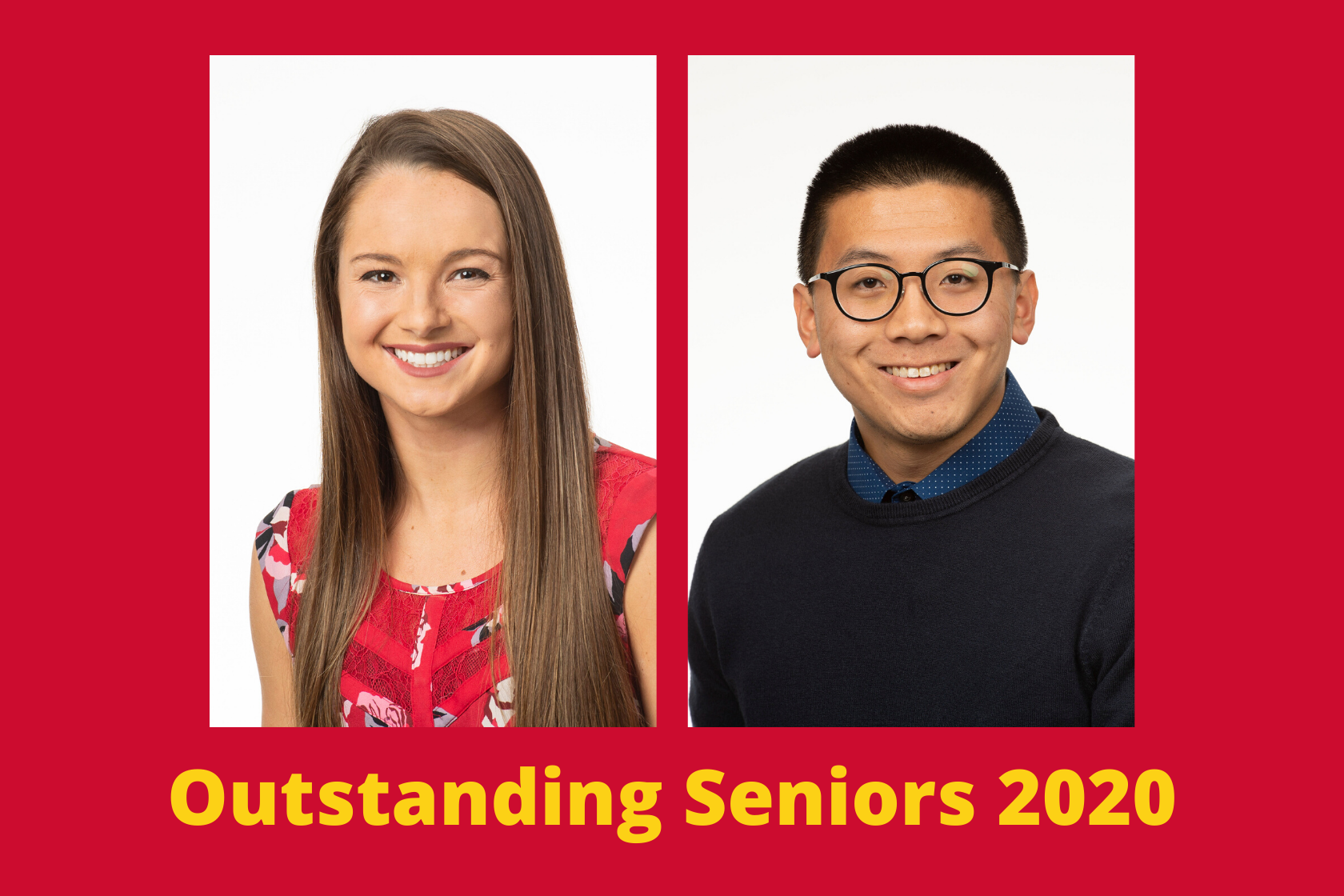 Piper Misse and Marcus Yoakum have a lot in common: they have both been active at community service, excel academically, and are active outdoors.  
They're both nursing majors in the Irene Ransom Bradley School of Nursing. 
And, both have been named Outstanding Senior 2020 from a field of Pittsburg State's best and brightest.  
The selection of Outstanding Senior is a campus tradition that goes back more than 60 years. The selection process begins with nominations by faculty, staff or student organization presidents.  
A committee evaluates the nominees with a review of their academic records, campus involvement, leadership in organizations, their awards and honors, community service, and volunteer work and contributions to the university and the community. 
A brass plaque inscribed with their names will be installed in the Senior Walk in front of Russ Hall in their honor.  
Piper Misse 
Misse, perhaps best known as team captain of the women's cross-country team and women's indoor/outdoor track and field team, is also a 4.0 nursing student. 
She's a member of Honors College and Crimson Club and represents PSU as a senior class officer in the Kansas Association of Nursing Students. 
She's racked up numerous awards, including Golden Gorilla, the 2019 MIAA Scholar Athlete Award and the Academic Excellence Award, and she's a five-time MIAA Individual Conference Champion. 
Misse also has found time for community service at Via Christi Village, the Red Cross tent at PSU football games, and volunteering in the Emergency department at Lawrence Memorial Hospital.  
A native of Overland Park, Kansas, she already has accepted an RN position in the medical intensive care unit at St. Luke's South Hospital there — a chance to return home, she said. 
But she will always consider PSU her second home and a place that afforded her numerous leadership roles. 
"Having been well acquainted with anonymity growing up in the suburbs of Kansas City, I was drawn to Pittsburg State by its friendly, inviting atmosphere and the potential to make a wealth of new connections," she said. 
She's moving on, she said, equipped not just with an education and a diploma, but an extensive network of faculty, peers, and community members.  
Marcus Yoakam 
Yoakam, who in addition to Nursing is majoring in Modern Languages (French), grew up in Pittsburg and is active on campus. 
During his five years at PSU, he has created three organizations, including the largest student-led organization on campus, Outdoor Activities Club, as well as Diversity in Nursing Club. He's active in activities that allow him to interact with international students, including the International Student Association and Pitt Pals, and is a part of the PEER Mentor Program. 
Yoakam, who carries a 3.8670 GPA, is Nursing School class president. 
He has logged more than 400 hours of community service off campus as well, including spending three summers leading activities at the Midwest Hemophelia Association Summer Camp. 
He has worked at Freeman Health System on an as-needed basis throughout the school year, and as a tele-counselor in the PSU Student Success Center. 
"My favorite part of my time here at PSU has been meeting people and building connections," he said. "Seeing people make connections in organizations I created or was a part of is an incredibly rewarding process." 
Following graduation, he plans to obtain a nursing license for Kansas and Missouri, but also pursue options in France: he's applied to teach English to students there, which will help him learn medical French with an eye toward one day working for Doctors Without Borders or the Red Cross. His long-term goal is to work as a nurse practitioner in pediatric hematology/oncology.