Four lifelong friends to graduate from nursing school together 
  Wednesday, May 13, 2020 9:00 AM
  Academics, People and Society, News
Pittsburg, KS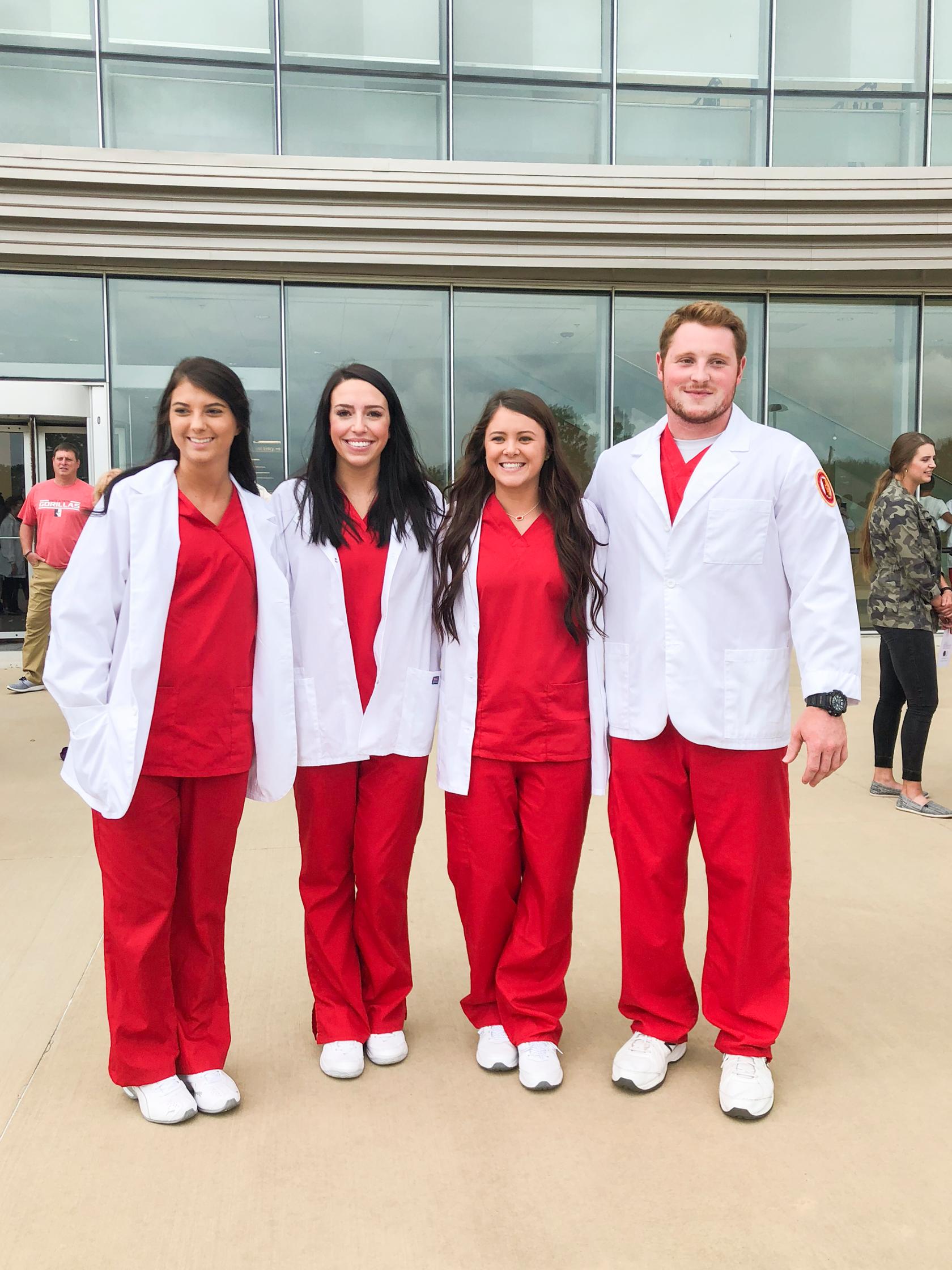 Four best friends who have been in school together since preschool will graduate from Pittsburg State this weekend with the same degree: The 2016 graduates of Frontenac High School will become 2020 graduates of the Irene Ransom Bradley School of Nursing.  
"They gave us something in fifth grade to fill out about what you wanted to be when you grew up," said Brilee Rhuems. "I wrote 'nurse', so I've known for a while."  
Emily Merando said she has known for years, as well.  
Ryan Menghini started leaning toward health care as an upperclassman at FHS when he took Anatomy and Physiology from Julie Mahnken.  
And Karlie Zafuta looked up to her aunt, a nurse, as a role model, so chose that path for herself. 
They have been together every step of the way.  
"We park by each other, we sit by each other in every class, and we went through the White Coat Ceremony together," Merando said. "We like to joke that we have separation anxiety."  
Faculty and classmates in the School of Nursing refer to them as "The Frontenac Crew."  
"We didn't get together and plan it — it just happened," Rhuems said.  
On June 22, Menghini will begin work in med surg at Ascension Via Christi Pittsburg, and Merando will begin work there in labor and delivery, a job she's wanted from Day 1.  
Zafuta is working already in ICU at Freeman Health System in Joplin and will transition full-time in early June, while Rhuems, who already works Mercy Hospital in Joplin in med surg will transition to full time there. Later, she said, she'll pursue an advanced degree.  
They're ready to tackle working full time on the front lines during a pandemic — after all, they have already been doing so on a part-time basis — but one thing scares them.  
"It's a little nerve-wracking to think about not seeing everyone every day," said Zafuta, who will move to Joplin.  
Rhuems agreed. "It's sad, and I cry pretty easily, so I'm trying not to think about it."  
But they have made a pact to see each other as often as possible.  
"I think it will be more than we think it will," Merando said. "And when we can finally have a party, we'll get together and celebrate. We might even hold our own graduation ceremony!"