Changing Course: Collaborating to create a virtual wind ensemble 
  Thursday, May 7, 2020 3:30 PM
  Arts & Entertainment, Academics, News, People and Society
Pittsburg, KS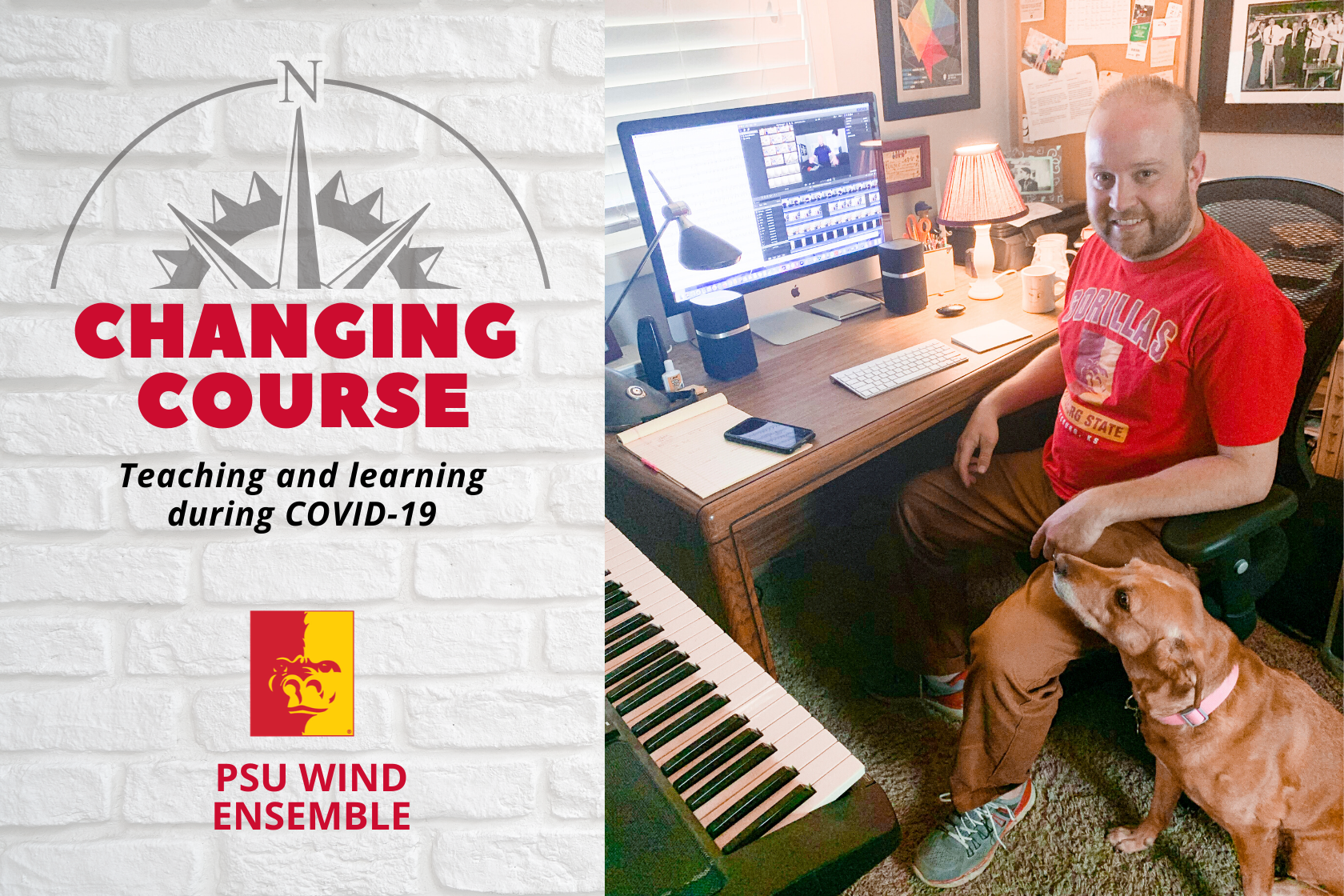 Just as the spring edition of the PittState Magazine arrived in mailboxes across the nation, touting as the cover story the theme "By Doing, Learn," for which the university is known, the COVID-19 pandemic brought all in-person classes to a halt.  

Those who teach and those who learn had to be flexible, innovative, and change course quickly.  

In this series, we're sharing what education looks like from the perspective of our faculty, students, and alumni during a time of social distancing, stay-at-home orders, and remote coursework.  
---
Pittsburg percussionist Fayne Speer, a member of several music performance groups at Pittsburg State including the PSU Wind Ensemble, counts himself lucky. 
His parents? They might feel differently. 
Their living room is now filled with large instruments like marimbas, vibraphones, and drums. And their home is filled with the sounds those instruments make. 
Speer typically would be practicing and performing on those instruments on campus, where spring is a season of concerts and recitals. 
But shifting his learning online and deleting concerts from his calendar during shelter-in-place orders brought about by COVID-19 has not kept him from playing and, in a virtual way, from performing with the Wind Ensemble, thanks to Assistant Professor Andrew Chybowski.  
He's used instruments the university allowed him to check out and move to his family's home, and innovative strategies Chybowski has called a "big experiment." 
The plan 
"I wanted to start back with the Wind Ensemble right away after Spring Break, so I spent Spring Break in a lot of discussions with people in our profession, visiting forums, looking at resources, so I had a plan ready to go," Chybowski said. 
His 46 students, who typically rehearsed together three afternoons a week at the Bicknell Family Center for the Arts, quickly moved past the disappointment of a canceled concert and became excited about the opportunity to collaborate musically in any way they could. 
"I was surprised at how positively they were looking at it," Chybowski said. "They've loved any sense of normalcy." 
He wanted to strike a balance: to continue to teach them, but to also let them have time to explore what they really love about music. 
He gave them options and connected with them often. His primary tool: The PSU Wind Ensemble Facebook group. In it, he posted frequent recorded videos of himself explaining their assignments and offering them challenges. 
"I wanted them to pursue something they were really interested in, and at the same time, maintain the sense of community we're used to feeling when we rehearse together," Chybowski said.  
He assigned a theme each week — like "March Madness," in which they could pick a John Phillip Sousa march to perform. 
The response 
Students responded by posting recorded videos of themselves playing. And then, once they mastered the techniques, they began combining their individual recordings into virtual ensembles, with all parts appearing to play at once. 
It's tedious and time consuming, and the tolerance for mistakes is lower than a live situation. 
"I have little to no idea what the other ensemble members are going to sound like until I hear the finished product," Speer said. 
Some have had to get creative with found objects: an electric keyboard instead of a grand piano, pots and pans instead of drums. Technical challenges have proven frustrating. 
"Musicians are trained to make adjustments in the moment, like volume, pitch, and tempo to the other musicians in the ensemble. The conductor controls that in real time," said Colton Sprenkle, a senior music education major and oboe player from Sarcoxie, Missouri. "Now, we're having to rely just on what's written on the page and be perfectly in tune with ourselves instead of each other." 
But it's been rewarding. 
"These projects help fill the performing void very much, and while it doesn't compare to being able to perform live, it's a privilege in this time in my eyes," Speer said. 
Trumpet player Erica Baldwin, a sophomore music education major from Bentonville, Arkansas, said it's taught her not to be so hard on herself and to remember the value of music in spite of the imperfections caught on a recording. 
"There is no such thing as a perfect music performance," she said. "Music is a way to express yourself and an easy way to send warmth and happiness to someone else. I am so thankful that we can use music during this time to spread happiness to others, because the true beauty of it is that music can connect us with others even when we are apart. 
Final project 
Next, Chybowski is extending an offer to his students, and to high school musicians who also aren't getting to meet for rehearsals and concerts, to join in a virtual performance of a new composition given to PSU by composer Roy Magnuson — a piece that's never been played. 
Appropriately, it's called "Défi," and it's about how a person responds to adversity. 
"It's very meaningful. This has all been a big experiment," Chybowski said. "There's not a lot of knowledge out there, because everyone is in a new situation. We're learning what works and what needs to be fixed, in the world of virtual ensembles. And I've been really pleasantly surprised. My students really took a negative situation and made it a positive." 
Also in this series:
How two professors of chemistry, along with their college student son, are teaching and learning from a hotel room after their home was badly damaged by a fire. Read.
How nursing students are completing clinicals virtually. Read.
How students in Environmental & Safety Mangement are using this real-world pandemic to write emergency plans for companies. Read.
How an art teacher has used the pandemic as a theme for an online art exhibit open to students and the community. Read.
How two graduates of the Music Education program are teaching hundreds of students from their tiny downtown loft apartment using innovative strategies. Read.
How an Auto Tech professor has moved his lab online by creating his own YouTube channel featuring, among other things, his '57 Dodge truck. Read