Changing Course: Social Work students complete community service amidst pandemic
  Friday, May 8, 2020 10:00 AM
  Giving Back, Academics, People and Society, News
Pittsburg, KS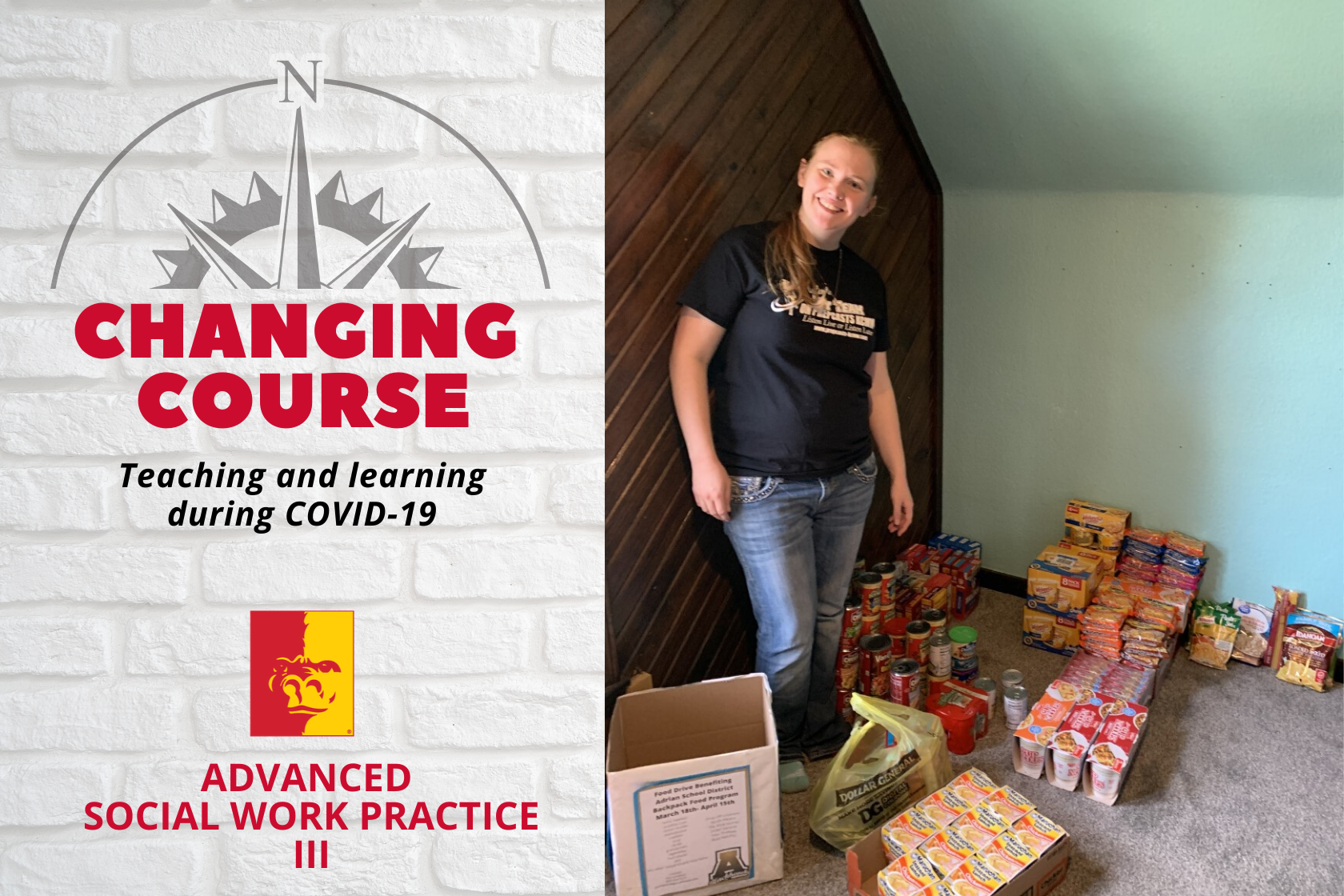 Just as the spring edition of the PittState Magazine arrived in mailboxes across the nation, touting as the cover story the theme "By Doing, Learn," for which the university is known, the COVID-19 pandemic brought all in-person classes to a halt.  

Those who teach and those who learn had to be flexible, innovative, and change course quickly.  

In this series, we're sharing what education looks like from the perspective of our faculty, students, and alumni during a time of social distancing, stay-at-home orders, and remote coursework.  
---
Based on their work the past two months alone, Pittsburg State Associate Professor Kristen Humphrey considers her students to be rock stars. 
Each member of her Advanced Social Work Practice III course carried out their planned community service projects in the midst of a pandemic. They brought them to a successful completion this week with a virtual showcase (see gallery below) to replace the course's usual in-person showcase held on the second floor of Russ Hall. 
The result: they raised $3,098 and collected 4,089 items including clothing, food, toy cars, and arts and crafts supplies to benefit others. 
"When my students make plans for projects to benefit the community, I always warn them that they may hit bumps in the road and go to plan B, or even plan C or D," Humphrey said. "That was certainly true this time." 
Not to be deterred by having to alter plans to fit shelter-in-place orders, each student was determined to continue their efforts for each agency they chose to benefit.  
Amanda Graham, of Pittsburg, wanted to promote mental health through creativity, with a goal of collecting 1,000 arts and crafts items for children at the Crawford County Mental Health Center in Pittsburg to use during therapy sessions. The outcome: she collected 1,068. She'll deliver it all on May 13. 
Jeffrey Franklin, of Pittsburg, said no matter the obstacle, his goal was to help the Children's Advocacy Center in Pittsburg; it serves a seven-county area. He relates to what the children served by the CAC are going through. 
"It's not about a grade," he said, "it's about giving hope to those children who need it." 
He set out to raise $500 by delivering biscuit and gravy breakfasts to people quarantined in their homes; in total, he served 239 breakfasts to 51 people and raised $1,148. He delivered the funds to the CAC on May 5. 
Other students who found themselves packing up and moving back to their parents' homes took their social work service plans with them.  
Mackenzie Spaulding, of Overland Park, Kansas, had planned to collect shelf-stable items for the new Arma Food Pantry. The small Southeast Kansas town has no grocery store, and many residents struggle with poverty and food insecurity. 
"When I first started, I had planned to put donation boxes around Pittsburg and on campus but had to transition to just taking monetary donations online for it," she said.  
Her goal: $400. She surpassed it, raising $690, largely because family friends and neighbors in Overland Park saw her Facebook campaign and responded. She purchased $500 worth of pasta and pasta sauce and wrote a check for $190 for the pantry to use as needed. 
Eva Cumpton, of Adrian, Missouri, feared that with hoarding during the early stages of the pandemic, people may be reluctant to donate to her project, a food drive to benefit the School Backpack Program in her town, which provides food for 30 children to take home over the weekends.  
Her goal: 300 non-perishable items, which she was going to collect at drop-off locations on campus. But Adrian showed its generosity, and in boxes she set out at grocery stores and restaurants there, they left enough for her to deliver to Elementary Principal Connie Reynolds a whopping 1,632 items.  
Deedria Woods of Joplin, Missouri, was inspired to help Lafayette House there; it serves women and children who have experienced domestic abuse. She sold more than 40 feminist t-shirts, and collected new sports bras, sweatpants, and underwear, for a total donation of more than $600.  
Brenna Forbes, of Parsons, Kansas, wanted to help the more than 300 students — 80 percent of those enrolled — at Pittsburg's Westside Elementary who fall under the poverty line, and set out to collect 400 non-perishable items. She collected 502 items. 
Kyla Douglas, of Shawnee, Kansas, wanted to help pediatric patients at Children's Mercy and honor the memory of a family friend's child by supporting "Henry's Haul."  
"Hospitals are scary, and a toy car can help," said Douglas, who set out to collect 500 toy cars to contribute. She surpassed that, with 540 toy cars collected. 
Jordan Donald, of Shawnee, Kansas, focused on helping to stock the shelves of the Gorilla Pantry at PSU, which is open to all students regardless of income. Donald's goal: to raise $200 with which to buy non-perishables. The outcome: $360 raised, along with 50 pantry items. 
Amber Stout, of Lamar, Missouri wanted to provide funding to Celebrating Birthdays, an organization that provides birthday packages, including cakes, to children who otherwise wouldn't be able to celebrate their special day. She raised $300, which will fund enough packages for a month's worth of birthdays. 
"We had to do things much differently than expected this spring, but I'm proud of them sticking with it and accomplishing what they did," Humphrey said. 
---
Also in this series: 
How an auto tech professor has moved his lab online by creating his own YouTube channel featuring, among other things, his '57 Dodge truck. Read 
How nursing students are completing clinicals virtually. Read. 
How students in Environmental & Safety Management are using this real-world pandemic to write emergency plans for companies. Read. 
How an art teacher has used the pandemic as a theme for an online art exhibit open to students and the community. Read. 
How two professors of chemistry, along with their college student son, are teaching and learning from a hotel room after their home was badly damaged by a fire. Read. 
How two graduates of the Music Education program are teaching hundreds of students from their tiny downtown loft apartment using innovative strategies. Read. 
How the PSU Wind Ensemble has collaborated to practice and produce music virtually. Read.