University mourns passing of longtime community philanthropist 
  Monday, April 27, 2020 3:00 PM
  People and Society, Alumni, News, Giving Back
Pittsburg, KS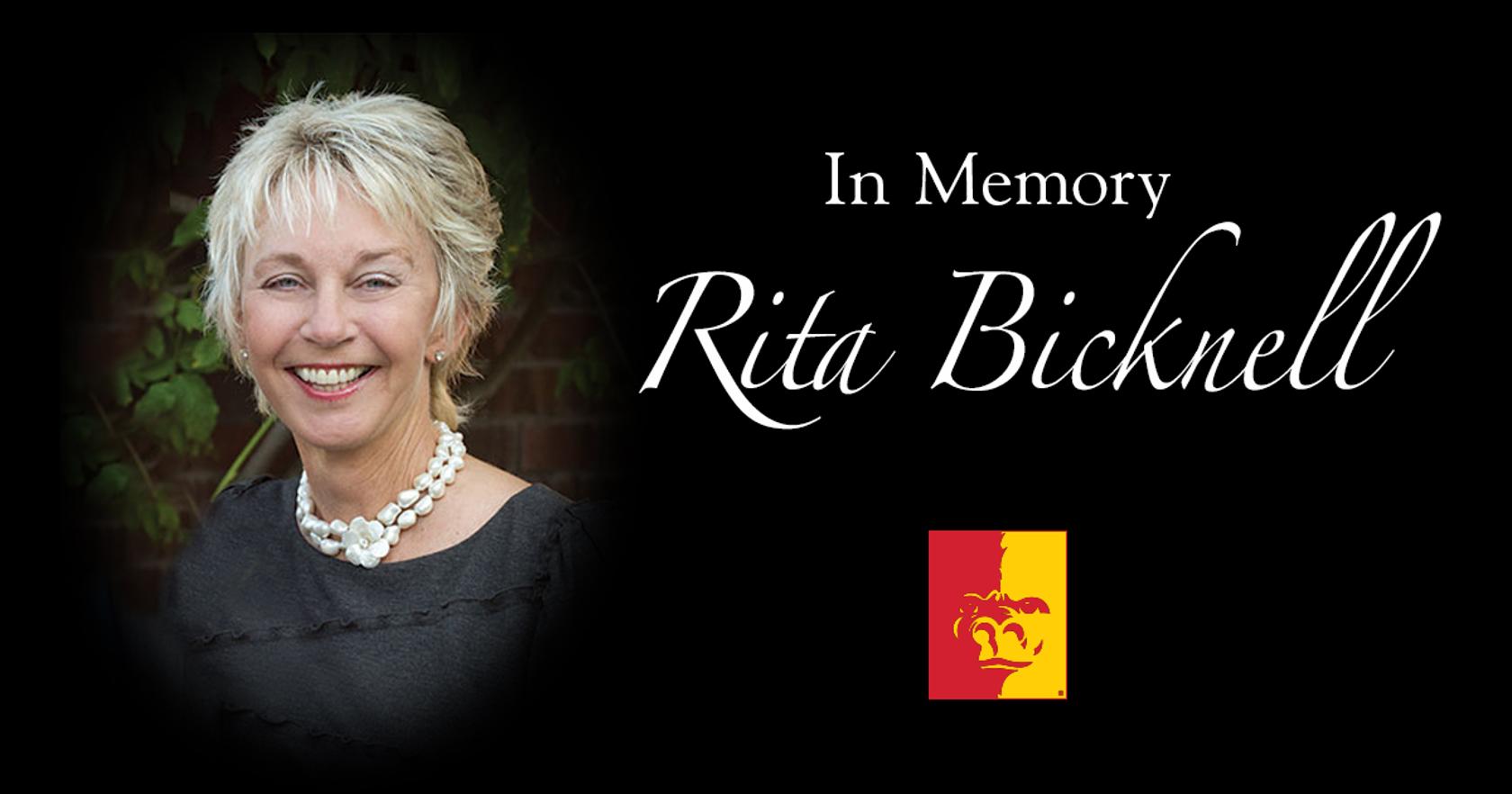 Pittsburg State University is mourning the passing of Rita Bicknell, a two-time graduate of PSU who was widely known for her philanthropy and community service. Rita lost her battle with cancer on April 24, 2020, at her home in Florida. 
"Rita's wealth of experience, her strength, her commitment to philanthropy, and her dedication to enhancing the lives of those around her will be missed. She was a role model for so many. We are grateful that she cared so deeply about us," said PSU President Steve Scott.  
Rita's husband, Gene Bicknell, a longtime businessman, also is well known in the region for his philanthropy and his support of the arts, athletics, education, and civic initiatives. Together, they were the lead donors for the Bicknell Family Center for the Arts at PSU. Gene, who served as the mayor of Pittsburg and on many local boards, played a key role in the founding of the PSU Foundation and the construction of the Kansas Technology Center. The couple were donors to the Pittsburg Public Library, the United Way, the Pittsburg Family YMCA, the hospital, and many other community organizations and agencies. 
"Rita and Gene have been the lead supporters of so many projects at Pittsburg State that it's hard to count them all. Together, they have made a tremendous difference for the campus and the broader community," Scott said.  
Rita graduated from PSU in 1982 with a bachelor's in business administration from Kelce College of Business, followed by a master's in business administration from PSU in 1994. She went on to earn a law degree in 1995 from Washburn University in Topeka, Kansas, where she served on the Board of Governors, and to practice as an attorney for many years. 
Her legacy to the community includes the Rita J. Bicknell Women's Health Endowed Fund. It is comprised of the Women's Giving Circle and the Circle of Friends that have helped hundreds of women with more than $200,000 in grants since their inception over a decade ago. 
PSU Foundation President and CEO Kathleen Flannery, who also serves as vice president of University Advancement, described her as a pioneer in the realm of women philanthropists. 
"She's made such an impact not only on PSU, but our community at large," Flannery said. "She has given back to our community in ways no one can ever measure and was passionate about addressing so many concerns confronting us." 
The Bicknells also have been formally recognized for their role in providing entertainment to hundreds of soldiers and family members during the Christmas season at their Mansion America Theater in Branson, Mo., and overseas. 
"At this time, our thoughts are with Gene and Rita's family as they think about the impact of her life and how they will face the years ahead without her," Scott said.