PSU student employee of the year also winner of statewide award 
  Tuesday, April 14, 2020 8:00 AM
  Campus Culture, People and Society, News
Pittsburg, KS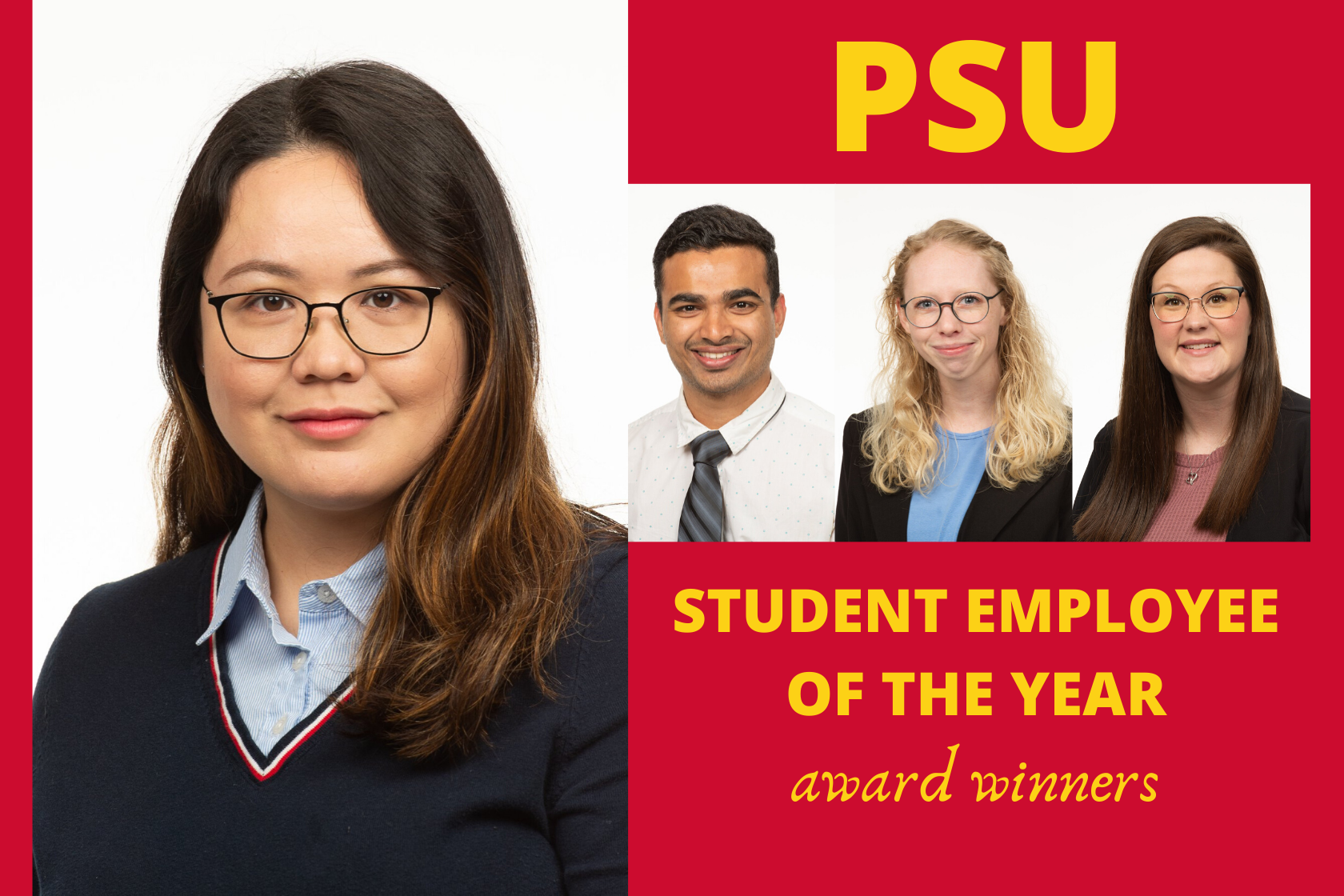 Things U.S. students and citizens take for granted can prove to be detrimental to the studies and experiences of incoming international students at Pittsburg State University if they aren't prepared, from arriving from a warmer nation without a coat, to not having the correct converter to enable them to plug in electrical devices. 
A friendly face and a helping hand from Alimu "Daisy" Gulifeila, a psychology major from China who works in PSU International Programs and Services, can make all the difference, says Amber Etcheson, international recruiter and communication coordinator.  
Gulifeila's efforts earned her a nomination for a second year in a row for the PSU Student Employee of the Year Award, and this year, she took top prize. An added bonus: she also was chosen as the State of Kansas Student Employee of the Year. 
The award was announced in a departure from the traditional Student Employee of the Year ceremony, held each year for 30 years in the Crimson & Gold Ballroom at Pittsburg State by PSU Career Services in conjunction with National Student Employment Week. This year, it was announced in a virtual ceremony via a Zoom recording. 
"Our students make such a difference every day on our campus and it's so important we celebrate and recognize their work, and we also say thank you," said PSU President Steve Scott during the virtual ceremony Monday afternoon. "This university cannot function without you." 
The first runner up was Anoop Ponnanthara Vinod, a finance major from India who works in the Business Office. 
The second runners up — a tie this year — were Hannah Brown, an accounting major from Iola, Kansas,  who works in academic advising in Kelce College of Business, and Carolyn Hess, a Family and Consumer Sciences/child development major from Auburn, Kansas, who works in Study Abroad in International Programs and Services. 
Their names, along with Gulifeila's, will be engraved on a plaque to be displayed in the Student Employment area of Career Services in Horace Mann.   
Etcheson, who wrote Gulifeila's nomination letter, noted that her ability to speak more than one language has helped the office on numerous occasions. 
"She also explains the cultural nuances of the U.S. to International students. Many of these nuances are points that a U.S. native would never think about," Etcheson wrote. "She is great about communicating these social nuances to our new international students so that they may have the best educational and cultural experiences possible while studying at PSU." 
"She assists our International students while also empowering them to complete jobs on their own. She will give them the tools to complete a task, but she allows them to do the job themselves. This empowerment gives our international students the confidence and experience to be independent members of the PSU campus and Pittsburg community." 
All 20 students nominated for the campus award by their supervisors received a certificate signed by President Scott and a medallion in the mail, and their photos are featured on the Career Services Facebook page and website at careers.pittstate.edu