Nursing grads working on front lines 
  Monday, April 20, 2020 8:30 AM
  News, Alumni, Academics
Pittsburg, KS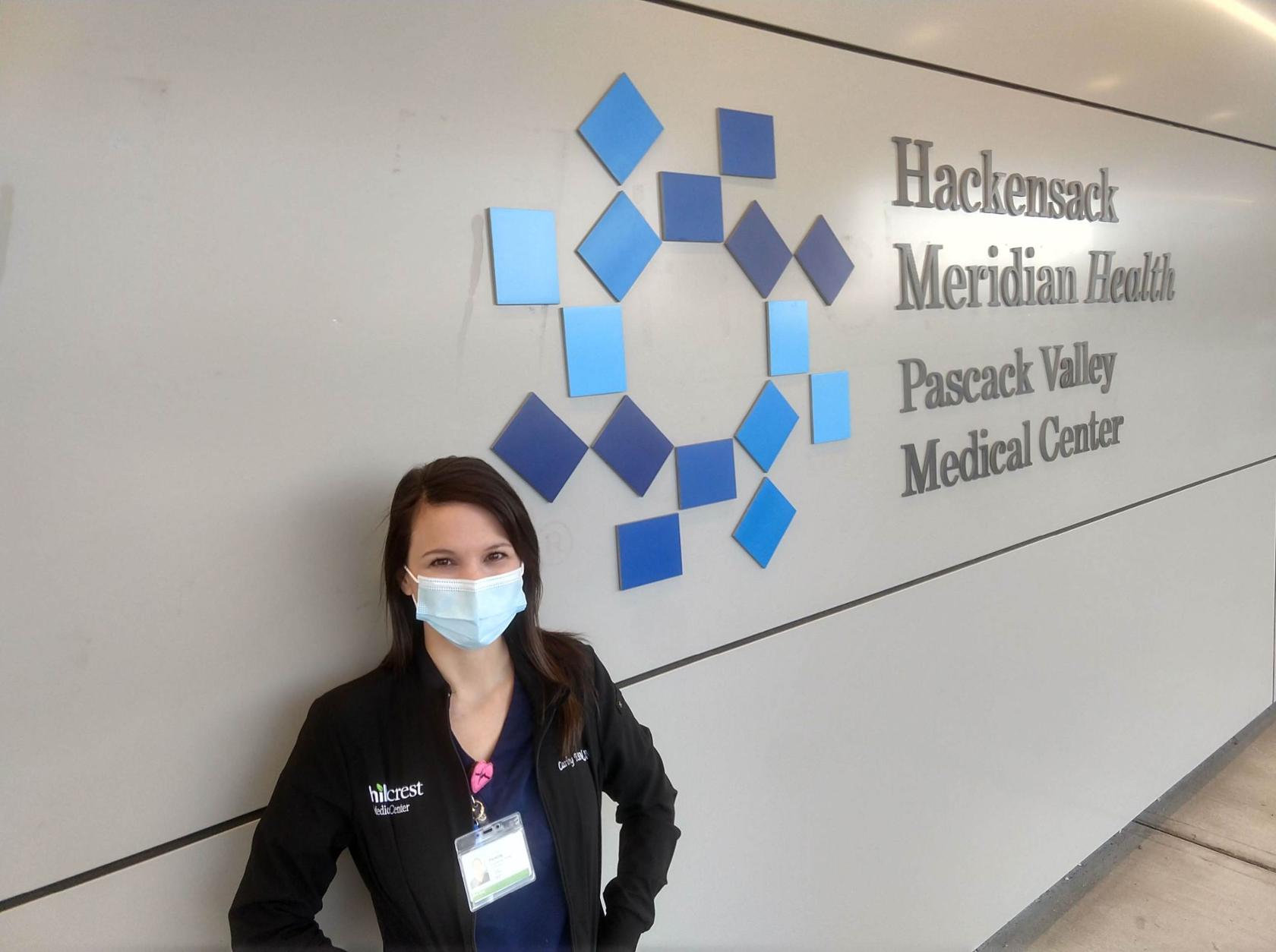 Carley Perkins, a 2014 graduate of PSU's Irene Bradley School of Nursing, is working as a volunteer on the front lines of the COVID-19 pandemic in New Jersey, one of the hardest hit areas with 68,824 confirmed cases as of April 16 and 2,805 deaths. 
Each day has been an eye-opening experience for the Tulsa, Oklahoma, resident — one she couldn't have imagined as a student a few years ago.  
"I've been a nurse for six years and I pray we never have to go through something like this again," she said. 
But Perkins chose nursing because she wanted to make a difference, and she is happy to be doing that in an especially meaningful way now, she said. 
"At home back in Tulsa, the hospital census was so low, many nurses' hours have been cut or they are being put on call. I couldn't stand sitting at home not working knowing that these people up here in the Northeast were drowning and needing help, so I volunteered to come help," she said. "I would hope they would do the same for us if we were in a state of needing desperate help." 
She's working at Pascack Valley Medical Center, a smaller suburb hospital in Westwood, N.J., on a COVID-19 med surge floor on which all patients have tested positive or have pending results. 
"I arrived in New Jersey on April 9, originally planning to stay for two weeks," she said. "They were expecting a surge back in Tulsa and wanted us to be back to work there when it hit." 
This week, she extended her stay an additional two weeks, until May 6. 
"New York and New Jersey got hit very hard and very fast with this spreading virus," she said. "Here, they have opened additional floors that don't usually hold patients. They are so short on help, with the extra load of patients and with some staff members being out, they were in desperate need of nurses and respiratory therapists." 
In spite of getting what she said she believes was a top-notch education in a highly rated nursing program, nothing could have prepared her for this. 
"Each patient with COVID-19 presents differently so you never know what you're going to walk into," she said. 
The reception they've gotten from the community is one of sincere appreciation. 
"We're staying in Courtyard Marriot in Montvale, N.J., and it's occupied by all doctors and nurses," she said. "Michael, the hotel manager, has gone above and beyond and treats us like gold. He's called many local restaurants and has donated dinners waiting in the lobby for us every single night, along with bottled water, and snacks. It's been such a blessing not having to worry about food; businesses all close at 8 p.m. and sometimes we haven't even left the hospital by then." 
The hardest part: no visitors are allowed in the hospitals. 
"Some families are having to say goodbye to their loved ones via Facetime and phone calls," she said. "It is heartbreaking, but the families are so thankful and appreciative that you are taking care of their loved one." 
Others 
Other PSU nursing graduates also are in hot spots.  
Ryan Raley, who was in Perkins' graduating class and works with her at Hillcrest Medical Center in Tulsa, is working alongside her in New Jersey. 
Ashley Kush, a 2009 graduate who is now a family nurse practitioner in Kansas City, recently left KC with her best friend to help with the COVID-19 response in New York City. 
Are you or a Gorilla grad you know working on the front lines as a health care provider? Email a photo, along with your class year and a short description of where you're at, to ddriskill@pittstate.edu