Changing Course: Art teacher asks students, community to create unique project for online exhibit
  Tuesday, April 21, 2020 8:00 AM
  Academics, News, Arts & Entertainment
Pittsburg, KS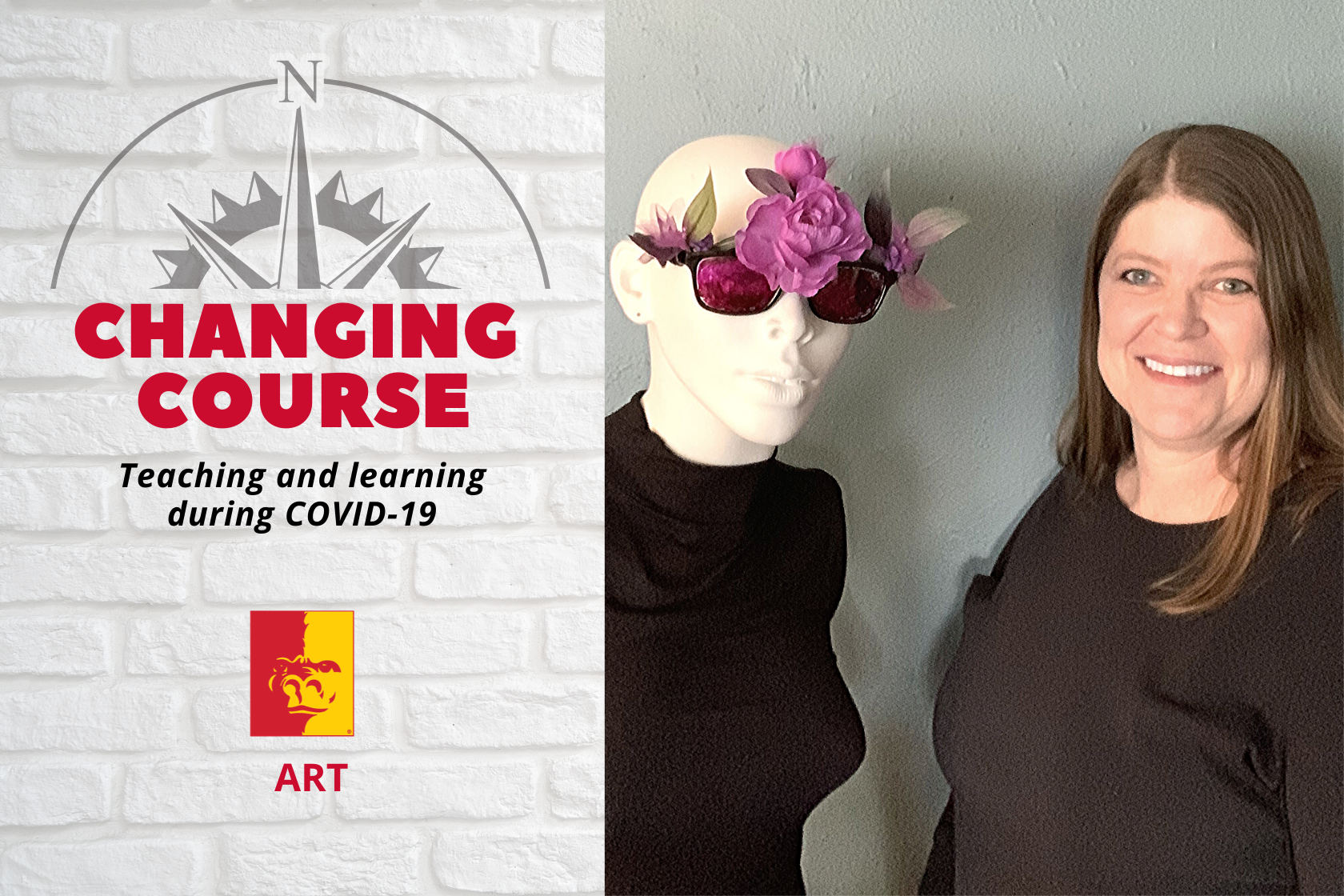 Just as the spring edition of the PittState Magazine arrived in mailboxes across the nation, touting as the cover story the theme "By Doing, Learn," for which the university is known, the COVID-19 pandemic brought all in-person classes to a halt. 

Those who teach and those who learn had to be flexible, innovative, and change course quickly. 
In this series, we're sharing what education looks like from the perspective of our faculty, students, and alumni during a time of social distancing, stay-at-home orders, and remote coursework.

---
Maintaining the sense of community that exists on a campus and in a classroom is perhaps one of the biggest challenges of the COVID-19 pandemic. 
So, PSU art instructor Janet Lewis has set aside her focus on the technical aspects of art and is focusing instead on the creative process. It could help not just her students, she believes, but the larger community. 
"At its fundamental level, art is about connecting us to our own humanity, which in turn connects us to one another across space and time," Lewis said. "We still care that a prehistoric someone drew on their cave walls, and we understand why they did. A culture's art is a picture of its humanity, so why wouldn't we put our efforts into creative endeavors that will help facilitate this human connection and help us understand what is happening to us right now? It seems unrealistic to expect that we move along business-as-usual simply in an online format now." 
First up:  
She assigned students in each of her courses to participate in a collaborative online exhibit. It's also open to the community at large, including artists and non-artists. That means, in a word, everyone. 
"It's being hosted by ArtForms Gallery in downtown Pittsburg," said Lewis, a founding and managing member. "The gallery is temporarily closed, and I was interested in recreating the sense of community it's provided for customers and workshop participants for the past three years." 
The concept: asking each person to refocus their vision for the year 2020, thus the title, "REFOCUS 2020" or in social media terms, #refocus2020exhibit. The challenge: working only with materials they already have while they are sheltered in place to create or decorate "visionary glasses." 
With the help of a few online tutorials, she quickly learned to use iMovie and created a promotional video about the exhibit, then posted it on ArtForms' social media and within her Canvas courses. 
Then, she created a video of herself developing her own idea of rose-colored glasses for the exhibit, and then posted an infographic with tips for working with limited resources. 
To date, she's curated 55 entries in an online gallery on the ArtForms Gallery Facebook page, submitted by a mix of people, both students and non-students. The online exhibit also can be accessed via a link on the ArtForms Gallery homepage. 
Those who don't have a Facebook account but would still like to participate may email an image of their "visionary glasses" to Lewis, along with the title of the piece and how they would like to be identified online as the artist, at jlewis@pittstate.edu, or to ArtForms Gallery at info@artforms-gallery.com.  
Beyond participation in the exhibit, students were asked questions via a Canvas discussion board in which they were to compare their lives now to just before the campus closed, a mere three weeks prior to the assignment.  
"Their responses have been an interesting and emotional read," Lewis said. "For some, life has remained much the same with only slightly more physical or social isolation, but for others who have lost jobs or moved back in with family the changes have been significant. Others who are considered essential employees at their jobs are working more hours, fearing exposure and feeling the added pressure of online coursework." 
Next up: 
The second creative challenge Lewis designed is underway. She asked students to research an historic pandemic, compare their own current experience to those of the people who experienced the historic pandemic, and then design or create timepieces (again using only their existing resources) with consideration to how these experiences affect one's sense of time and place. 
The third and final creative challenge will be more conceptual: students will design or create a new piece of PPE to protect themselves from a current threat other than COVID-19. The threat they choose may or may not be an immediate physical threat for which we would normally utilize personal protective equipment.  
"For example, how do we protect ourselves from a broken heart? How do we protect ourselves from the toll of chronic illness? How do we protect ourselves from social inequalities, biases, or religious differences?" Lewis said.  
At the end of the semester, students will compile their work from these three creative challenges into a comprehensive portfolio that will serve not only as a record of their coursework, but also of their human experience before, during, and (hopefully) after the COVID-19 pandemic.  
---
How an auto tech professor has moved his lab online by creating his own YouTube channel featuring, among other things, his '57 Dodge truck. Read 
How nursing students are completing clinicals virtually. Read. 
How students in Environmental & Safety Management are using this real-world pandemic to write emergency plans for companies. Read. 
How an art teacher has used the pandemic as a theme for an online art exhibit open to students and the community. Read. 
How two professors of chemistry, along with their college student son, are teaching and learning from a hotel room after their home was badly damaged by a fire. Read. 
How two graduates of the Music Education program are teaching hundreds of students from their tiny downtown loft apartment using innovative strategies. Read. 
How the PSU Wind Ensemble has collaborated to practice and produce music virtually. Read.