Changing Course: Nursing clinicals move to a virtual world
  Thursday, April 16, 2020 3:30 PM
  People and Society, News
Pittsburg, KS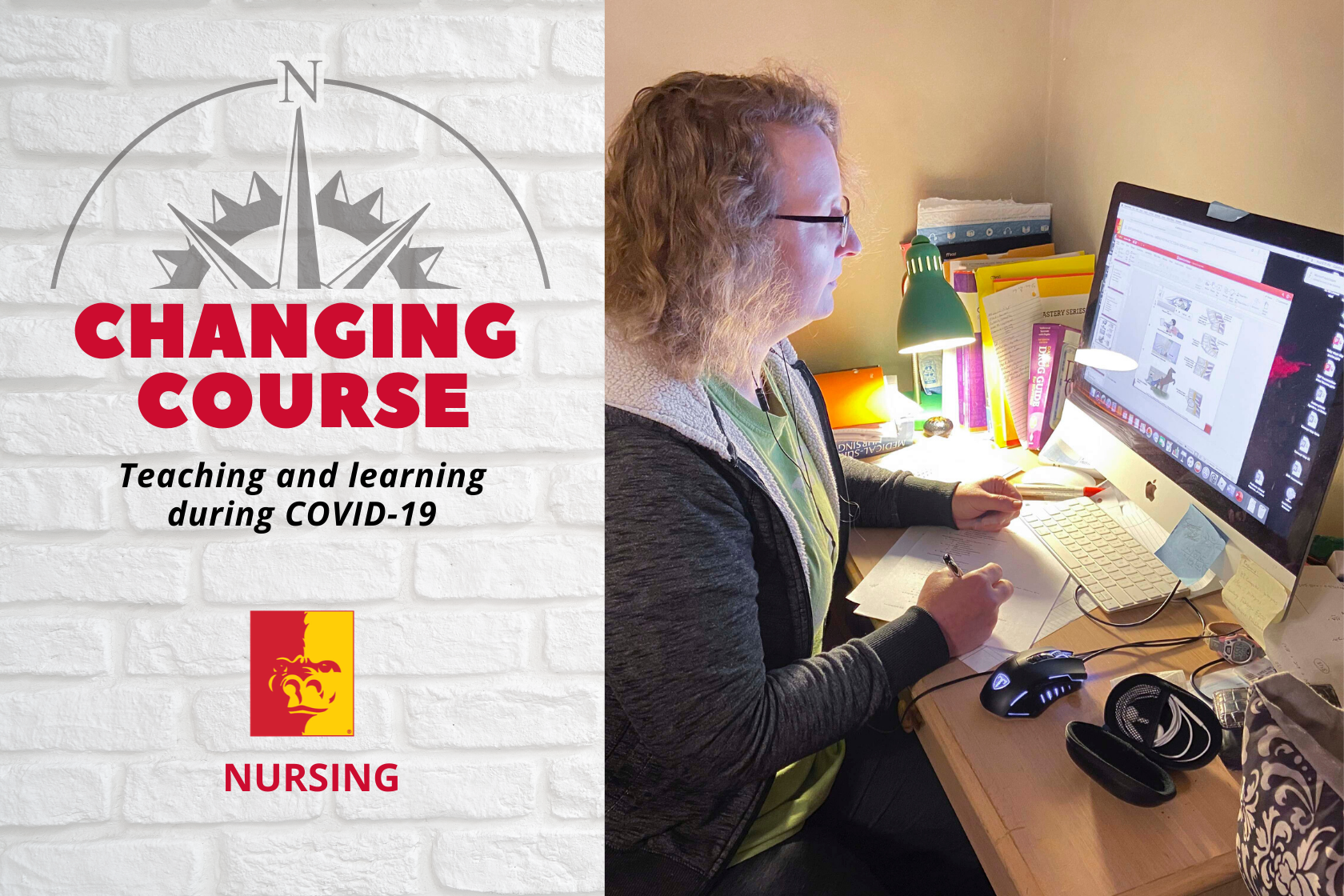 Just as the spring edition of the PittState Magazine arrived in mailboxes across the nation, touting as the cover story the theme "By Doing, Learn," for which the university is known, the COVID-19 pandemic brought all in-person classes to a halt. 

Those who teach and those who learn had to be flexible, innovative, and change course quickly. 
In this series, we're sharing what education looks like from the perspective of our faculty, students, and alumni during a time of social distancing, stay-at-home orders, and remote coursework.
---
Now more than ever, the nation needs nurses. 
"We are hearing from our partners who hire our students – and most have jobs already – that they need them, they want them out there as quickly as possible and ready to roll," said Associate Professor Kristi Frisbee, a former OB nurse now on the faculty in PSU's Irene Bradley School of Nursing. 
With a new cohort set to graduate in just a few weeks, faculty have gotten innovative when it comes to teaching the remaining clinicals required for the 45 students enrolled in Community Health Nursing — clinicals that typically are in person at community facilities, and lab-based activities including high fidelity simulations.  
Before COVID-19, those clinicals were delivered over six weeks through two, eight-hour days each week for a total of 96 contact hours during a semester. The current group of students had completed just 16 hours before being dismissed early for Spring Break, and then stay-at-home orders were issued. Faculty had to figure out how to deliver the remaining 80 hours or so virtually. 
"As nurses always do, we have risen to the challenge and are now offering virtual clinical simulation experiences in place of face-to-face clinicals," Frisbee said. 
With collaboration by her colleagues, including Ashleigh Heter, Judy Coltharp, and Anna Beth Gilmore, Frisbee took the lead in developing a virtual clinical experiences template and created faculty instructions, student instructions, and other resources. 
With that instruction came an important message: nursing is not just about doing, but about thinking. 
"That requires a clinical reasoning piece, the values, the ethics — and that's all perfectly do-able in a virtual way," Frisbee said. 
To that end, Frisbee has developed virtual case studies of sample patients. 
"We're focusing on and emphasizing considering a patient in the hospital who has had an invasive procedure or an infection and is at risk for developing sepsis, for example. How do we monitor our patient and know as soon as possible their condition begins deteriorating into sepsis? Because the quicker we realize, the more quickly you can take steps," she said. "What are the signs and symptoms of complications so I can quickly intervene?" 
Missing "community"
One of her students, Anna Noonoo, already has a job lined up with Mercy Hospital in Joplin that begins in early June. She believes faculty have done all they can to provide a learning experience with value and is appreciative of being able to continue her education through May. 
But she said she misses the sense of community she used to feel in classes on campus — a feeling she realizes now should not be taken for granted. 
"It's not quite as fulfilling this way," she said. "I was really surprised at how much I missed the interaction of my classmates. We can call and text, and we have a GroupMe for the whole class, but the sense of camaraderie is greatly lessened, the sense that we're all in it together, when we aren't physically together. It makes you appreciate what we had before." 
Noonoo does like the flexibility of being able to listen to narrated PowerPoints created by her teachers whenever it fits her schedule, though — an advantage to online learning. 
"I do miss what you get when you are in a small group experience with other classmates and a professor, and you learn so much from other people's experiences that they share out loud and you apply to yourself. That's something I think I miss the most." 
---
Also in this series:
How an auto tech professor has moved his lab online by creating his own YouTube channel featuring, among other things, his '57 Dodge truck. Read 
How nursing students are completing clinicals virtually. Read. 
How students in Environmental & Safety Management are using this real-world pandemic to write emergency plans for companies. Read. 
How an art teacher has used the pandemic as a theme for an online art exhibit open to students and the community. Read. 
How two professors of chemistry, along with their college student son, are teaching and learning from a hotel room after their home was badly damaged by a fire. Read. 
How two graduates of the Music Education program are teaching hundreds of students from their tiny downtown loft apartment using innovative strategies. Read. 
How the PSU Wind Ensemble has collaborated to practice and produce music virtually. Read.