Maiseroulle picked as 2020 Good Apple Award winner
  Monday, March 2, 2020 4:00 PM
  News, Science and Technology, Alumni, People and Society
Pittsburg, KS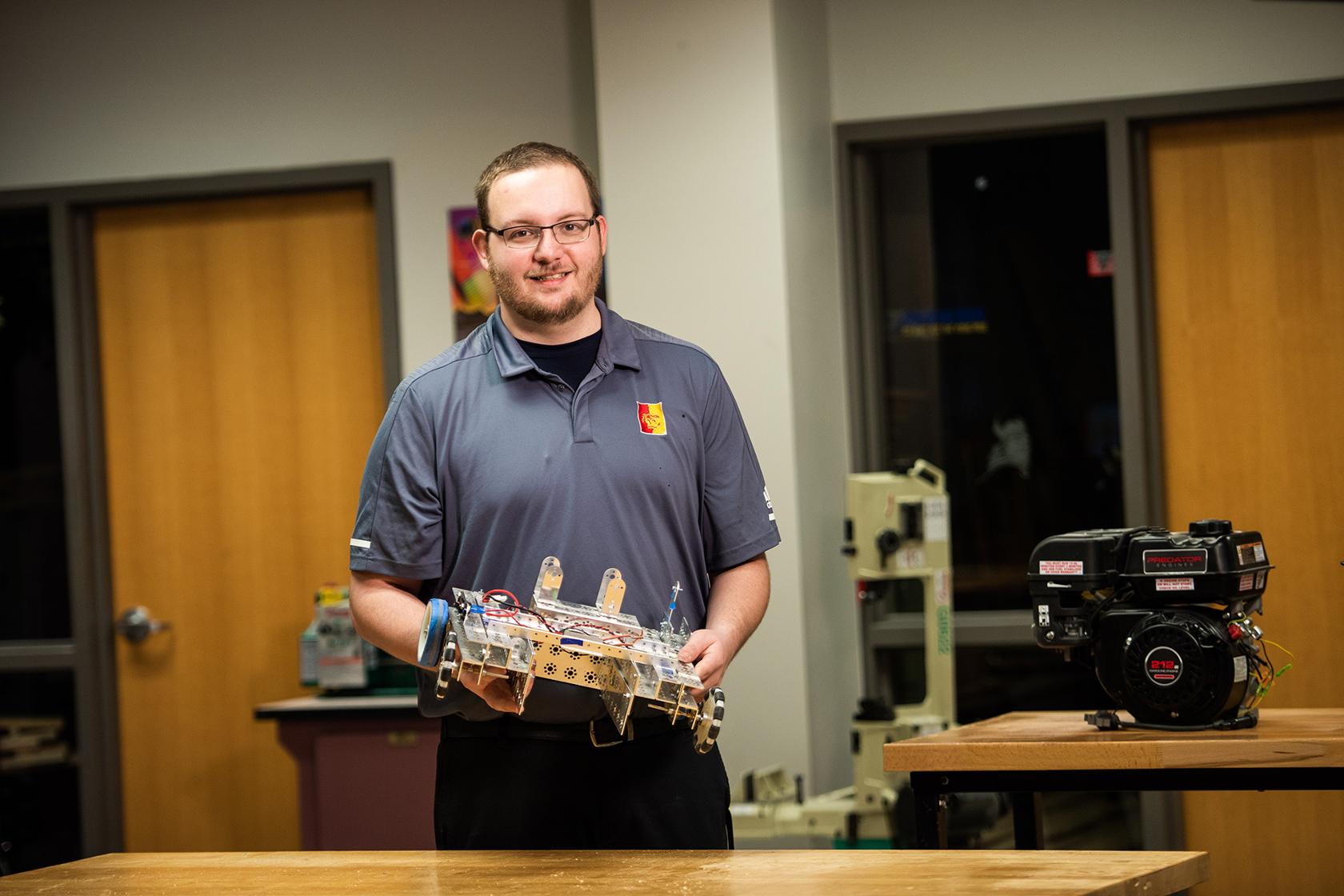 Trevor Maiseroulle has already achieved a great deal in the four short years since he graduated. Now, he can add one more award to his shelf, and it's one he says is especially meaningful: He's been named the 2020 Good Apple at Pittsburg State University. 
Maiseroulle is the Technology and Engineering Education teacher for Parsons Middle School and Parsons High School in Parsons, Kansas, where he advises FIRST Robotics, Technology Student Association, and SkillsUSA teams.  
The award, started three years ago, is to honor recent graduates who already have made an impact in their career fields or communities while showcasing their Gorilla pride.  
"It's our hope that the winner can inspire our up-and-coming leaders," said Taylor Panczer, coordinator of the Good Apple Award committee.  
Maiseroulle accepted his award during the Apple Day Ceremony Monday afternoon, where he encouraged students in attendance to be good apples themselves, in whatever community they wind up. 
He graduated with a bachelor's in Technology and Engineering Education in 2016, earned his master's degree in Career and Technical Education, and is working on an Educational Specialist degree in Workforce Development Education — all from Pittsburg State University.  
Next up: he'll pursue his doctoral in Adult Learning (emphasis in Technology Education) from the University of Arkansas.  
In October of 2018, his program at Parsons Middle School was nominated and won the International STEM Education Association STEM School of Excellence Award.  
"He's had a dramatic impact on students' lives at the middle and high school level," said Andrew Klenke, interim chair of the Technology and Engineering Education department at PSU and one of Maiseroulle's former teachers. 
Maiseroulle continually researches methods, new strategies and ways to engage students, Klenke said, and comes to PSU often to assist with special events in the Kansas Technology Center and to teach. 
"If I was going to pick out somebody that I wanted to teach my own children, Trevor would be that person," Klenke said. 
Maiseroulle said he values his education and time spent at PSU because it laid a foundation for him to be effective in his own classroom every day. 
"They prepared me with classroom management, how to teach the content. Dr. Klenke and Mr. Neden did a wonderful job preparing me to go into the teaching field," he said. 
His mantra?  
"I tell my students: don't give up, even when it's difficult."