Larry Weis: "PSU gave me a foundation on which to build"
  Wednesday, March 4, 2020 10:00 AM
  News, Giving Back, Alumni
Pittsburg, KS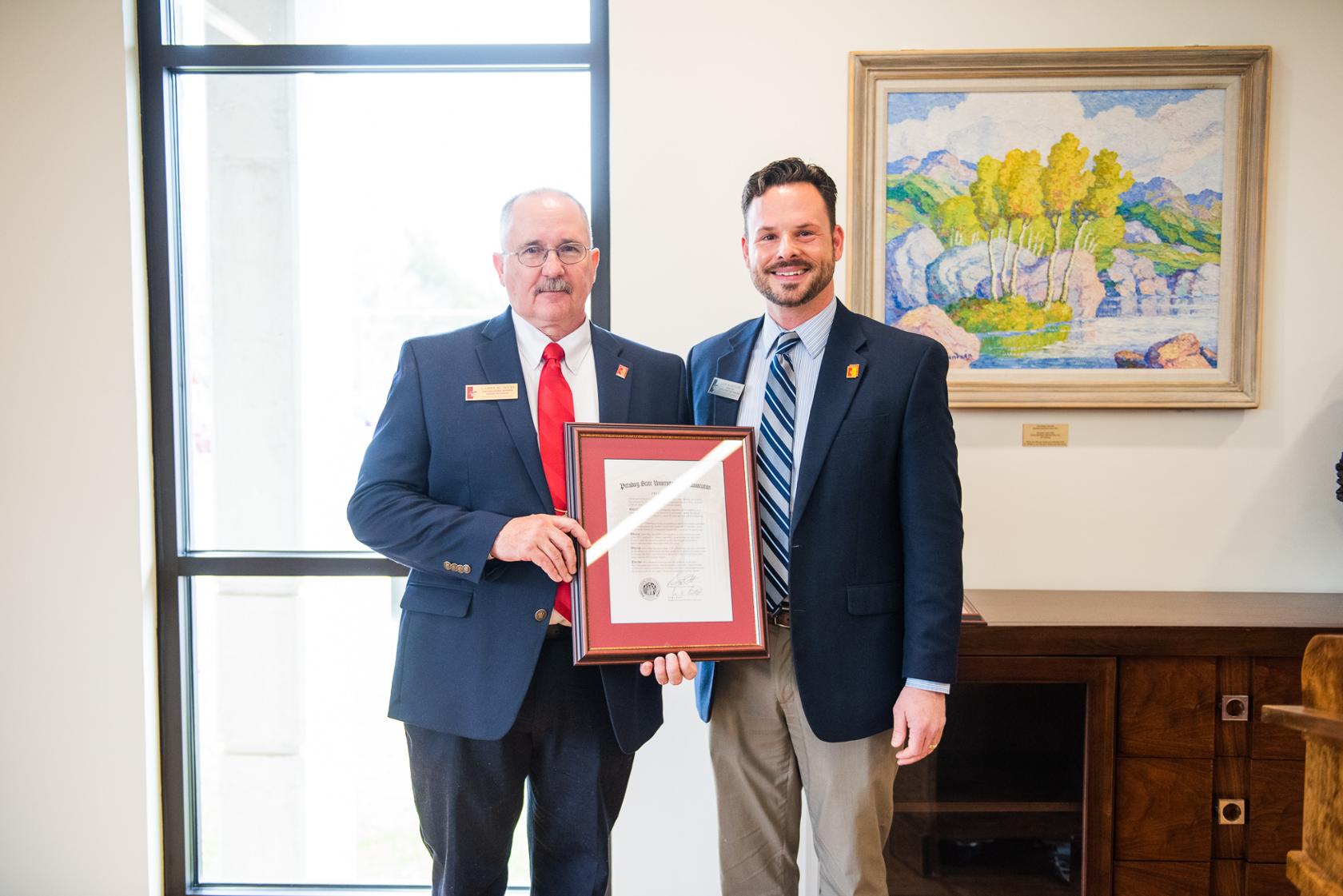 When Larry Weis decided in high school that he wanted a career in construction, he chose Pittsburg State for his education and began building a foundation for what would become a 40-year (and counting) career. 
The 1981 graduate feels so strongly about his experience at PSU that he has remained closely connected to the School of Construction ever since as a volunteer, an advocate, and a supporter. 
On Monday, Weis was recognized as one of two winners for the 2020 Dr. Ralf J. Thomas Distinguished Service Award during a luncheon at The Crossland University House, a public reception in his honor at the Wilkinson Alumni Center, and at the Apple Day Ceremony at the Overman Student Center.    
"The foundation I got in the program at Pitt State allowed me to do things I wouldn't have ever imagined back then," said Weis, now the senior vice president of construction operations for Martin K. Eby Construction in Wichita. 
"On my way home to Ulysses after my first visit to the college, my industrial art's teacher's son was working at Eby and we stopped to visit," Weis said. "I decided at the time that I wanted to work there, and that's exactly what happened, first as a field engineer and then working myself up the ladder." 
He never forgot the School of Construction: He's been a driving force for the continued growth of the PSU Construction Alumni Association as a member for more than 20 years, and has played a vital role in the annual golf tournament that to date has raised more than $400,000. He's been active in the School of Construction's Company Day every year since its inception in 1998 and has financially supported the AGC student chapter.  
He has served on the School of Construction scholarship selection committee, the Leadership Council, and for 17 semesters has served on a panel of construction industry alumni that hears presentations for student construction teams. 
"I feel strongly about the education I got, and I believe I work in the greatest industry in the world," he said. "If I can give students a leg up, or some advice, that's what I want to do. The key is to give them some background, some influence — whatever it is that got me to where I am today. The sky is the limit for them." 
He also feels strongly about the university and the campus. 
"When I went down there in 1976-77 for the first time, there was this feeling, and I've never been able to describe it — no one can. To this day, when I go back to campus, I get that same feeling, and it's worth having," he said. "It's not confined to just the School of Construction or the Kansas Technology Center — it's a Pitt State thing." 
"When I pass Parsons, I see the billboard on the east side of town. And then when you turn off of Broadway onto the campus, you get that feeling," he said. "It's still there." 
Weis met his wife, Melinda, on campus on a snowy day in February 1980, and both of their daughters, Ashley and Katie, attended school at PSU. Their son-in-law also is a graduate, and now their five-year-old grandson says his favorite colors are red and yellow. 
"I tell people that's because they don't teach the words crimson and gold in preschool," Weis laughed. 
About the award   
The PSU Alumni Association established the Distinguished Service Award in 1991 and presented the first award later that year. In July 2000, it was re-named the Dr. Ralf J. Thomas Distinguished Service Award in memory of a retired faculty member who volunteered his service to the PSU Alumni Association for 22 years and was the first recipient of the award in 1991.    
"Distinguished Service Award recipients are people who have given generously of their time and talent for the betterment of the university and are an inspiration to all of us who love this institution," Bartlow said. "Larry Weis epitomizes what the committee looks for in this award and is very deserving."