Johnson selected as an Athletic Director of the Year
  Wednesday, March 4, 2020 11:20 AM
  People and Society, News
Pittsburg, KS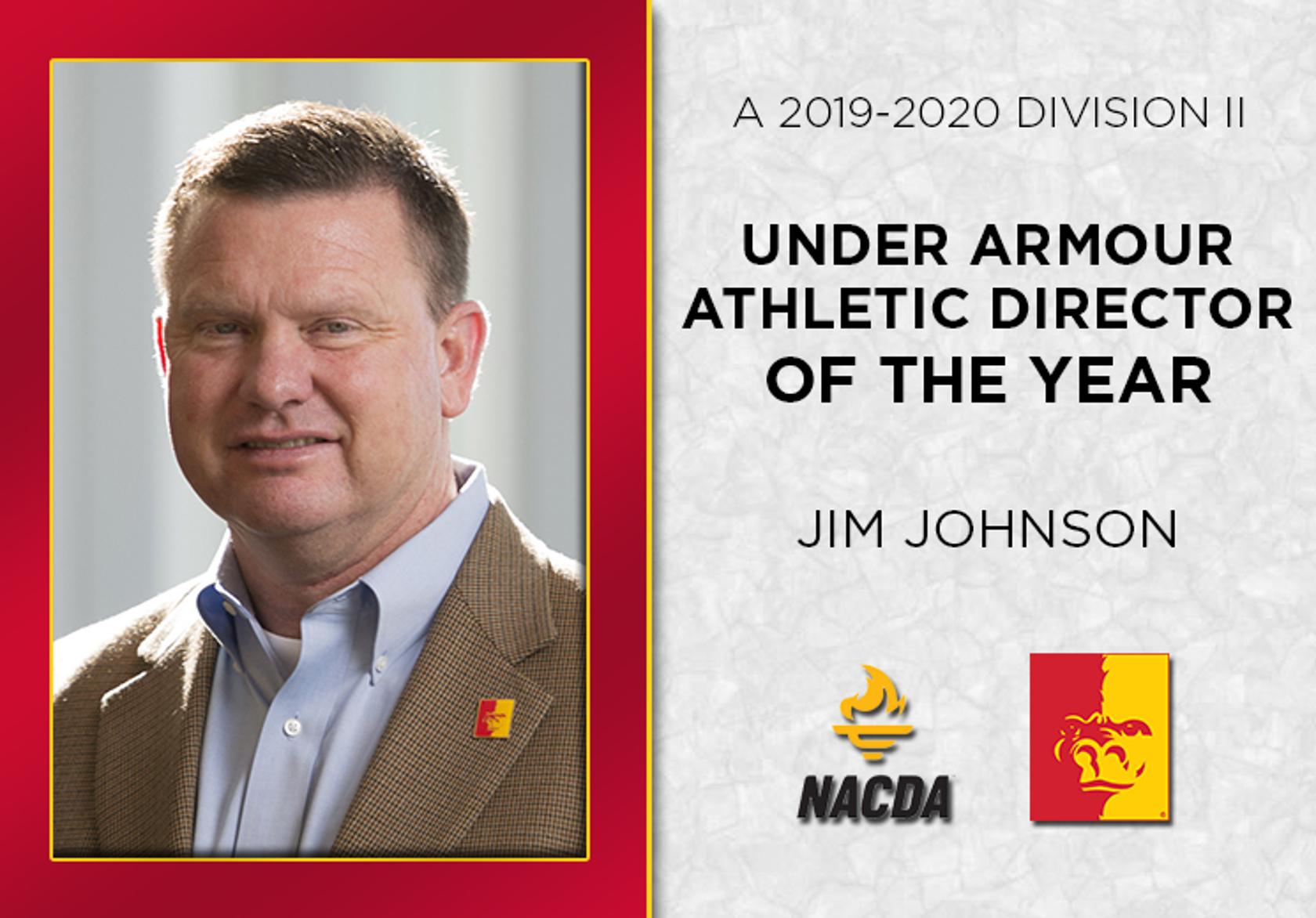 Pittsburg State University director of intercollegiate athletics Jim Johnson has been selected as one of 28 recipients of the 2019-20 Under Armour Athletic Directors of the Year. The award is administered by the National Association of Collegiate Directors of Athletics.

The 28 winners span seven divisions (NCAA FBS, FCS; Division I-AAA, II, III, NAIA/Other Four-Year Institutions and Junior College/Community Colleges). Winners will be recognized on Tuesday, June 9, during NACDA's 55th Annual Convention at the Mandalay Bay Resort at Las Vegas, Nevada.

Johnson was one of four NCAA Division II administrators to be honored with the prestigious award. He is joined by Georgian Court University's Laura Liesman, the University of North Georgia's Lindsay Reeves and Texas A&M University-Commerce's Tim McMurray as honorees.

This marks the second time in his tenure Johnson has been named Under Armour Athletics Director of the Year by NACDA, after receiving the prestigious honor in 2013-14.

As athletics director, Johnson provides leadership and support for the Gorillas' 12 varsity intercollegiate sports programs as well as the department's more than 50 full-time and part-time administrative and coaching staff members.

Since becoming Pittsburg State's 10th all-time athletic director in 2010, Johnson has played a key role in the renovation of John Lance Arena/Whetzel Court as well as construction of the Robert W. Plaster Center, facility enhancements at the Gene Bicknell Sports Complex for baseball and softball and the implementation of the Silverback Fund.

His tenure has included the Gorillas capturing the 2011 NCAA Division II National Championship in football, the 2016 NCAA Division II National Championship in women's outdoor track & field, the 2018 NCAA Division II National Championship in men's outdoor track & field as well as the women's basketball program twice making Elite Eight appearances (2012, 2016). Pittsburg State teams have combined to capture 27 MIAA titles since 2010. Additionally, following the 2018-19 academic year, Pittsburg State claimed the school's first MIAA Commissioner's Cup honoring the conference's top overall program.

Johnson is serving a four-year term as the MIAA representative on the NCAA Division II Management Council through January 2022; and he was recently elected Vice Chair for the 2019-2020 academic year. In his role as Vice Chair, he concurrently serves on the Division II Planning and Finance Committee and the Division II Championships Committee.

In 2019-20, he is serving as the Past President of the D2 Athletic Director's Association and served on the NACDA Executive Committee from 2011-14.

Johnson also previously completed terms of service on the Division II Championships Committee, Men's Basketball Committee, Football Committee, and Membership Committee.