PSU brings home the gold (and silver!) from the ADDYs 
  Tuesday, February 25, 2020 1:00 PM
  Milestones, News, Academics, Alumni
Pittsburg, KS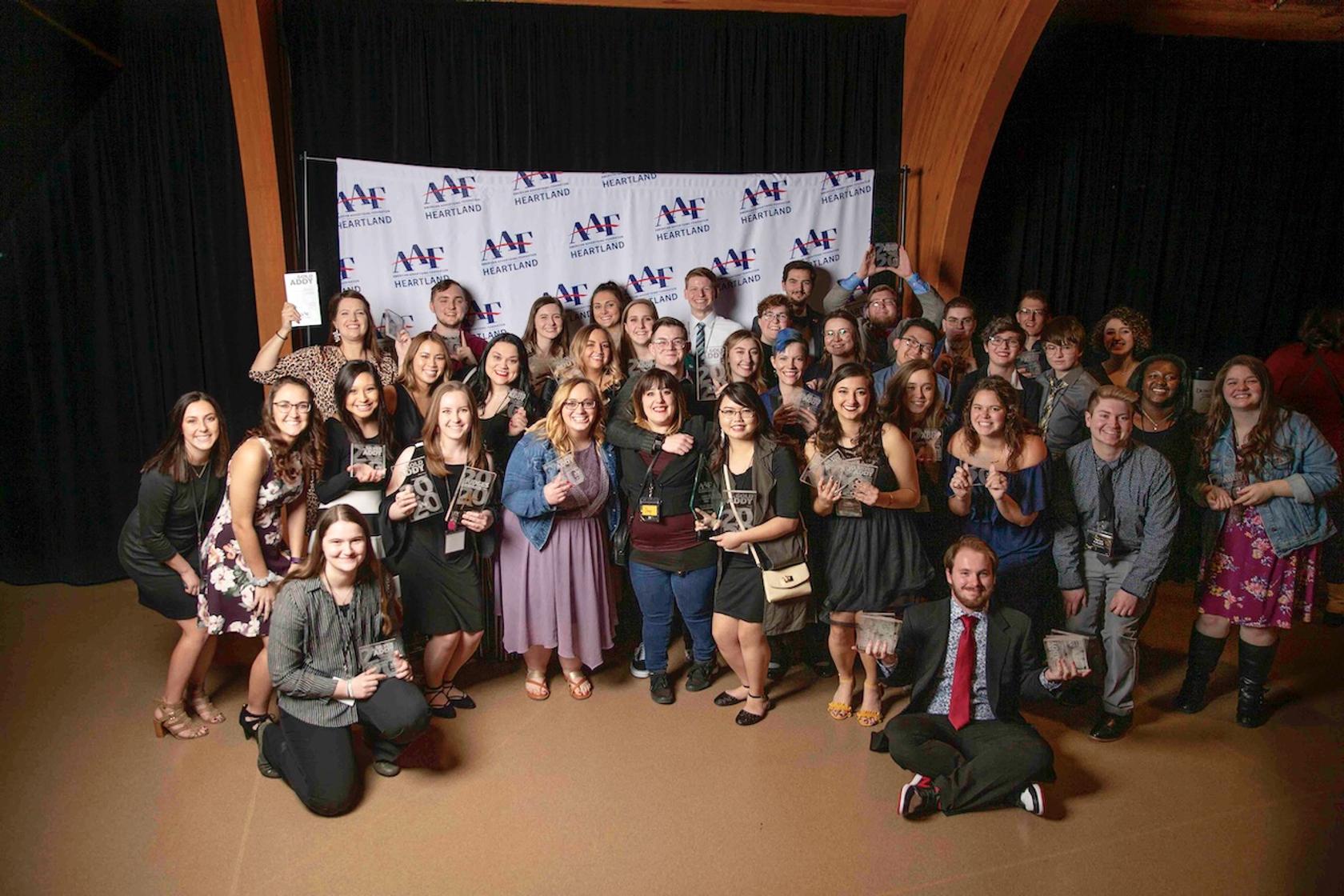 Students from Pittsburg State fared well at the American Advertising Awards, or ADDY Awards, Saturday night at Downstream Casino, coming away with 52 golds and silvers and a definite advantage when it's time to job hunt.  
Students in the Graphics and Imaging Technologies Department won nine gold, 39 silver, one best of show, and two judge's awards, and a student from the Department of Communication won a silver. In addition, a design team that included GIT faculty and students earned a professional silver for a recruitment package, and GIT Professor Chris Huitt earned a professional silver. 
It was PSU's best showing since first entering the competition a decade ago. 
Created as an opportunity to recognize and reward creative excellence in the art of advertising, the ADDYs have become the industry's largest and most respected competition. GIT Associate Professor Christel Benson said participating and winning is important not only to professionals, but to students. The contest opens doors and makes them attractive to recruiters.  
"It's amazing to see the students win ADDY awards, which are recognized on a national level in the advertising industry. Not only are they taking an interest in their profession, it's like a 'gold star' on their resumes," Benson said. "We encourage students to always feature their award-winning work first in their portfolios." 
Padee Vang, a senior from Kansas City, Kansas, received not only a gold ADDY but a Best of Show for the entry "Perrier Outdoor Ad Campaign," including product photography images, text, and mock-ups of ads on billboards. 
"It was amazing to see so many talented classmates receive recognition for their works," Vang said. "I would definitely like to give credit to the professors of the Graphics and Imaging Technologies Department for continuously helping students like me to grow."  
Alex Gourlay, a graduate student from Topeka, Kansas, who brought home the most awards — 10 altogether — said they will help his future career path. 
"It shows I go the extra mile to produce at a high level and that I am confidence with work," said Gourlay, who would like to one day be a professional photographer. 
But it's equally rewarding, he said, to see the department's success and his friends and classmates accept awards. 
Lydia Winters, a junior from Pittsburg, brought home a silver for a group project with classmates Lauren Woods and Allison Tucker, a project they worked on all of last semester. 
"We designed and coded a website about the history of Pittsburg State University, and we were super excited to hear it won an ADDY!" Winters said. 
Numerous GIT alumni were among the professional award winners this year, including those who work at Bass Pro Shops, LimeLight Marketing, Pitsco, the Joplin Globe, and 417 Magazine. 
"Students networked with the professionals, and vice versa. I have a business card in hand asking for follow-up on several of the student winners," Benson said.
Learn more about the GIT Department: https://www.pittstate.edu/graphics/index.html
Learn more about the Communication Department: https://www.pittstate.edu/communication/index.html