University mourns passing of Rua, a longtime supporter
  Tuesday, January 7, 2020 4:00 PM
  News, People and Society
Pittsburg, KS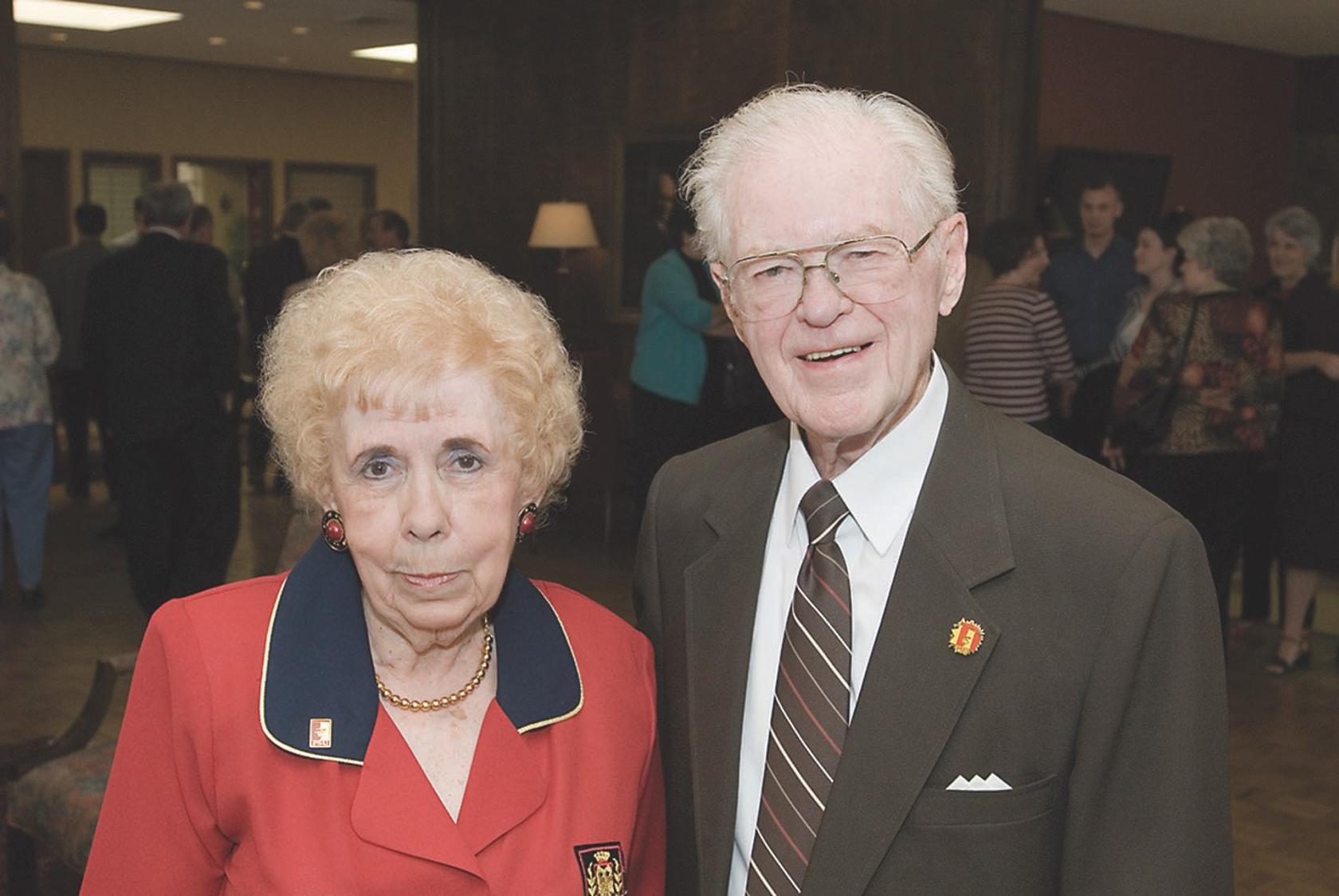 Caption: Helen Rua, sporting a PSU pin at a Wilkinson Alumni Center event, with PSU icon Jack Overman.
Pittsburg State University is mourning the death of a generous longtime university supporter, Helen Louise Rua, of Pittsburg. She died on Dec. 28, 2019, at age 95. 
She was the widow of August "Augie" Rua, a longtime Pittsburg businessman, who attended PSU after serving in the U.S. Army in World War II. He earned his bachelor's in business administration in 1949 and his master's in 1955. It was while he was attending college that he became an insurance agent, and in 1947, he founded Rua Insurance. 
Throughout their married life, the couple were actively involved in numerous Pittsburg State University activities. Together, they were the recipients of the PSU Alumni Association's 2006 Ralf J. Thomas Distinguished Service Award, were original members of the Presidents Society, were charter members of the Heritage Society, and were members of the PSU Centennial Society.  
They established the August and Helen Rua Athletic Scholarship Fund and supported KRPS radio. August served as a member of the PSU Foundation Board of Trustees, a member of the Athletic Advisory Board and was a Gorilla Ambassador. He was the 1969 PSU Alumni Association president and was a recipient of the PSU Meritorious Achievement Award. August also was a PSU Half-Century Club inductee and was a Community Campaign volunteer. 
Additionally, the Ruas jumpstarted the renovations to Carnie Smith Stadium over two decades ago by enabling the construction of the August and Helen Rua Press Box.  
"Augie and Helen were instrumental in the development of Carnie Smith Stadium as we know it today," said PSU President Steve Scott. "Their gift was the catalyst for investment in our fan and player gameday experience that resulted in skyboxes, field turf, and much more. We will forever be grateful for their contribution to Gorilla football and Pittsburg State University." 
Known as a loving wife, mother, grandmother, and great-grandmother, Helen was also very active in community organizations throughout her life. She belonged to the Christian Women's Club, Progressive Study Club, Shrine Blue Bells, Beta Sigma Phi sorority, and was a canteen worker for the Red Cross Blood Drive for many years. Membership was held in the First United Methodist Church of Pittsburg.  
August preceded Helen in death in 2005. She is survived by her son, David Rua (Nena) and daughter, Brenda Rua Chappell (Paul), both of Pittsburg and both graduates of PSU; eight grandchildren, seven great-grandchildren and numerous nieces and nephews.