Search complete: Toledo's Brian Wright named Pitt State head football coach
  Saturday, December 7, 2019 2:15 PM
  Milestones, News, People and Society
Pittsburg, KS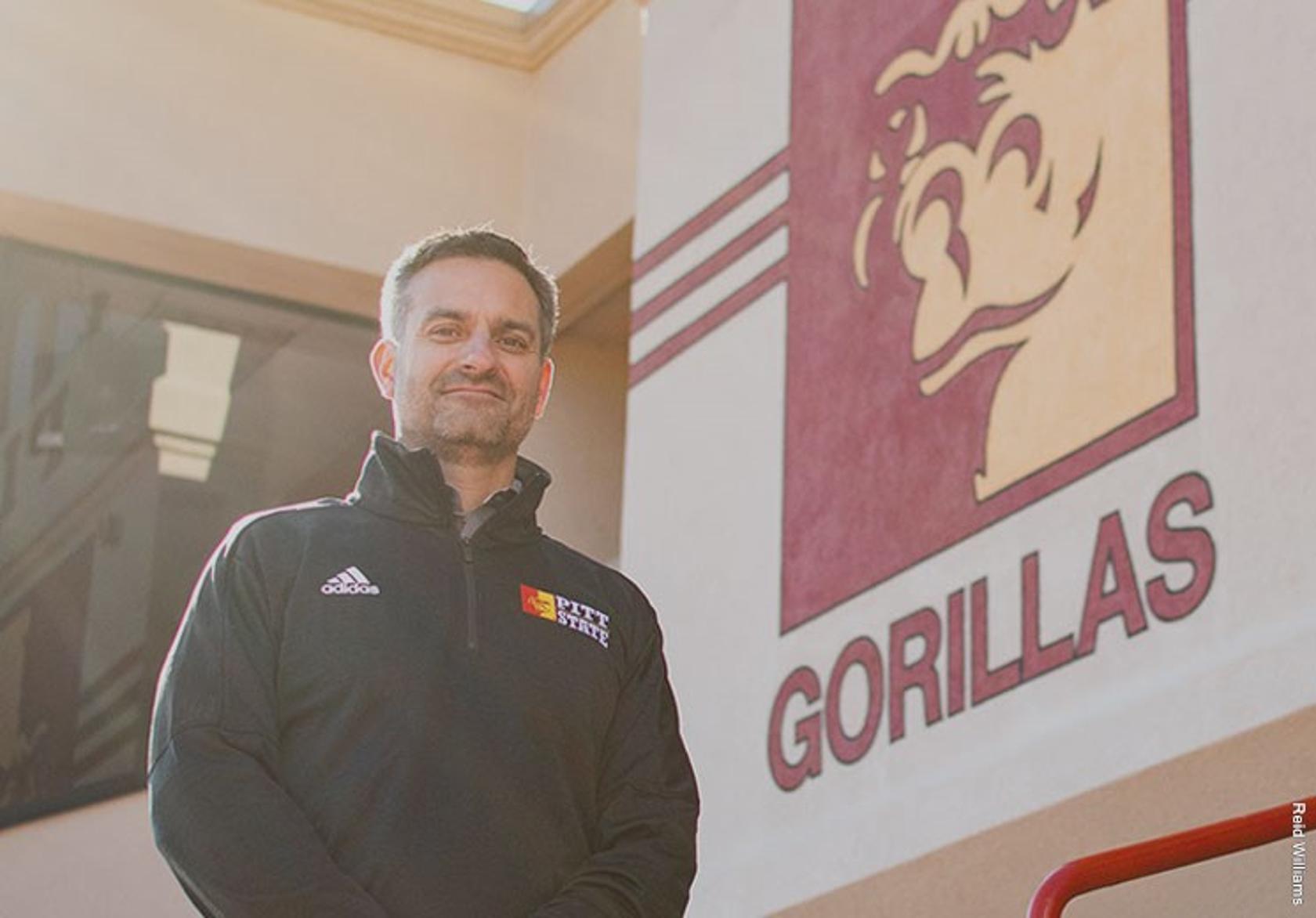 Pittsburg State University Director of Intercollegiate Athletics Jim Johnson announced today that Brian Wright has been hired as the school's 15
th
 head football coach.
Wright comes to PSU after serving the past four seasons as offensive coordinator/quarterbacks coach at the University of Toledo. He replaces former head coach Tim Beck, who resigned on Nov. 18 after leading his alma mater to the 2011 NCAA Division II National Championship, a pair of playoff appearances, and two MIAA titles during his 10-year tenure.
According to Johnson, Wright emerged after an extensive national search as the clear choice to assume the helm of the tradition rich PSU football program, which has claimed four national championships, made 31 post-season appearances, captured 31 conference titles and won more all-time games (719) than any Division II school.
"We are excited to embrace the dawn of a new era in the Pitt State football program and welcome in Brian Wright to lead the Gorillas moving forward," Johnson said. "Brian's passion for the game of football and desire to help mold student-athletes into elite winners both on and off the field is contagious. The future is bright for our proud and storied program."
In his four seasons with the Rockets, Wright has helped guide offenses that have been among the best in the Mid-American Conference while boasting four NFL draft picks.
In his debut season at Toledo in 2016, Wright guided one of the nation's most explosive offenses, helping the Rockets attain a 9-4 record and a berth in the Raycom Media Camellia Bowl. Toledo shattered school records for total offense (517.8 ypg) and passing offense (322.8 ypg). Under Wright's guidance, Toledo finished the 2016 season in the top 10 nationally in five offensive team categories: passing efficiency (second-183.3); third-down conversions (fifth-51.1%); total offense (seventh-517.8 ypg); red-zone offense (ninth-92.0%); and passing offense (10th-322.8 ypg). Toledo led the MAC in total offense, passing offense, and passing efficiency.
In 2017, Wright helped guide a Toledo offense that drove the Rockets to a MAC Championship. UT finished with an 11-3 record and defeated Akron in the MAC Championship Game. Toledo ranked first in the MAC in total offense and passing efficiency, and second in scoring offense and passing offense. For his efforts, Wright was a nominee for the Broyles Award, given annually to the nation's top assistant coach.
As a team in 2018, Toledo led the MAC in scoring (40.4 ppg) and was second in total offense (443.8 ypg), while this past fall, Toledo has ranked second in the MAC in rushing (224.5 ypg) and fifth in total offense (434.1 ypg).
"First, I'd like to thank Mr. Johnson and Dr. (Steve) Scott for their trust and belief in me to become the Gorillas next head football coach," Wright said. "Every great organization has superior people and I've been nothing but impressed with the leadership team at Pittsburg State University.
"My family and I are extremely excited to become a part of the Pitt State family. We are thrilled to have the chance to form so many new relationships with our student-athletes, alumni and the entire Pittsburg community. I can't wait to lead the Pitt State football program into this next chapter of success and carry the torch for this proud program built by so many great coaches and players before."
Prior to coming to Toledo, Wright coached at Florida Atlantic for four seasons as the Owls' offensive coordinator. Wright stepped in as interim head coach for the final four games of the 2013 season, leading the Owls to four consecutive victories and bowl eligibility (6-6) for the first time since 2008.
Before his stint at Florida Atlantic, Wright spent two seasons at Montana State as the offensive coordinator/quarterbacks coach. Wright's two Bobcat offenses averaged 440.6 yards per game, the most productive two-year span in school history. After leading the Big Sky Conference in scoring offense, total offense, and passing offense in 2010, Wright's unit topped the league in scoring offense and total offense in Big Sky games in 2011.
Before heading west to Montana State, Wright served nine years at perennial FCS power Youngstown State. Wright joined the Penguins' staff in 2001 as quarterbacks coach, also working as offensive coordinator from 2005-09. Wright helped engineer record-setting offenses at Youngstown State, with the team winning two Gateway Conference championships and advancing to the 2006 FCS Final Four. 
Wright began his collegiate coaching career at Walsh (Ohio) University as a graduate assistant in 1995-96. After a year as a graduate assistant at YSU in which the Penguins won the NCAA Division I-AA national title, Wright returned to Walsh in 1998 and served until 2000. He first began working with wide receivers and was then elevated to offensive coordinator and quarterbacks coach.
A native of Wooster, Ohio, Wright earned his bachelor's degree in business from the College of Wooster in 1994 and his master's degree in education from Walsh in 1998. He and his wife Laura have three children:  Jake (16), Marielle (13) and Joseph (10).
Brian Wright's Coaching Experience
2016-19      Toledo – Offensive Coordinator/Quarterbacks
2014-15      Florida Atlantic - Associate Head Coach/Offensive Coordinator/Quarterbacks
2013         Florida Atlantic - Interim Head Coach (final four games)
2012-13      Florida Atlantic - Offensive Coordinator/Quarterbacks
2010-11      Montana State - Offensive Coordinator/Quarterbacks
2005-09      Youngstown State - Offensive Coordinator/Quarterbacks
2004-07      Youngstown State - Recruiting Coordinator
2003         Youngstown State - Quarterbacks/Wide Receivers
2001-02      Youngstown State - Quarterbacks
2000         Walsh - Offensive Coordinator/Quarterbacks
1999         Walsh - Passing Game Coordinator/Quarterbacks/Co-Special Teams Coordinator
1998         Walsh - Passing Game Coordinator/Wide Receivers
1997         Youngstown State - Graduate Assistant
1995-96      Walsh - Graduate Assistant