Future art teachers become art exhibitors 
  Sunday, December 1, 2019 11:00 AM
  Arts & Entertainment, News, Academics
Pittsburg, KS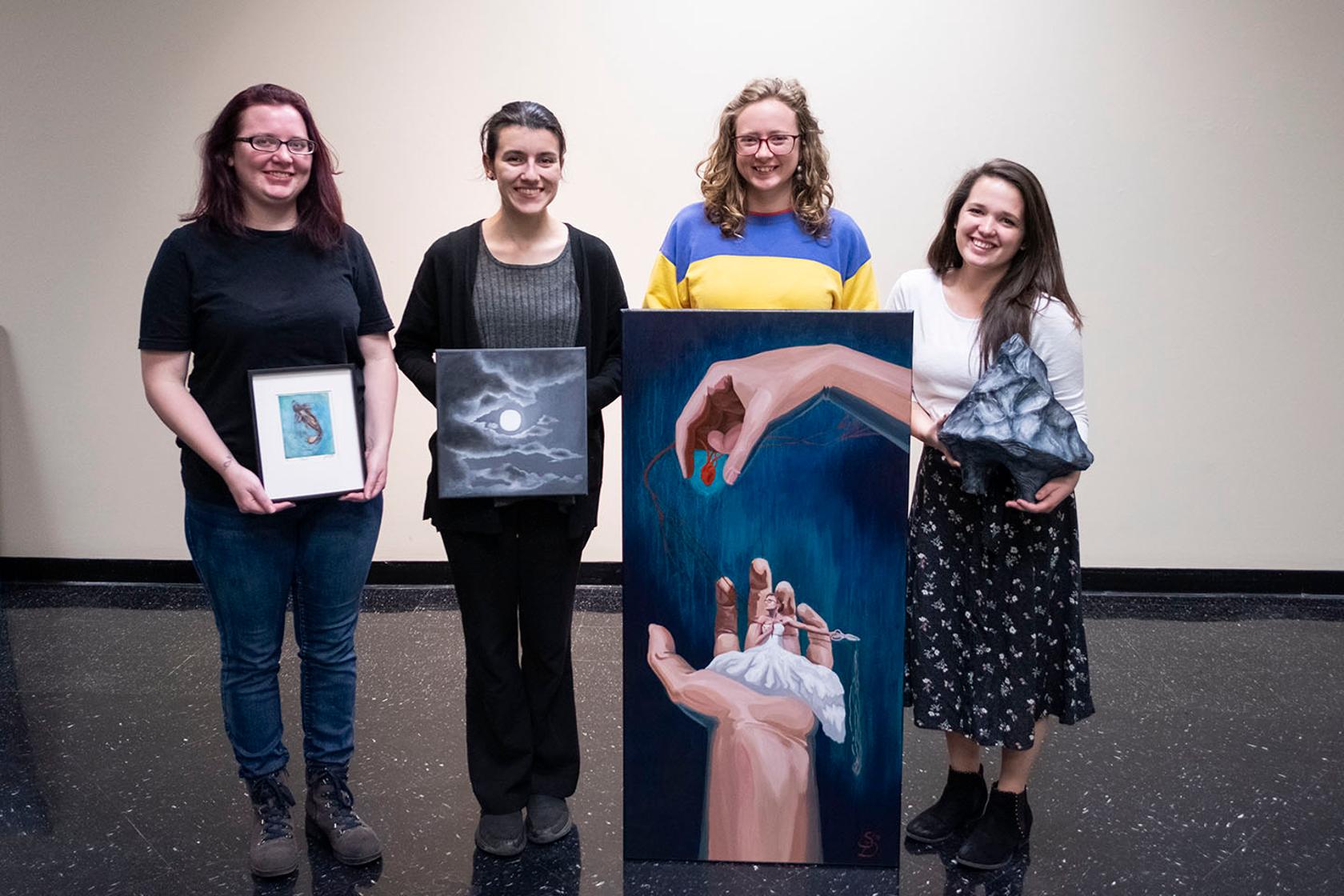 Pittsburg State University seniors who are planning to become art teachers will host an exhibit of their own in preparation for one day curating the work of their students.  
That exhibit will be on display from 8 a.m. to 9 p.m. Monday, Dec. 2, through Monday, Dec. 9, in Porter Hall's second floor gallery. Called, appropriately, "Teachers as Artists," it will feature the work of art majors Shea Dalton of Diamond, Missouri; Jessica Davisson of Pittsburg, Kansas; Madison Fleming of Fort Scott, Kansas; Reyna Gabriel of Raymore, Missouri; and Jaelina Jones of Webb City, Missouri. 
"This is a great experience," said Jones. "Being able to show our work and go through the process of creating our own exhibit is a great learning opportunity for when we will be displaying our own students' work."  
The project is under the direction of art education faculty member Charity Mika-Woodard. 
A closing reception free and open to the public will be held from 2 to 3:30 p.m. on Saturday, Dec. 7, in the gallery. Artists will be in attendance and available for questions.  
About the Pittsburg State University Art Department 
The Department of Art provides students who have an interest in art with a strong foundation in creative critical thinking and design. The department offers a Bachelor of Fine Arts (BFA) degree with four emphasis areas: 2D Studio Art, 3D Studio Art, Illustration & Visual Storytelling, or Art Education. The BFA degree prepares students for a multitude of professional careers in studio, applied arts, and art education, and is also considered fundamental preparation for graduate degrees in the studio arts and art history. Details: www.pittstate.edu/art