Colleagues mourn passing of retired department chair, noted artist 
  Tuesday, December 3, 2019 11:00 AM
  People and Society, News, Arts & Entertainment
Pittsburg, KS
Retired Art Department Chair and noted international artist Harry E. Krug, Jr., 89, of Pittsburg, died Wednesday, Nov. 27, at Ascension Via Christi Hospital.  
Colleagues remembered him as one who championed art and one who continued to be involved in the department beyond his retirement. 
Born in 1930, in Oshkosh, Wisconsin, Krug went on to earn a bachelor's from the University of Wisconsin at Milwaukee and a master's from the University of Wisconsin at Madison. 
Krug joined the faculty at PSU in 1958, earning a promotion to full professor in 1978. He served as chair of the department from 1981 to 1995. 
He was known for his unique style of printmaking, including the mastery of serigraphs, or silkscreen prints, a time-consuming process that uses a squeegee to press ink through a taut, fine fabric mesh onto paper. He routinely used as many as 20 screens and dozens of colors to create a work. 
Krug's art has been shown at major galleries and juried exhibitions throughout the U.S. and Europe. At the time he was named department chair, 30 of his original serigraphs were on permanent display at various U.S. embassies around the world, and his work had been referenced in four textbooks.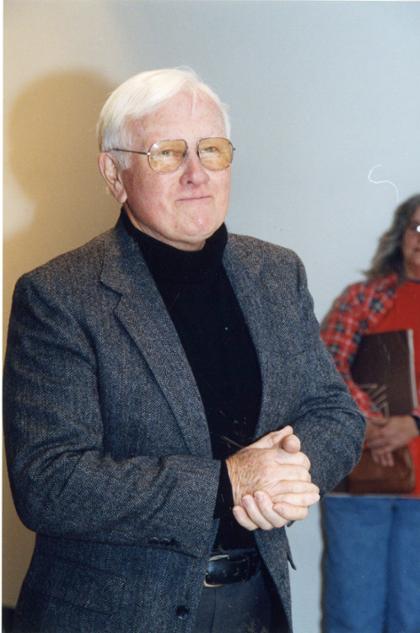 Today, his art is part of the permanent collection of the New York City Public Library, the Library of Congress, the Museum of Fine Art in Boston, and the Wichita Art Museum, and can be seen in offices across campus. 
 In 1997, PSU honored his contribution to the Department of Art and the world of art by naming the gallery in Porter Hall "The Harry Krug Art Gallery."  
Current Art Department Chair James Oliver said Krug continued his relationship with the department and PSU beyond his retirement, and he served on the Kansas Art Commission. 
"He attended exhibitions and lectures, and stopped into the department simply to chat," Oliver said. "These conversations about art and other topics will be missed by those who encountered him." 
Art Professor S. Portico Bowman mourned his passing, recalling his influence on her as a new art educator and an artist.  
"As a young faculty member, I could count on Harry to champion my efforts to carry on the work of his vision for the department and the artist's life," she said. "I appreciated the time he would spend with inspiring stories of his teaching years and gallery expertise." 
"For years after he retired, I could always count on his commitment to life-long learning," she said. "Harry would be at Starbucks, where our conversation took turns to psychology and self-realization. I appreciated that, too!" 
Krug also was an avid outdoorsman who loved hiking, camping and canoeing. Throughout his life and into retirement, he spent many days planting trees on his property to build a wildlife refuge. That connection to nature is reflected in his art.  
In a video made by a gallery in which his work was being shown seven years ago, Krug said didn't want to ever stop learning. 
"As a creative person, I have spent a great deal of my life being a student," he said. "I am 82 years old, and every day I learn new things. The big challenge: developing what you're all about as a human being, what your identity is, what your interests are, what your hobbies are, what your beliefs are, and putting that together in a visual language." 
He is survived by his daughter, Kim Meyer and her husband, Ed of Pittsburg; two sons, Craig Krug of Mulberry, Kansas, Mark Krug of Joplin, Missouri; four grandchildren, and two great-grandchildren. He was preceded in death by his parents, his wife, and two sisters. A private family celebration of life will be held in Summer 2020 at his wildlife refuge. 
 
The family suggests memorials be given to the Harry Krug Art Gallery at Pittsburg State University. They may be mailed to the Bath Naylor Funeral Home, 522 S. Broadway, Pittsburg, KS 66762.