The Business of Art: Unique class creates Pittsburg-themed pop-up gallery, sale   
  Friday, November 22, 2019 4:00 PM
  Arts & Entertainment, News, People and Society, Academics, Milestones
Pittsburg, KS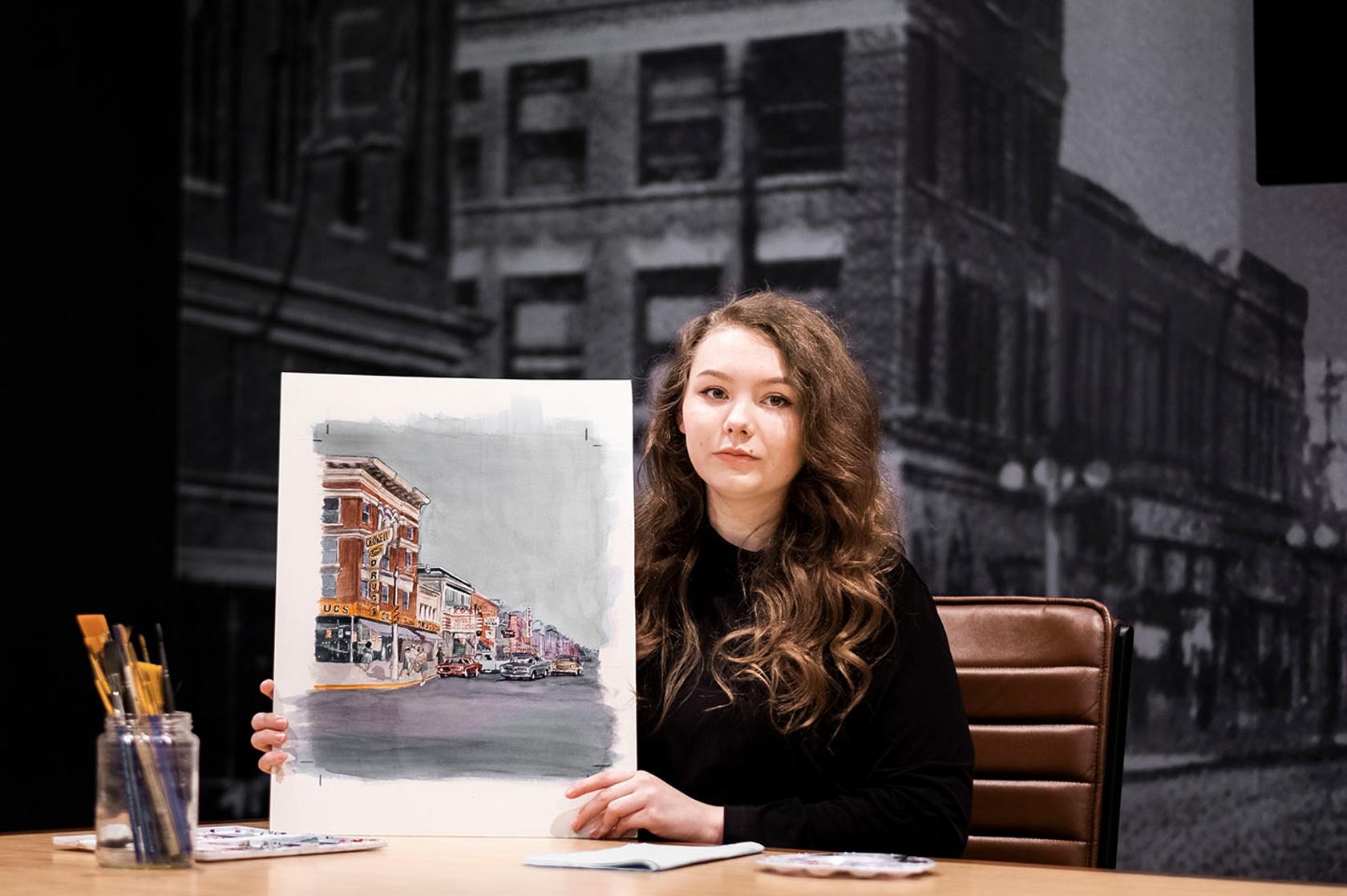 Art professor S. Portico Bowman does not believe in the starving artist mentality.  
"When students leave our program, they will know how to make a living with their art," said Bowman, who teaches in the Pittsburg State University Department of Art.   
To back up that claim, Bowman is teaching the Business of Art, a unique class that has been meeting this semester in The Foundry at Block22.  
"Here at Block22, we've been able to utilize so many resources in the spirit of entrepreneurism," Bowman said. "It's been a true 'By Doing Learn' — the university motto — class."  
Students in the class have connected with experts from the Block22-based Kansas Small Business Development Center to develop a draft business plan, learned about nearby boutique businesses like Sonder & Co and nearby art gallery ArtForms, heard from grant writers, tried their hand at writing their own press release, and developed a partnership with Mpix. 
As a result, the students already have begun thinking and acting as true entrepreneurs, Bowman said.  
Their learning will come to a visible fruition on Dec. 6 from 4 to 8 p.m. when the students' own small business, a pop-up gallery called Glory Days, opens for a one-night exhibit just in time for Christmas shopping. The students designed the logo, started a Square storefront and point of sale system, learned about taxes, developed invoices, and created merchandise from the art that they will sell, including prints and stickers.  
The exhibit includes watercolor, digital art, charcoal, and acrylic paintings, said Kaitlynn Maslen, a senior from Pittsburg majoring in 2D art who is serving as the administrative assistant of the group.   
The theme?  
"It's so appropriate for where our class has met," Maslen said. "It's called 'Bringing Pittsburg of the Past into Pittsburg of the Present'."  
Appropriate, Maslen explained, because the building in which they have been learning — The National Bank Building, previously known as the Opera House in early day Pittsburg — has been restored as part of an innovative partnership with the City of Pittsburg and The Vecino Group.  
Artists have taken reference photos, used their imagination, and observed current day settings to create original and unique artwork.   
For example, Maslen's piece, an 11x14-inch watercolor, depicts the way the northwest corner of the intersection at Fourth and Broadway used to look, including the Crowell's Drugstore sign and the Colonial Fox Theatre marquee. Sophia Stapleton, a senior from Bartlesville, Oklahoma, majoring in illustration, based her art on the coal mining heritage of Pittsburg.  
Brianna Cooks, a senior from McPherson, Kansas, said the class has made her feel much more prepared to succeed as a professional artist.  
In addition to selling merchandise, the artists will be available during the exhibit to discuss their work and their research into the project, as well as the roles they each played. E. Klubek, a senior from Iola, served as the merchandise manager, for example, while Simon Alimujiang, a senior from China, oversaw advertising.  
Illustration majors Jansis Alvarado, a senior from Wichita, and Corgan Faller, a senior from Independence, Kansas, worked together to design logos — one with an early 1900s look chosen as the official logo, and another with a vintage '50s feel to be used on merchandise.  
From 4:15 to 5:15 p.m., guests at the exhibition can hear old-time bluegrass fiddle and picking by PSU students Glenn Sigler and Edith Sigler, and by PSU staff member Tim Anderson.