Students create old-style radio show for Halloween broadcast 
  Friday, November 1, 2019 11:00 AM
  Academics, Arts & Entertainment, News
Pittsburg, KS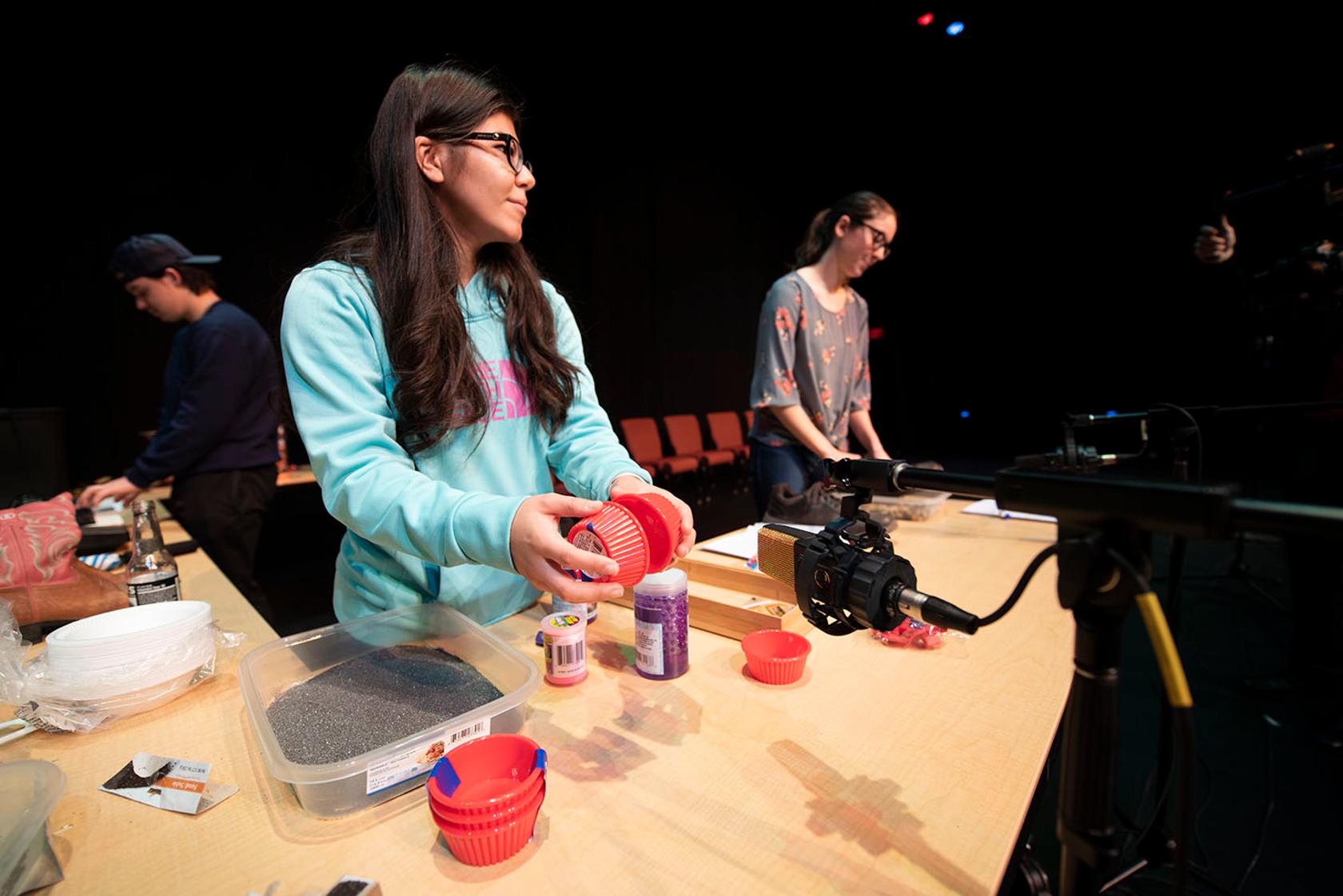 It wasn't an ordinary classroom, it was a stage with microphones. 
And the learning materials weren't textbooks or Powerpoints, they were everyday objects on a table: an old pair of boots, a box filled with sand, an empty bottle. 
Senior Vanessa Tapia used the empty bottle to produce the sound of wind, while senior Braiden Turner used the boots to create the sound of footsteps, and senior Bailey Noland dug in the box of sand with a wooden spatula to mimic the sound of a shovel digging a grave.  
Inspired by a legendary radio classic, their class went back in time on Oct. 31 to produce original old-style radio plays with Foley sound effects in the Dotty & Bill Miller Theatre in the Bicknell Family Center for the Arts. 
In a bit of irony, they used modern technology to record the show so that it could air on Gorilla Radio later than evening. 
"Foley sound effects, named after sound-effects artist Jack Foley, is the use of everyday objects to create sound effects for films, videos, and other media — everything from the swishing of clothing to footsteps to squeaky doors," said Assistant Professor Jason Knowles, who teaches the COMM 475 Audio Production Class. "When done well, it goes unnoticed by the audience because it sounds so realistic."  
The technique began in the early 1920s, when sounds were added to live broadcasts of radio dramas. When the technique progressed to film, it had to be perfectly synchronized to the actors' motions. The methods created by Jack Foley still are used today, although the process has progressed as recording technology has progressed. 
This project is a first for the class, said Knowles, who tasked his students writing the scripts for the shows as well as figuring out what objects to use for the Foley effects and doing the narration. They invited an audience of PSU students, faculty, and staff to attend. 
"I was inspired by Orson Welles and his radio drama, 'War of the Worlds,' which was broadcast on Oct. 30, 1938," Knowles said. "The effect it had on listeners' imaginations at the time is a great study in how a good audio story can sometimes be more powerful than a good film." 
KTWU, a PBS station in Topeka, still produces such shows in their Theatre of the Mind series, which Knowles listens to when he's in that area. 
The scripts are quite varied and are meant to be a little cheesy, Knowles said — chosen by pulling random elements out of popcorn buckets weeks ago, and adding to royalty-free scripts available online. 
Knowles said he'd like the project to become an annual event that could be opened to the public.