PSU students bring home 1st place win from regional competition 
  Friday, November 8, 2019 12:00 PM
  Milestones, Academics, Science and Technology, News
Pittsburg, KS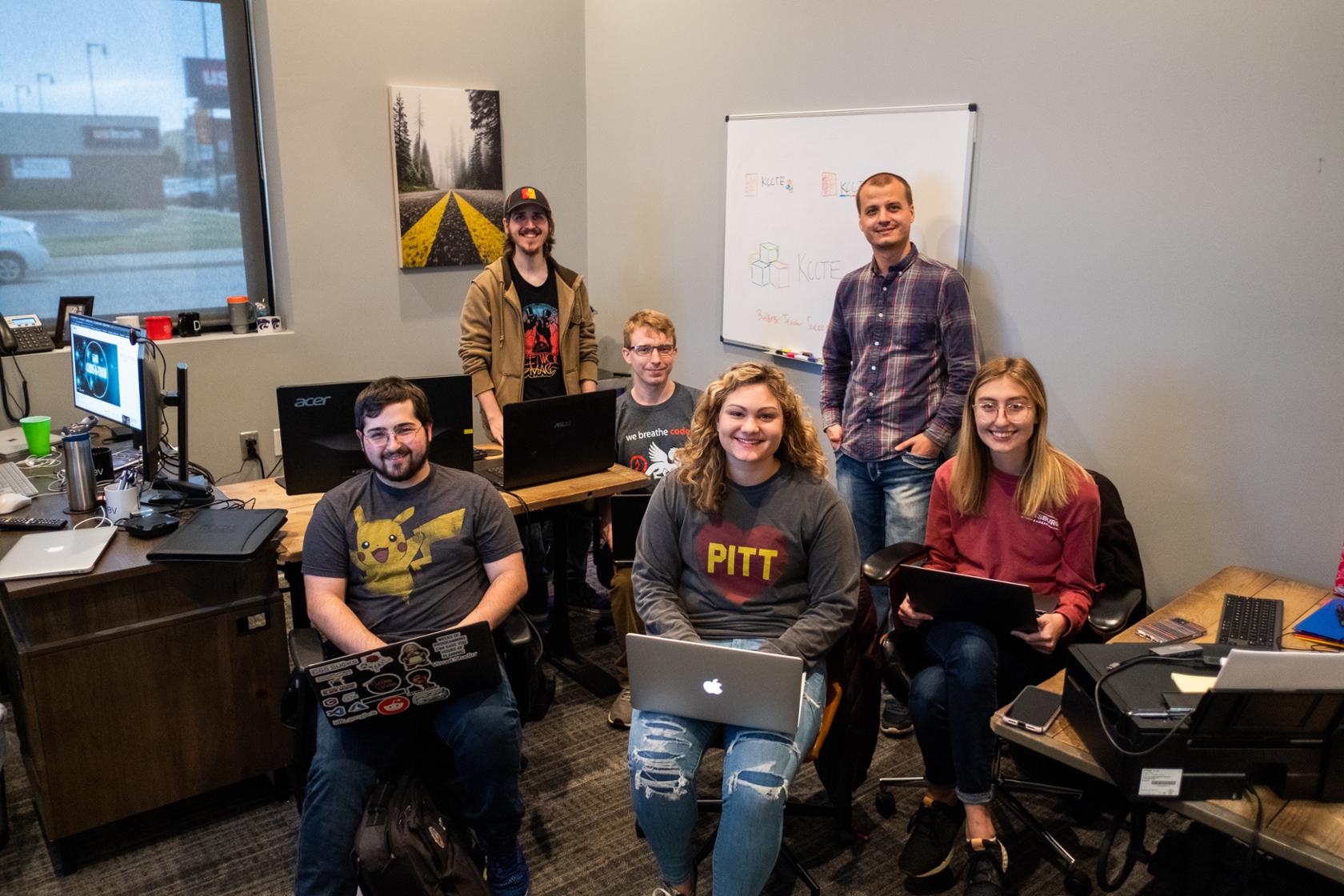 Five Pittsburg State University students majoring in Computer Information Systems and Graphics Communication/Web Design brought home a first place win this week in a unique regional competition hosted by the Kansas City Federal Reserve: Code-a-thon 2019. 
The team was comprised of David Sexton, a CIS major from Carthage, Missouri; Devon Tinsley, a CIS major from Pittsburg; Chris Evans, a CIS major from Nevada, Missouri; Lydia Winters, a Graphics Communication/Web Design major from Pittsburg; and Aubri Stahl, a CIS and Graphics Communication/Web Design major from Pittsburg.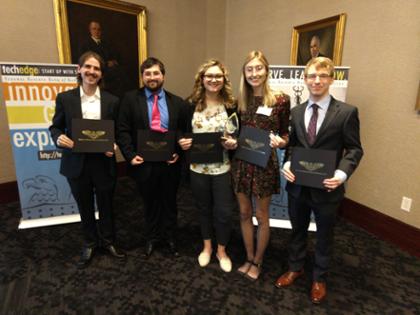 To complete their entry, they first collaborated for an entire weekend Oct. 25-27, armed with laptops, coffee, and what they had learned from John Kuefler, their instructor in the Kelce College of Business at PSU and owner of DevSquared at Block22.  
Their challenge: to create a web-based application that matches entrepreneurs willing to mentor new entrepreneurs. 
Each student contributed expertise, from coding on the back end to using graphic design and layout skills to make it aesthetically pleasing. They also finished with time to spare, wrapping up by 6 p.m. Sunday; the deadline was 11 p.m. 
"Looking back, I think all of the hard work preparing by learning how to work together as a team, understanding each person's roles, and our strengths and weaknesses ultimately was the key factor that helped the team to succeed," Kuefler said. 
On Oct. 31, they learned they had been chosen as one of the top three finalists. In the week that followed, they worked on a PowerPoint presentation summarizing their project. Yesterday, they delivered it to a panel of judges at the Kansas City Federal Reserve and not only won first place, but were named "University Champion", awarded to the university whose faculty/institution demonstrates the highest level of engagement during the Code-A-Thon in support of its participating team(s).  
The trophy will be on display in Kelce College of Business starting Monday. 
"To secure the win our team had to pitch the 'what" (what did it do?) and 'why' (why should it exist?) behind the final product they had created," Kuefler said. "The team did a fantastic job with this and their presentation was extremely polished and well done overall. The judges had some great questions for them, as well, that they did a good job responding to." 
Kuefler said it's encouraging to see that students who soon will enter the workforce are so well prepared. 
"We need people like this in the IT/programming field now more than ever," he said. "With as difficult as it is to find/hire them, especially in this area, it was great to see five people who I feel like I could be comfortable hiring at some point if needed."  
In fact, most of the students have job offers or jobs already, even before graduating. 
"I think all of that is a testament to the kinds of experience we are providing students here at Pitt State," Kuefler said. "These students certainly don't need to do this Code-a-thon to have stacked resumes; they're all already incredible. They want to go above and beyond and show everybody what they can do and represent Pitt State because that's the kind of people they are."  
Learn more about PSU's Computer Information Systems program. 
Learn more about PSU's Graphics and Imaging Technologies program.