Couple brings big city inspiration to Pittsburg
  Wednesday, November 13, 2019 12:00 AM
  News, Arts & Entertainment, People and Society
Pittsburg, KS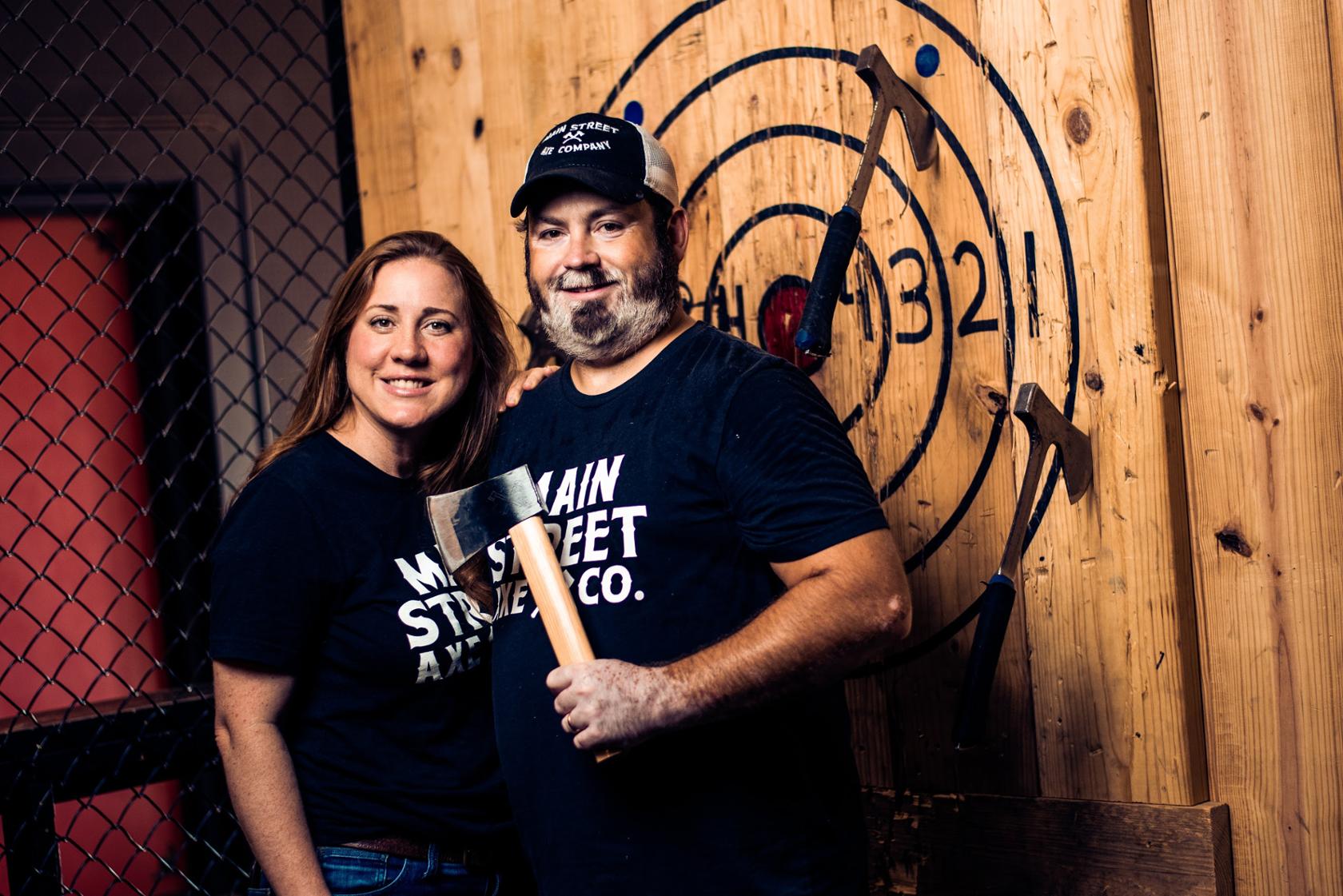 It was mid-August, and Ben Fowler was inside Main Street Axe getting the place ready for evening events. He noticed a group of young people staring into the windows.  
"I went out to talk to them, and it turns out they're PSU international students from Taiwan," said Fowler, who owns Main Street Axe with his wife Michelle. "They couldn't believe people were in here throwing axes around. They said they didn't have this type of thing where they're from."  
Fowler said he's getting used to that type of reaction from people when they learn that Pittsburg now has an axe throwing facility. While it's becoming common in bigger cities across the country, it's still rare in communities the size of Pittsburg. 
"This was actually my wife's idea," he said. "She went with some friends to Chicago and saw it there. She came home and said that Pittsburg needs this. I wasn't entirely sure about that at first." 
Michelle said she was surprised by how much fun she had throwing axes in Chicago.  
"I just thought it was a really cool activity that brought people together for a good time," she said. "I knew other people would feel the same way I did, so I came home and told Ben we need to do this here in Pittsburg." 
Main Street Axe, at 216 S. Broadway, hosts a variety of events ranging from birthday parties to local and regional league tournaments. It's one of nearly 20 new businesses that have opened in Downtown Pittsburg in the past year, and it's that economic energy downtown that led the Fowlers to return to Pittsburg.  
"I'm from California, and that's where Ben and I met," Michelle said. "When we had our kids, we knew we wanted to give them a small-town life experience. Ben is from Pittsburg, so it just made a lot of sense to come here, especially once we saw the town start to revitalize itself." 
Ben said Pittsburg has changed in many positive ways since he left in 2002.  
"When I was growing up in Pittsburg, there wasn't a lot of activity downtown," he said. "We never really went downtown at all. Now, there are many new businesses and so much foot traffic. It's great seeing so many people walking or riding bicycles downtown. That's honestly the reason we moved here from California." 
Both said that Block22, the mix-use living learning community at Fourth and Broadway, played a major factor in their decision to buy a building downtown for their axe throwing business. 
"With a big project like that, especially with the university involved, we knew it would be done very well and have a lot of support," Michelle said. "We knew that all of downtown would benefit from that. I think that's why you see so many downtown business owners buying their buildings and fixing them up. Block22 was sort of that big first step that took four historic buildings under its wings. 
"Remodeling one of these old buildings is not easy," she said, "but it's so worth it. People enjoy the atmosphere here because it's in an old, historic building and not in a big box building that we built new."  
While they miss some of the scenery and variety of amenities on the west coast, the Fowlers said they are both happy to be in Pittsburg.  
"There is great energy here," Michelle said. "You have a lot of open-minded people who are willing to try things. I think the university plays a major role in that because of its students, the professors, the culture and sports scenes. All of the things you might miss in a big city you have here on this fun, approachable scale."